Jennifer Egan C'85 Returns to Penn as Artist-in-Residence
Jennifer Egan C'85 is a Pulitzer Prize recipient, the author of five novels, the president of PEN America—and from now through the 2018-19 academic year, an artist-in-residence at Penn.
As part of that newest title, she'll teach an undergraduate course this spring on some of her favorite novels and offer a public reading and discussion on Monday, Oct. 1 in the Perry World House (RSVPs are requested).
Egan's historical novel Manhattan Beach (published last October) is also this year's pick for the University's Winter Reading Project—a partnership between Alumni Education and the English Department.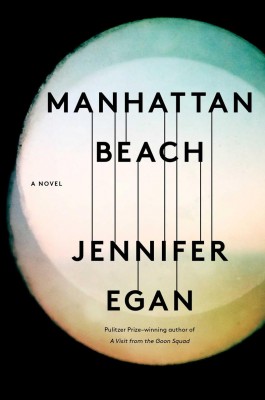 Even before her new role at Penn, Egan was having a busy year.  Manhattan Beach, her first book since the Pulitzer-winning A Visit from the Goon Squad (2010), arrived to significant praise last fall. It's since won the American Library Association's 2018 Andrew Carnegie Medal for Excellence in Fiction and appeared on numerous "Best of 2017" lists. (From the novel's starred Kirkus review: "Realistically detailed, poetically charged, and utterly satisfying: apparently there's nothing Egan can't do.")
The new book also sent Egan on a whirlwind tour—30-plus stops spread across the US, the UK and Canada—with more appearances still unfolding. And since New Yorkers chose Manhattan Beach as their One Book, One New York pick for this summer, even more events have joined her calendar.
In March, Egan also became the new president of PEN America—a nonprofit that works to advance literature and protect freedom of expression. Then in May, she published this New York Times Magazine cover story on children of the opioid epidemic.
It's a lot to keep up with, even from the outside. So as the University launches its Year of Egan, here are a few suggestions for getting up to speed:
Start with her five novels and book of short stories.

Read back to the Gazette's feature on Egan, published in 2011, just after A Visit from the Goon Squad won the Pulitzer.

Listen to this conversation she had with the Times  Book Review Podcast about Manhattan Beach.

Scope out some of her recent book recommendations.

Revisit her 2011 alumni weekend appearance  at Kelly Writers House.

Check out Egan's first Times Magazine  cover story—published in February 1996.

And finally, watch her speech from the 2017 Penn College of Arts and Sciences graduation:

[youtube height="HEIGHT" width="WIDTH"]http://www.youtube.com/watch?v=PfejOxaIRh4[/youtube]