Back to the Big Dance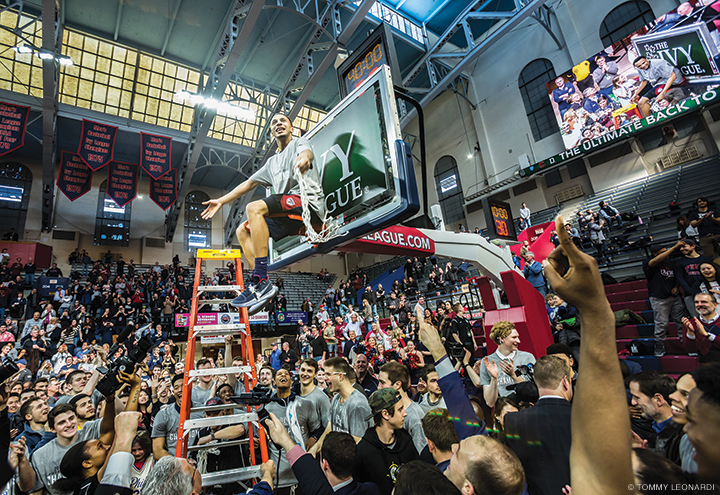 Men's hoops ends a decade-long drought, winning the Ivy Championship.
BY DAVE ZEITLIN
---
Sifting through a stack of letters on his desk, Penn men's basketball coach Steve Donahue pulls one out from near the top. It's from Ernie Beck W'53, the leading scorer in program history. Donahue marvels at Beck's beautiful handwriting and smiles as he reads the note, which commended him for getting the Quakers back to the top of the Ivy League.
"Penn basketball has been a big part of a lot of people's lives," Donahue says, placing Beck's note back in the pile. "As a coach, it's very gratifying to see people really happy."
Two weeks earlier, Penn narrowly defeated Harvard in the Ivy League Tournament title game to secure the program's first NCAA Tournament berth since 2007. Not even a harsh first-round draw could temper the elation of Penn fans, many of whom immediately began making plans to get to Wichita to see if the 16th-seeded Quakers could pull off a historic upset over top-seeded Kansas in the first round. They couldn't, but they put up a good fight against a team that would advance to the Final Four, creating even more excitement around the program heading into next season.
"The texts and emails have been staggering," marveled Quakers assistant coach Ira Bowman W'96, who last went to the NCAA Tournament as a Penn guard in 1995.
Hearing from so many former players was especially gratifying for senior Darnell Foreman. Throughout his four-year career, even when times were tough, the diminutive point guard liked to walk around the Palestra concourse, admiring the plaques and photos of championship teams while dreaming of one day being up there himself. So when the Quakers beat Harvard and cut down the nets of the Palestra, Foreman knew what he had to do, climbing to the top of the rim and waving the net in the air, just like senior guards Ibrahim Jaaber C'07, Andy Toole C'03, Michael Jordan C'00, and others had done before him, back when Ivy championships were commonplace for Penn.
"This shows we're officially back," he said.
The photo of Foreman sitting atop the rim may find a place in the Palestra's hallowed halls. But the moment fans might remember most fondly is the three-pointer Foreman drilled in the waning seconds of the first half to cap a 17–2 run, followed by a direct sprint to the locker room as the Palestra pulsated with noise. "I've never heard that sound," he later recalled.
Donahue called it a "magical" moment—and a fitting culmination for a player the coach admitted having doubted was good enough to be a point guard on a championship team. But through hard work and determination, Foreman transformed himself from a lackluster shooter in his first two seasons to an indispensable leader as a senior, helping the Quakers to a 24–9 overall record and a 12–2 mark in the Ivies, even while dealing with a stress fracture in his left foot for the final two months of the season.
"I knew he wanted to be thought of when people talked about great Penn guards," Donahue said. "And the only way to do that is to help your team win a championship."
Foreman scored all 19 of his points against Harvard before halftime, certainly the best half of his career. When the game ended, an emotional Foreman hugged Bowman, who, along with former head coach Jerome Allen W'09, believed in Foreman when no other Division I school recruited him. "Don't let anyone tell you that you can't do something," the Penn assistant coach told Foreman.
"You can't measure a person's heart," Bowman said. "You can't measure how much a person really buys into a culture or tradition. To me, he is somebody that embodies what Penn has been about. He probably knows more about Penn basketball than 90 percent of the people who played here. He knows more than the coaches here.
"He refused to let the drought continue. That says a lot. I don't think I've been as happy for one kid as I was for him when it happened."
Foreman came to Penn from just over the bridge in Camden—and spent so much time training on campus in the off-season that Bowman believes no one in Penn basketball history has attempted more shots on the Palestra rims. Fellow standout senior Caleb Wood had a more unconventional and circuitous journey to his Ivy championship ring.
Looking for transfers to help jumpstart the program after taking over in 2015, Donahue and his coaches scoured junior colleges for players with the talent to play right away, the grades to get accepted to an Ivy League school, and the resources to pay their own way. Assistant Nat Graham C'97 found Wood's name on a recruiting service, watched highlights of his Lassen Community College games—"The level of play was probably not great, but he was like Pistol Pete [Maravich] out there," Graham recalled—and made his way to California's lonesome far northeast to watch him live. The coaches were sold, but it wasn't until Wood's father, former NBA journeyman David Wood, ran into some Penn grads on a cruise and heard more about the University that Wood decided to take the leap.
It wasn't always a smooth ride—he fell out of the rotation for the second part of the 2016–17 campaign—but the soft-spoken Wood emerged as a key sparkplug off the bench this season, finishing fourth on the team in scoring behind Foreman and sophomore stars AJ Brodeur and Ryan Betley. And in his final Palestra game the sharpshooting guard came through with back-to-back three-pointers in the second half to spur the Quakers to the Ivy title, getting fouled on the second one in the game's decisive moment.
On an even bigger stage, Wood finished with 14 points while Foreman scored 10 in Penn's season-ending loss to Kansas—a game in which they led by 10 in the first half and pulled within four midway through the second half. And the Quakers could have given the Jayhawks an even bigger scare had they not shot a dismal 5 for 14 from the free throw line. Perhaps they could have even become the first men's 16-seed to ever win—a feat that University of Maryland–Baltimore County accomplished the following day with its extraordinary upset over Virginia (which Foreman said was "bittersweet" to watch after some pundits had picked the Quakers as the team to make history).
"If we made foul shots, I think we have a chance to win that game because I thought we played with the right swagger, right confidence, right focus," Donahue said. "I was happy with how we played, and it turned to anger, and that's really what's gonna drive us to our next workout: to get the foul shooting figured out."
If the Quakers can earn another NCAA berth next year, the Penn coach thinks they'll be better prepared to follow in the footsteps of other Ivy teams that have won NCAA Tournament games over the past decade. A Cornell team coached by Donahue is perhaps the best example of what tourney experience can do as the 2010 Big Red advanced to the Sweet 16 in their third consecutive trip to the Big Dance. (Before that, the last time an Ivy school made it that far was Penn's fabled 1979 Final Four team). And even though Donahue didn't need any reminders, Loyola University Chicago's stirring run to this year's Final Four showed what can happen when a good under-the-radar program gets hot at the right time.
"I think it's eye-opening to a lot of players at the mid-major level," Donahue said. "For our guys, we know how good Kansas is, and we also know that we physically played with that team. And we have a lot of the parts coming back.
"If we continue to advance this program and get better, I think we have a really good shot to win games in the NCAA Tournament. We can challenge anybody in college basketball now."
Dave Zeitlin C'03 writes frequently for the Gazette.