'The Girl with a Broken Neck'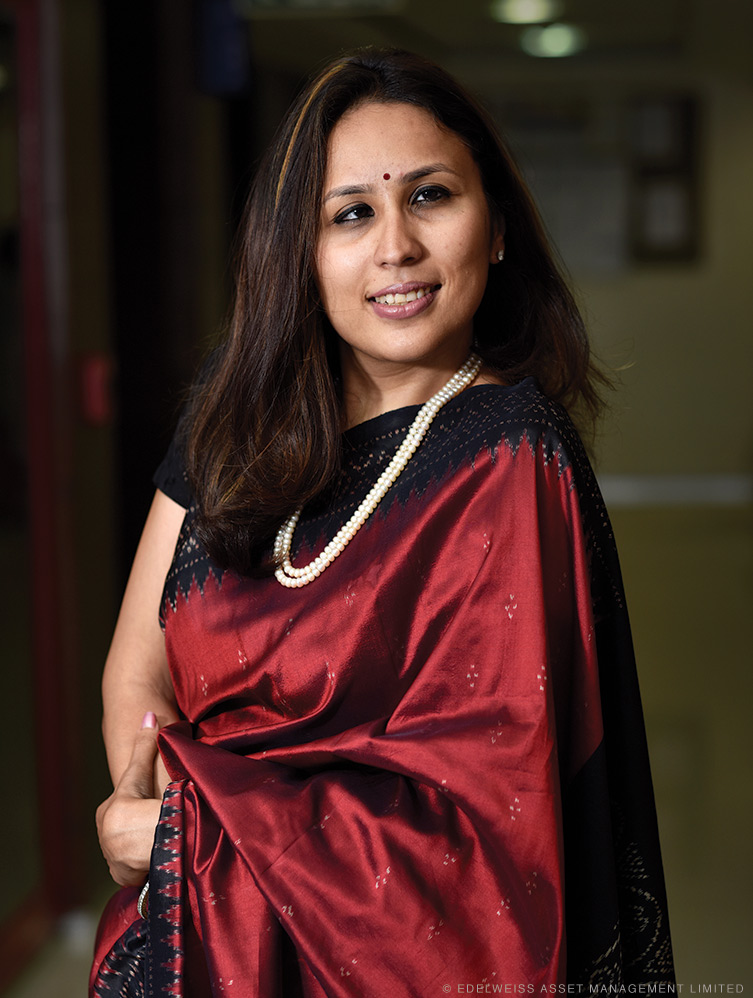 How a birth complication and a roving childhood shaped the career of a pioneering business titan in India.
---
When she was 25, Radhika Gupta EAS'05 W'05 left a comfortable job in finance in the US to move to India to open the country's first hedge fund. It was a decision most people thought was crazy. "I don't blame them," she says with a laugh.
It was the summer of 2009, and at such a young age, she had navigated the financial crisis and was already managing $20 billion in investments at AQR Capital Management, an investment management firm based in Greenwich, Connecticut. Plus, she was the daughter of Indian parents who thought "making it" in America was the pinnacle of success. "After you survived everything in the United States, got this great education, not many parents wanted their kids to move home," she says.
But Gupta had an entrepreneurial itch and saw India as a place where she could really make a dent in the financial sector. "India was blossoming, the economy was rolling out, markets were doing well, jobs had opened up," she says. "Asset management was super new there, so we wanted to be part of it." And so, Gupta and her husband Nalin Moniz EAS'05 W'05, whom she met at Penn, poured their life savings into starting Forefront Capital Management out of Mumbai, India.
For the first few years the company's clients consisted only of "family, friends, and fools," as Gupta put it. But by 2014 it was such a lucrative and prestigious company that it was acquired by Edelweiss Financial Services Limited, "basically the Goldman Sachs of India," says Gupta.
Edelweiss tapped Gupta to first lead the mutual fund (she increased business more than tenfold) and then to become the chief executive officer of its subsidiary Edelweiss Asset Management in February 2017. At 34, she had become not only one of the youngest CEOs of a financial services company anywhere in the world but also one of the only women in such a role.
"When I became CEO, Edelweiss was a small asset management company with a couple hundred million of investments," she says. "Now that number is 12.5 billion and it's one of the fastest growing asset management companies in India."
Gupta is no stranger to taking risks and stepping outside her comfort zone. As she put it, "I've always been a start-up girl." She was born to Indian parents who were members of the service class, which meant they had a stable living but not much disposable income. Her father was a member of the Indian Foreign Service, and her family moved every three years. Before even arriving at Penn, she lived on five continents.
Gupta was born with complications in Pakistan and had to spend time as a newborn in an incubator. Because of the way the nurse placed her, her neck was left with a permanent tilt. She became known as "The Girl with a Broken Neck" after telling her story in a video that reached hundreds of thousands of YouTube viewers. The Times of India and other media outlets have since used the moniker in articles about her work.
Gupta's disability wasn't the only reason she felt different from other kids while growing up. "Cultural changes were super tough," she says. "I remember moving to a school in the United States and not knowing how to speak English and then moving to India and not knowing how to speak Hindi, and then moving to Nigeria where all the kids were much wealthier than me.
"I didn't appreciate it then, but the moving around to so many different countries every three years—drastically different countries—really shaped who I am. There is all this talk of agility and being able to deal with change in the start-up world, and I really had it."
She was living in Rome when she applied to Penn, deciding she wanted to go there after receiving a copy of the University publication Practical Penn. Her guidance counselor made it clear it was a shot in the dark, but Gupta not only got accepted to the University but also to the exclusive Jerome Fisher Program in Management & Technology (M&T).
Gupta started her entrepreneurial journey during her sophomore year when she sold Indian food out of her High Rise East dorm room. "I would go to Fresh Grocer and buy random ingredients and cook from 8 to 10 p.m., sell from 10 to midnight, clean up, and then go to my computer science classes the next day smelling of spices," she says, adding that she sold about 50 or 60 plates a day to a clientele comprised mostly of Indian students. "The only late-night competition at that time was pizza."
The same year Gupta also founded the club Women in Computer Sciences (WICS), because, she says, "back then women in computer science got a lot of comments like, you are a girl, so you don't know how to code." Fifty women turned up to the first meeting at the Bubble Tea Room, and the club quickly secured sponsorship from companies including Google. Gupta then created formal mentorship programs and planned outings to tech campuses like Microsoft and Google.
When Gupta returned to campus in March to accept the inaugural Jerome Fisher Program in Management & Technology Distinguished Alumni Award ["Notes," May|Jun 2023], she was thrilled to see that WICS still exists today, with sponsors that include Bloomberg.
Once she left Penn, Gupta had to find creative paths to accomplish what she wanted. Before graduating, she says she was turned down by seven consulting firms before winning over a McKinsey representative by bonding over playing bridge. (Her parents couldn't afford other hobbies like horseback riding or tennis when she was growing up, so they gave her a deck of cards.)
When Gupta started Forefront Capital Management, she struggled to win over clients. "We were all 24 or 25, and asset management is an industry where gray hairs are a premium," she says. "We were all investment guys and gals who had no experience with raising money and finding clients. We had to do all that from scratch."
Also, with no budget for advertisements, she started cozying up to journalists, convincing them to let her write blog posts on investing and appear on public television where she gave stock tips. "I was on TV almost four days a week at one stage," she says. "People liked me on TV."
She also got an edge from listening to customers and getting to know what they wanted and needed, recalling one day when she ran around Mumbai trying to find a notary for one client. It's a method she still employs. "If anyone writes a customer complaint, I am still the one to handle it," she says. "We have a million customers, and I still do that. I want to keep in touch."
Even with all her success, Gupta sometimes still can't believe she took such a big risk in her mid-20s—and how far she's come since. "I did it by not giving up," she says.
—Alyson Krueger C'07