Beyond Senior Year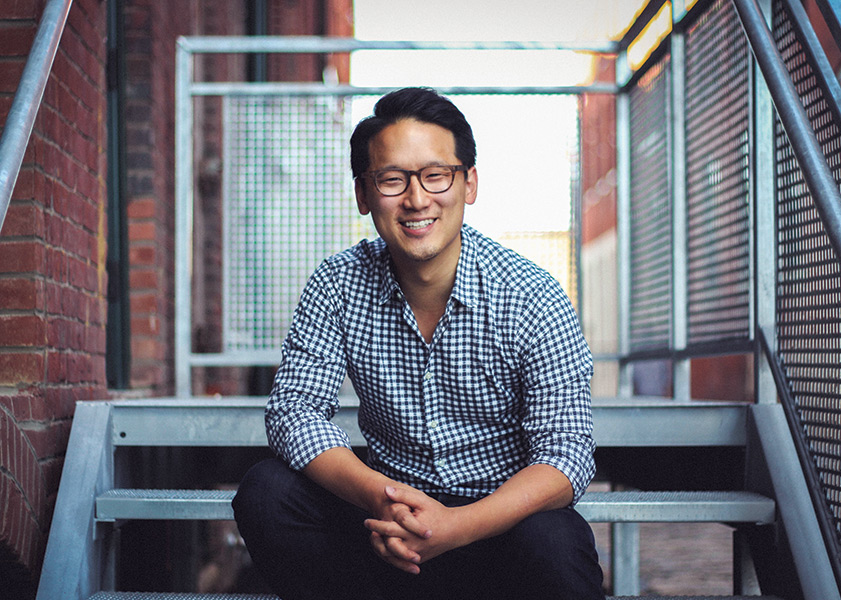 Why this son of Korean immigrants spurned med school to run an educational nonprofit (and a coffee shop too).
---
Growing up in Northern Virginia, Raymond John C'08 watched his parents—two immigrants from Korea who spoke little English—head out to sort mail at odd hours of the day and night inside a local post office. They eventually bought "a small home in a really small neighborhood," which his classmates called the poor part of town, John recalls. "But in reality, I was very fortunate to grow up there," he adds, because that house and neighborhood placed him into a highly regarded public school system.
"Having access to those schools provided so much opportunity for me," he says. "I could find people to motivate me and support me and have doors opened for me and opportunities given to me. That was a huge, huge deal."
John now believes that his high school experience is the reason he got into Penn and, ultimately, founded 12+—a nonprofit that's generating similar opportunities for thousands of Philadelphia-area high schoolers in underserved communities by opening doors to a post-secondary education.
Ten years ago, John and his former classmate Abe Kwon C'08 G'11 L'11 launched the organization as a small volunteer-based mentorship program, naming it 12+ because, per its website, "Gone are the days when it's sufficient to conclude one's education in 12th grade … due to the growing need for a college degree or vocational training in almost every occupation in today's job market." They established its first "PLUS Center" inside Philadelphia's Kensington Health Sciences Academy (KHSA), placing it in the former in-school suspension room—which hadn't exactly been known for inspiration and warmth—and refashioning it into a combination library/computer lab/study space/college and career resource center, open to all 350 students in the high school.
From the outset, John hoped to infuse KHSA with a culture like the one at his own high school, where virtually every student was working toward college. When the first PLUS Center opened, only 13 percent of seniors at KHSA had post-secondary education plans, John says. After 12+'s first year in the school, its college acceptance rate soared to over 70 percent.
"When we first started, the feeling [among KHSA students] was, what's the point of applying to college? No one from our school ever goes," John says. "Now everyone knows and understands that that's a path they should pursue."
Today 12+ maintains PLUS Centers inside six Philadelphia high schools and every public high school in Camden, New Jersey, the latter of which began in the middle of the pandemic thanks to a $370,000 grant. In all, the nonprofit has helped steer more than 10,000 students through the post-secondary application process and serves more than 4,000 students each year.
Staffed by many recent Penn alums, the PLUS Centers offer one-on-one advising, grade-specific workshops, and drop-in hours both during and after school. "It requires a lot of buy-in from schools themselves, because we're so incorporated and integrated," John says. "But that buy-in only continues to grow over time. We've never left any of the schools that we've partnered with, which is something that we're really proud of."
A psychology major at Penn, John expected to go to medical school after graduation. He took a gap year to think it over before putting in his applications, working a hospital research job and, at night, for a nonprofit that served unhoused people in New York City. "That was an eye-opening experience that helped me understand there's something really powerful about nonprofit work," he says of the latter. "I saw for the first time that there are other ways to help people and communities outside of medicine."
Still, John was nervous to tell his parents that he wouldn't become a doctor after all. "Since they don't speak English, it was particularly challenging to explain to them, because my Korean is not amazing," he says. "As far as I know, there is no direct translation in Korean for 'nonprofit.' I basically just said 'no money.'"
Sometimes, that was a little too close to the truth. As he tried to expand 12+, John ran into the usual difficulties of fundraising for a new nonprofit. "We have always had to claw our way to build out revenue and improve our ability to sustain our work," he says. "I wanted to be a bit more creative."
John's creativity manifested itself in a unique way. He'd been dreaming of starting a coffee roastery for a while—specifically one that focuses on Vietnamese beans. Along with Kwon—who is now a partner at a law firm but still sits on the 12+ board—and a former 12+ employee named Thu Pham, John opened Càphê Roasters in 2018. It's the first Vietnamese specialty roaster in Philly, and it's located beside 12+'s main office in Kensington.
"We saw that there were all these opportunities to support 12+ through that business," John says. That includes featuring 12+'s logo and a description of the nonprofit on each bag of coffee (which are sold at Di Bruno Bros. and other popular Philadelphia establishments), creating jobs for students, and donating some of the roastery's profits to 12+. "As that business grows, there's the possibility that 12+ can have funding on a more consistent level that is unrestricted, allowing us to flexibly support our programs and the people who work for us," John says. "I think that's potentially really exciting."
In October, 12+ celebrated its 10-year anniversary with a gala at the Mann Center that featured acclaimed filmmaker M. Night Shyamalan, who received an award for his longstanding support of the organization. And as John looks ahead to the rest of the 2022–23 school year, he's continuing to seek out new partnerships and sources of funding—and imagines unfurling 12+ even further into the world.
"I think our expansion into Camden has shown that our model can be scalable," he says, "so we are starting to really consider what it could look like to replicate 12+ in new cities and new districts."
—Molly Petrilla C'06