The French Connection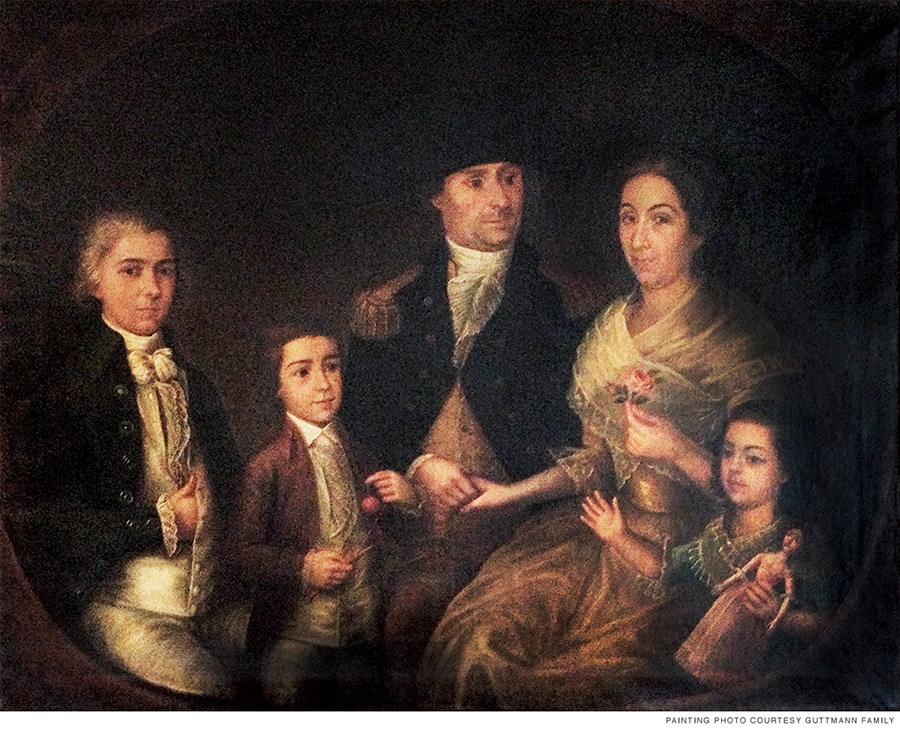 The "interesting little trail" that unlocked a family's past—and made a Penn connection.
---
Long before the advent of Ancestry.com, John Guttmann C'75 and his siblings had taken an interest in their history. With the help of relatives still living in their home village in Austria, they've been able to trace their father's side of the family from his parents' immigration to the US in 1914 back to the early 1800s. But their mother's family's origins were more of a mystery.
Their earliest known ancestor on that side, Patrick Milton Kelly, had emigrated from Ireland in the 1850s, settling in New Orleans, says Guttmann. But family heirlooms suggested a French lineage as well. These included a small book—a diary, they assumed—handwritten in French; and a large oil painting depicting a man in military dress next to a woman and three children, dating from the 1700s. Family lore had it that the man had come from France to fight in the American Revolution and then stayed, eventually bringing his wife and children to join him in New Orleans. But all they really knew was that his name was DuForest.
After their mother's death in 2018, the painting came to one of Guttmann's three sisters, and they began trying to learn more about it. The art museum at Louisiana State University put them in touch with an art historian "studying itinerant painters in colonial-era America," Guttmann recalls. "He knew who [the artist] was right away: it was an itinerant Spanish painter who was traveling around Louisiana, Florida, in the south, earning his living doing family portraits." The art historian—Philippe Halbert, currently interim curator of American Decorative Arts at the Wadsworth Atheneum Museum of Art at Yale, but then a doctoral student—also suggested that he might know someone who could identify the figures in the portrait, based on the name DuForest.
"And then I got a call from Joan DeJean," says Guttmann, "and so it was this interesting little trail that led us [to her], and we had multiple conversations."
DeJean, Trustee Professor of Romance Languages, had talked with Halbert about the Guttmanns and their portrait while Halbert was on a fellowship at Penn's McNeil Center for Early American Studies. The author of many books on French history and culture, she had just finished her latest one, Mutinous Women: How French Convicts Became Founding Mothers of the Gulf Coast ["Briefly Noted," Jul|Aug 2022].
Based on extensive archival and genealogical research, the book traces the histories of a group of women arrested on often trumped-up charges by corrupt Paris police and deported to Louisiana in a ship called La Mutine in 1720. Among the deportees was Marie Daudin, the daughter of a dock worker in Orleans, France. DeJean informed the Guttmann family that Daudin's granddaughter, Marie Angelique Revoil, was the woman in the painting, having married one Jean Joseph DuForest in 1767.
In a Zoom presentation for the Alliance Francaise with the Guttmann family, DeJean sketched Marie Daudin's life story and the family's trajectory from abject poverty to a level of affluence sufficient to be enshrined in a large-format (approximately five by six feet) formal portrait, featuring a "killer doll" held by one child, which, DeJean noted, would have been "an expensive doll for the period."
The women had been rounded up at the behest of John Law, a Scottish economist who had been given near total control of France's economy, DeJean explained. Promoting the vast Louisiana colony—which encompassed much of the midsection of North America and extended up to the Great Lakes from the Gulf Coast—was seen as key to replenishing the country's treasury, depleted by wars waged by Louis XIV. At the time, Law "could do anything," she said, and he wanted women for Louisiana—a decision that "determined the lives of many of the first French women in this country."
Of 225 female prisoners sentenced to lifetime exile, Daudin was one of about 60 who survived transport across the Atlantic and were left on the Gulf Coast in February 1720. Heading straight to New Orleans, "Marie moved up from the start," DeJean said, and "always married well." Her first marriage was to a ship's captain, Antoine Michel Caron, who died in 1729 in a Native American uprising against the French at Natchez. The following year she married Pierre LaRoche, a master carpenter, with whom she had a daughter, Marie Catherine LaRoche, born in 1731. After his death in 1736, her third and final marriage was to a merchant named Jacques Massicot, who gained great success in the fabric trade, importing textiles from France. This union, DeJean writes in Mutinous Women, "turned her life around."
In 1747, Marie Catherine LaRoche married Massicot's junior partner, Pierre Revoil. With Marie Catherine taking an active role, the couple would go on to amass significant land holdings in the growing city, including the current sites of the venerable Bourbon Street bar Lafitte's Blacksmith Shop and the Omni Royal Orleans Hotel.
The "diary" belonged to Revoil. It actually seems to have functioned as a combination inventory book and family record, said DeJean, in which the purchase price of some cotton cloth and the 1751 baptism of his and Marie Catherine's daughter—and Jean Joseph DuForest's future wife—Marie Angelique Revoil appear on the same page. ("He's a merchant. You don't waste half a page.")
With each generation, the family acquired greater wealth and prominence. When Marie Daudin died in 1768, her estate was worth "50,593 livres," DeJean writes. "In France, even grand families rarely passed on anything like this to their children."
For John Guttmann and his sisters, the "big question mark" was how to connect the painting with Patrick Milton Kelly—"and Joan really enabled us to do that, which is very meaningful to us," Guttmann says. "To me it's an American story: This guy immigrates from Ireland and marries the descendant of one of these French prisoners who came over. Go forward two generations, and you have my [maternal] grandfather, who moves from New Orleans up to New Jersey and New York for a job, and my grandmother—who was also Irish and was the daughter of a couple who were barkeeps and lived above the bar. And then their daughter, my mother, marries my father, also [named] John Guttmann, who is the son of Ellis Island immigrants from Austria."
That the key which unlocked the family's origins came by way of Penn was an added bonus, he says. A political science and American civilization major, he "fell in love with the place right off the bat" when he visited during high school from his home in Montclair, New Jersey. The rest of the family is still settled in the New York–New Jersey area, but after law school at Cornell, Guttmann headed to Washington, DC. He clerked two years for a federal judge before joining the then-fledgling environmental law firm of Beveridge & Diamond ("I was the 12th lawyer," he says) and rising through the ranks to serve as managing partner. He's currently a principal with the firm.
Guttmann has two daughters, one a doctoral student in philosophy and the other a freelance writer, and he notes that as he and his sisters have gotten older, the motivation to discover and share the family's past with the next generation has only grown stronger. "We've been engaged in an effort to reconstruct the whole history on both sides," he says, "and Joan just took it to another level." —JP