The Corrupt, the Brave, and the Foolish
In his latest detective novel, Martin Cruz Smith probes Putinism, Ukraine, and Parkinson's Disease.
By Julia M. Klein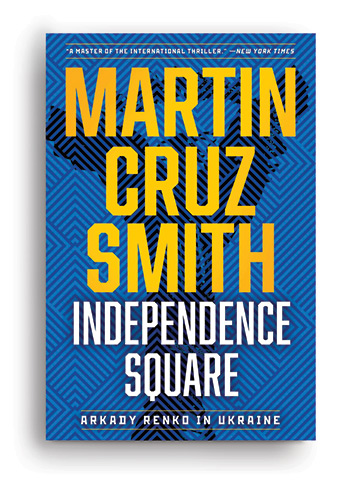 ---
Martin Cruz Smith's cynical Moscow police detective, Arkady Renko, is back, battling his latest romantic heartbreak, career troubles, and now a Parkinson's diagnosis. Amidst the repression and corruption of Vladimir Putin's increasingly totalitarian Russia, he remains the savviest guy in the room.
The tenth entry in Smith's Arkady Renko series, launched in 1981 with the bestselling Gorky Park, Independence Square is genre fiction anchored in autobiography and political intrigue. The novel nods to Smith's own three-decade-long struggle with Parkinson's disease. It also offers a sardonic look at Russia and Ukraine on the brink of Russia's February 2022 invasion. As Renko sees it, Putin's playbook is simple but lethal: "Distort, deceive, divide, defeat."
In Independence Square, Renko zigzags from Moscow to Kyiv and Crimea, trying to find a friend's missing daughter, and then, as the bodies pile up, solve a series of murders. While grieving a breakup with his reporter girlfriend, Tatiana, and being sidelined at his job, he confronts treacherous political crosscurrents, the ominous Werewolves motorcycle gang, and some particularly combative dolphins.
The action begins in June 2021, seven years after Russia's 2014 annexation of Crimea and amidst continuing fighting in eastern Ukraine. Renko's adventures lay bare his fortitude and his foibles, including a distracting soft-heartedness. But he's now facing extra impediments: the hallucinations and mobility and balance issues associated with Parkinson's. "Everything starts going with age," Renko philosophically tells a friend.
Smith writes in spare, plainspoken prose that keeps the narrative propulsive. Independence Square spotlights both the perils of internal Russian political dissent and the grievances of Crimea's persecuted Tatar population. Details may be invented, but the atmosphere rings true: as in the old Soviet Union, seemingly everyone is under surveillance, no one is trustworthy, alliances turn on a dime, and opposition to the regime can carry a death sentence. "Politics in Russia was for the corrupt, the brave, and the foolish," Smith writes. He mines the settings and situations for dark humor, but his narrative also pulses with threat, foreshadowing worse to come.
Smith's multiple honors include the Hammett Prize (twice), the Mystery Writers of America's Grand Master Award, Britain's Gold Dagger Award, and the Premio Piemonte Giallo Internazionale. The Gazette asked him about his protagonist, his own accommodations to Parkinson's, and why he decided to name this novel for a location in Kyiv.
---
How has Arkady Renko evolved over the years? 
He's become older and grayer but no wiser. He's always been a fool for love, and he still has not learned that bucking the system will only get him in trouble. Changes that I see in him have been brought about by his personal relationships. He has become more human and vulnerable because of his love for Irina and later Tatiana. But it's his relationship with his adopted son, Zhenya, that may have changed him the most. Zhenya had been an introverted and angry child in the early books. Unlike his own father, Arkady has tried to see things from Zhenya's point of view and has gradually learned to understand him.
What have been some of his most memorable adventures?
Arkady has survived a wide variety of adventures [including] freeing the sables in Gorky Park, being chased over the ice by a mad man with an ax in Polar Star, and traipsing through the ruins of Chernobyl in Wolves Eat Dogs. In TheSiberian Dilemma, he survives a fight with a giant brown bear. It seems that Arkady, though not a superman, remains alive by outsmarting his opponents.
How has Parkinson's affected your ability to research and write?
I had always enjoyed going to the places I was writing about and spending time with the people there. It grounded me, so that when I came back, I could write with a sense of the people and place. Now, with Parkinson's, I can no longer travel, so I read everything I can lay my hands on, and I am belatedly discovering what an incredible source of information my computer is. Still, it's not the same as being there, and it's not as much fun. My wife, Em, fills in the gaps and types as I dictate. We talk a lot, so the writing takes longer. But there are times when a second opinion lends a certain authenticity.
I know you've traveled to Moscow for previous books in the Arkady Renko series. Have you ever visited Kyiv or Crimea, the other principal locales in this book?
I first went to Kyiv in 1972 on an organized tour because, in those days, that was the only way an American was allowed to visit the Soviet Union.I thought it was a beautiful city. Then, in 2001, I stayed in Kyiv while I researched Chernobyl for Wolves Eat Dogs. Once again, I was swept away by its beauty. Unfortunately, I've never been to Crimea.
I traveled to Russia seven times, spending at least two weeks each visit: first, in 1973, for Gorky Park; the last time in 2011, when I traveled to Siberia for The Siberian Dilemma. I wasn't allowed into Russia for years after Gorky Park, so I found a little bit of Russia up in the Bering Sea, where Russia and the United States cooperated with each other in a fishing venture. KGB had me kicked off the Russian factory ship, but by the time they discovered I was on board, I had gleaned enough information to write Polar Star.
How has Parkinson's affected your subject matter?
I haven't wanted to dwell too much on the Parkinson's because that then becomes the story. I spent one chapter on Dr. Pavlova's diagnosis and Arkady's reaction to the news. But after that, I injected it into the book only for dramatic effect, or when I thought it might heighten the tension of a scene. I've never written about it before Independence Square.
What were the specific inspirations for the novel's plot and settings?
Like everyone else, I was horrified that Russia intended to annex Ukraine in the same way it had annexed Crimea in 2014. I wanted to write about the history of Crimea and Ukraine's relationship with Russia because I wanted to understand why Putin would do this. For that reason, the book takes place during the period when Russia was building up its forces on Ukraine's borders. The book begins in Moscow. Then Arkady travels through Ukraine and Crimea to give the reader a sense of these countries—their people, their diversity, and their independent spirit. In Crimea, I was fascinated to learn what a significant role the Tatar population played in Crimea's history and chose to make a point of that in the book, too.
Why the title?
Independence Square lies in the center of Kyiv, and in the middle of the square is Independence Monument, a victory column that commemorates the independence Ukraine proclaimed for itself in August 1991. In December of that year, Boris Yeltsin recognized its independence. After Yeltsin, Vladimir Putin gained significant control over the country's governing body.
In 2013, protesters gathered in the square to protest President Viktor Yanukovych's decision to cut European Union trade relations. Putin had obviously influenced this decision. Peaceful protests turned into battles with state police forces who tried to disperse them. This resulted in what was called the "Revolution of Dignity." Protesters were killed, Yanukovych resigned, and parliament changed the constitution back to include the reforms of 2004. This drove Russia and pro-Russian separatists to seize Donetsk and Luhansk in the eastern region of Ukraine, and Crimea in the south. Since the 2014 Revolution, Ukrainians have looked more and more towards the West, and Putin is attempting to regain control. You could say that Independence Square was where it all began.
The book must have been conceived and mostly completed before the 2022 invasion of Ukraine. How did the invasion affect the novel?
I began Independence Square in 2021 after Putin threatened to invade. Still, we all held out hope that he would back down. After the invasion, I didn't regret just writing about the gathering of Russian troops on the border because I was interested in understanding the possible reasons and background of the war, and that would have been difficult if I had written about the invasion, too. The interest in the invasion itself would have overshadowed all that had gone on before.