The Art of Rightful Recovery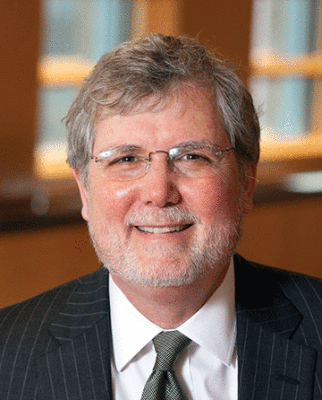 Class of '69 | Attorney Howard Spiegler C'69 never met Jewish art dealer Lea Bondi Jaray. But as he describes the injustice inflicted on her 75 years ago, it's natural to assume he did. And it's easy to understand his commitment to redressing that long-ago wrong.
In 1939, when Nazi art dealer Friedrich Welz visited Bondi Jaray's Vienna home, he pressured her to give him the "Portrait of Wally," a 1912 painting by Austrian Expressionist Egon Schiele. Welz became insistent and aggressive.
"Why don't you give in?" Bondi Jaray's husband finally told her. "You know what he can do."
Her surrender to Welz's coercion was an injustice that outlasted Bondi Jaray, who fled to London in 1939 and died there 30 years later. Mrs. Bondi (as she came to be known) often consulted lawyers about possible recovery, but reasoned she would never get a fair hearing in Austria.
It was not until late 1997, while the portrait was displayed at the Museum of Modern Art (MoMA) as part of an exhibition titled Egon Schiele: The Leopold Collection, that a formal ownership dispute finally erupted. Though litigation would keep the iconic masterpiece out of the public eye for a dozen years, "Wally" became a recurring focus of Howard Spiegler's professional life.
Five years after graduating from Penn as a political-science major, and armed with a law degree from Columbia, Spiegler started a new job as an associate with the New York firm Botein, Hays, Sklar & Herzberg. On his first day, he reported to Harry Rand, the firm's head of litigation—who, along with Spiegler and Lawrence M. Kaye (then a senior associate and now art-law-practice co-chair with Spiegler at Herrick, Feinstein in New York), would pioneer the field of art and antiquities law over the next three decades.
One landmark case was the return to an East German museum of two portraits by 16th-century artist Albrecht Dürer that had been looted by an American GI at the end of World War II. A second was litigation over the so-called Lydian Hoard—a trove of Anatolian gold and silver treasures robbed from Turkish tombs in the 1960s and eventually bought piecemeal by the Metropolitan Museum of Art. The Lydian antiquities were returned to Turkey after an out-of-court settlement.
Such cases extended important legal principles to art and antiquities restitution. One was that an owner should have the chance to find lost artwork before any statute of limitations period starts to run. Another was that other nations' ownership concepts can be used in US courts.
"Their work has been crucial," says Patty Gerstenblith, a specialist in cultural-heritage law and Distinguished Research Professor of Law at DePaul University. "The field has grown and more people have gotten involved, but they're still the leaders."
The collaboration between Kaye and Spiegler continued, despite Botein's dissolution in 1989 and Harry Rand's death in 2005. "It is both rather seamless and hard to articulate," says Kaye. "We have complementary strengths and a way of finishing each other's thoughts and sentences." Over the years the practice has expanded to encompass all matters involving art.
"You ask did they kill, yes they killed. They killed for art, when it suited them."
— Henry Bondi, heir to Lea Bondi Jaray.
In 1999, after Bondi's heirs, represented by nephew Henry Bondi and his son Andre, brought the matter to the firm, Spiegler took the lead in what became United States of America v. Portrait of Wally. Not only was itone of the first major Holocaust looted-art cases; it was also an attempt to recover from one institution (MoMA) works on loan from another.
On December 27, 1997, just days before MoMA's Schiele exhibition was set to close, The New York Times published a lengthy article that sparked new interest in the "Wally" dispute. The piece revealed controversies surrounding Viennese ophthalmologist Rudolf Leopold's methods in amassing a collection that he eventually sold to an eponymous foundation financed by the Austrian Government. Within days, the Bondi heirs were imploring the Modern not to return "Portrait of Wally" until their claims could be heard. Instead, citing contractual obligations, MoMA moved to ship the entire exhibition (including "Wally" and another Schiele work disputed separately) to Europe. But a last-minute criminal subpoena from then-Manhattan District Attorney Robert M. Morgenthau forestalled the transfer.
Even as the matter hung in limbo, Spiegler kept in close touch with Sharon Cohen Levin, head of the US Attorney's Assets Forfeiture Unit in Manhattan.
"If the subpoena was quashed," says Spiegler, "we anticipated our next recourse would be to ask the federal government to initiate a civil forfeiture process," essentially inviting potential claimants—in this case the Bondi heirs, the Leopold Foundation, and MoMA—to prove their interests.
On September 21, 1999, when New York State's Court of Appeals finally quashed the Manhattan DA's subpoena, Spiegler swung into action. "I figured the Schiele painting would be on a plane within hours. I'd made it a point to collect all of Sharon's phone numbers, so I called to alert her."
Levin immediately got the forfeiture under way, but it would be another full decade of legal maneuvers before the case was settled. According to Gerstenblith, MoMA had made a crucial mistake in not seeking State Department immunity from seizure for the exhibit pieces. Spiegler and Kaye, she adds, showed "guts and gumption in pursuing their client's interests over a long period."
During the inevitable down moments of that long period, Spiegler often reminded himself of what was really at stake.
"I took an art-history survey course pass-fail while at Penn, but I've undoubtedly learned more about art because of my law practice," he says. "Whatever the influence, it's at times like these I find myself focusing on the work—its history and its compelling presence."
USA v. Portrait of Wally was finally set for a Federal District Court trial in late July, 2010—just weeks following Rudolph Leopold's death. (Henry Bondi died in 2003.) The trial judge had already ruled in favor of the Bondi heirs on many issues; the one remaining point was whether Leopold knew, when the Schiele exhibition went to MoMA, that "Portrait of Wally" had been stolen. With these circumstances as backdrop, Spiegler finally brokered a July 20 settlement. Bondi Jaray's estate would receive $19 million (the portrait's full value) while the painting would be returned to the Leopold Foundation—but only with its true provenance publicly acknowledged and only after it went on display at New York's Museum of Jewish Heritage. Though much-delayed, it was a moment of triumph and vindication for the family—and for Spiegler.
After eight decades and the passing of multiple generations, some experts predict that Holocaust-related art cases will ultimately fade from the scene. Gerstenblith disagrees.
"Because of computerized databases and Internet access, art research is constantly improving," she points out. "Museums are even creating 'curators of provenance' positions."
For their part, Spiegler and Kaye are as active in the field as ever. On November 6, the Dutch Minister of Education, Culture, and Science agreed to restitute three works to Herrick client Marei von Saher, the sole heir of Jewish Dutch art dealer Jacques Goudstikker. The paintings—"Two Men with a Horse on a Beach" by Philips Wouwerman, "Boy with a Dog" by Dominicus van Tol, and "A Man with a Glass of Wine" by Hendrick Gerritsz Pot—were taken when Hermann Göring looted Goudstikker's gallery in 1940.
"But Goudstikker's collection contained about 1,400 artworks," notes Spiegler. "Over a thousand are still missing."
Add to that the Herrick team's interest in the Nazi-era hoard of reclusive Munich art collector Cornelius Gurlitt, and the verdict is clear: "We have a lot of work ahead."
—David Sears C'69