Showdown At The Palestra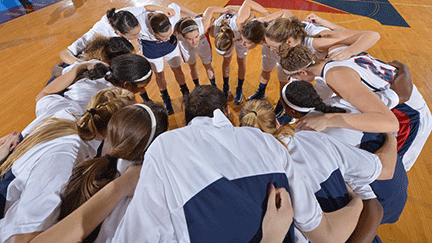 To say the Penn women's basketball team has struggled against Princeton the last four years is sort of akin to saying the Washington Generals have struggled against the Harlem Globetrotters.
Since Mike McLaughlin took over as Penn's head coach prior to the start of the 2009-10 season, the Quakers have lost all eight games to the Tigers – by an average of 28.5 points per game.
Some examples of the final scores in these lopsided contests? 77-47. 83-48. 79-42. 78-27. 70-39.
Yikes.
Of course, this has nothing to do with McLaughlin, who just happened to begin his Penn rebuild at the beginning of Princeton's ascent to league supremacy. In the past four years, the Tigers have been just as dominant against the rest of the conference, losing just two total games en route to four consecutive Ivy League championships.
But might the tides finally be shifting?
Heading into the 2013-14 Ivy League season – which begins Saturday at 3 p.m. when Penn hosts Princeton in the first game of a men's-women's hoops doubleheader at the Palestra – it looks like the Tigers will face a tougher road to capture their fifth straight crown. It also looks like Princeton's biggest challenge will be a Penn team that has steadily improved every year under McLaughlin and is now a legitimate NCAA tournament contender.
[youtube height="HEIGHT" width="WIDTH"]http://www.youtube.com/watch?v=JxrDgEryHoE&feature=youtu.be[/youtube]
"I've seen the progression," McLaughlin told me following Thursday's practice. "I've seen the team hoping to hang on minute by minute so they didn't blow us out of the gym. I've seen the freshmen come in [three years ago] and try to keep the game within 30. But now we want what they have."
While it would probably be foolish to still not consider the Princeton the favorite, there are plenty of reasons to believe this could be Penn's year to capture the program's first Ivy League title since 2004. In fact, here are five of them:
1) The streak: The Quakers enter the showdown with Princeton on a historic winning streak, having won eight straight games – the second longest mark in program history. And at 8-2, Penn is off to its best start ever (with one of the two losses coming against perennial national championship contender Notre Dame.) "You always want to be playing well going into Princeton," McLaughlin said. "And we have certainly played well over the last two months."
2) Handling adversity (and cancelled flights): After upsetting Miami on New Year's Day – the program's first-ever win over an ACC opponent – the Quakers faced an interesting travel dilemma. Because of the snowstorm on the East Coast, Penn's flight back to Philly on Friday was cancelled, leaving the team scrambling to find another option for 23 people. Eventually, they managed to find a flight from Ft. Myers to Atlantic City (an interesting route, to say the least) and got back to Philly early Sunday morning – literally the same day they were set to play another game. The bleary-eyed Quakers then proceeded to wipe the floor with their opponent, Norfolk State, beating them by 30 points to continue the winning streak. "We showed a lot of character and resolve and responded pretty well," McLaughlin said.
3) Alyssa Baron: It's been quite a couple of weeks for Baron, who became the fourth player in program history to score 1,500 career points in Penn's 85-51 win over Morgan State on Wednesday. And that came after the Florida native led the Quakers to the huge win over Miami in front of nearly 100 friends and family, which McLaughlin called a "perfect ending to a pretty special trip for her." But for the star senior guard, the most important part of the season starts now. "She really wants the Ivy League championship," McLaughin said.
4) Depth: Whereas in years past, the Tigers have been able to run the Quakers out of the building because of how much deeper their roster was, this year's Penn team should be able to combat that with a lot of depth of their own. On top of the team's strong starting lineup of Baron, junior guard Kathleen Roche, senior point guard Meghan McCullough, and junior forwards Kara Boneberger and Katy Allen, the Quakers have a valuable weapon off the bench in 6-foot-3 freshman center Sydney Stipanovich, who's averaging 12.3 points and 8.1 rebounds per game. And now the Quakers have another great option in 2012-13 Ivy League Rookie of the Year Keira Ray, who's played the last four games since returning from a torn ACL. "She's getting better every day and that adds a piece to the puzzle," McLaughlin said.
5) Tigers have a little less bite: Make no mistake – Princeton is still a very good team. But after graduating two-time Ivy League Player of the Year Niveen Rasheed, among others, the Tigers might not be quite as loaded as they've been in the past, as their modest 9-5 record attests. Coming into Saturday's game, Penn even has a higher RPI (53) than Princeton (61).
So with all of that being said, is this the year Penn finally beats Princeton? At the end of our interview, I posed the question to McLaughlin and here's how he responded:
"Well, I don't want to say anything other than we'll be ready at 3:00 on Saturday."
Game on.
— Dave Zeitlin C'03