Shooting Star Over Flushing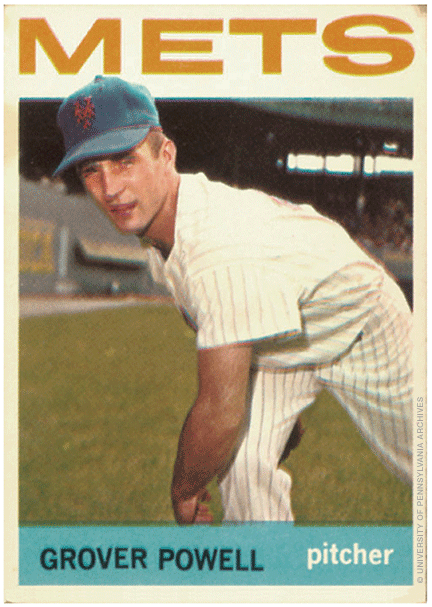 Class of '66 | In the last 60 years, four baseball players from Penn have made the Major Leagues. Two of them stuck around long enough to become veterans—outfielders Doug Glanville EAS'93 and Mark DeRosa W'97—both of whom were from New Jersey and played primarily in the National League East, for the Phillies and Braves respectively.
The two who didn't stay long both pitched for New York teams. One, Steve Adkins EAS'86, threw 24 innings for the Yankees in 1990. Then he was gone. (He wasn't the only Penn alum ever to wear the pinstripes—Pi Schwert W1914 batted .278 for the Yankees in 1915, though he only made it to the plate 19 times.)
The other was the late Grover Powell W'66, who remains the only Penn player ever to make this writer's favorite team, the New York Mets. Like Adkins, he pitched for one year only, in 1963. But don't let that fool you. Powell is a certain type of baseball legend—the meteorite hurler who smokes batters and whose brilliance somehow demands that he fade into obscurity and tragedy as fast as he arrived. He was the Mets' terrific No. 41 before Tom Seaver ever made the team.
In his first start, the 22-year-old lefty threw a shutout against the hottest team in baseball, his hometown Phillies. "Who is Powell?" asked The New York Times. "Where did he come from, what's his baseball background and how far can he go?"
He came from Wyalusing, Pennsylvania, dairy country, northeast of Scranton, where he grew up with two older sisters and a younger brother. He always "was determined" to be a ballplayer, his brother Leon says. They had a makeshift ball field right in front of their house—just open grass—"kinda like Field of Dreams."
At Penn, Powell majored in economics and joined the lightweight football team, but baseball was his real reason for being there. In his first season, the lefty—only 5'10" and 175 pounds—struck out 17 on the road against Columbia. His sophomore year was even better: he led the nation's college teams in strikeouts with 166 and threw a no-hitter against Lafayette.
He was a goofball, though—a breed that has always had a place in the sport—always kidding around, often in a curiously hard-headed way. Years later, he would tell reporters his middle name was Demetrius when in fact it was David. He would assail the press for not having heard of his hometown, which he described as "a great scenic spot where Marie Antoinette was gonna come when she left France, except she got her head in the way of a knife." (Note: this story is basically true.) "Aren't you writers supposed to be literate?"
His manager, Jack McCloskey Ed'48 GEd'52, also Penn's basketball coach and a man who would go on to coach in the NBA, was not a fan. He kicked Powell, then a junior, off the team.
"It was just an accumulation of things that he did," McCloskey told the author of an article marking the 50th anniversary of the Ivy League. "Once he wanted to come out of a game because he was cold. One day, he swore a lot at the equipment guy and threw clumps of grass. Then he missed a team bus. I finally said, 'Enough is enough.'"
Powell claimed the bus incident was innocent—that the team had had a 7:30 a.m. trip to West Point and that he had been studying all night for a test and overslept—but it was too late. Besides, he knew that the pros had interest. The Mets had offered him $8,000 to sign after his sophomore year. But now that he was officially dismissed, they dropped their offer to $2,500 ($1,000 for signing and $1,500 if he could stay in the organization 90 days).
It was enough. He signed before their disastrous inaugural 1962 season and was assigned to Syracuse, then Auburn and Raleigh, where he compiled a losing record. They didn't recall him till July of '63. He spent his first 14 Major League innings in the bullpen, accumulating an ERA just under 2.00, while walking almost as many batters as he struck out. Then, on August 20, with the Mets in desperate need of pitching, he got the nod.
It was the second game of a series against the Phillies, who were on an eight-game winning streak and whose home field, Connie Mack Stadium, was 30 blocks from Penn. The opposing pitcher, Cal McLish, had been in the Majors since Powell was 3 years old. The pressure was on—and true to form, Powell loaded the bases in the very first inning.
"I thought I'd be wild," Powell told reporters afterward, "and I was. I always have troubled getting started. I just go out and throw it in the general direction of the plate."
But the 22-year-old managed to get out of the jam in the first, and things seemed to be working out—until he saw the bat boy come running out of the dugout in the sixth.
"At first I thought it was a relief pitcher," Powell said. Turns out the kid was told to give Powell a handkerchief so he could wipe the sweat off his face. "I thought they wanted me to surrender!"
That was the last hiccup in an otherwise fantastic complete game. Powell shut out the Phils on four hits, 4-0. The Mets were ecstatic. Casey Stengel called the performance "amazing" and later asked a reporter, "How did you like my 14-year-old pitcher? Can you imagine what he's gonna be like when he's 16?" The New York press was no less enthusiastic. The Times said that "a 22-year-old left-hander, a virtual unknown, blossomed into a star overnight." Asked what he was going to do with the winning ball, Powell said he was "going to get all the guys to sign it, then I'm gonna take it home and stick it in my front window and put up a sign that says 'Grover Powell Lives Here.'"
In hindsight, that was a shrewd plan—for that one game would turn out to be Powell's only Major League win.
In his next game, he was pitching another shutout when, in the fifth, the Pirates' Donn Clendenon—who six years later would become a key member of the Mets' first championship team—hit a shot back through the box that struck the side of Powell's face. The trainers ran out onto the field. But after receiving care, 1963-style, Powell continued pitching and managed to induce a double play a few batters later. In the dugout, though, he felt he wasn't the same. His vision was blurry, and he was said to be in shock.
That hard liner up the middle was the end—only no one knew it yet.
For the rest of the season he foundered, so the Mets sent him to play winter ball in Venezuela. "Got off the plane, and either that night or the next, they started him," says Leon, his brother. "They didn't have any idea how to handle a pitcher."
On almost no rest, Powell tore his rotator cuff. He spent the next eight seasons in the minors, though he returned to Wharton and finished his bachelor's degree in 1966. After working as a bank manager and used-car salesman, he moved to North Carolina. He had a son and named him after Zane Grey D1896 Hon1917, the wildly prolific writer of Western stories and dentist who had also played baseball at Penn ["Dentist of the Purple Sage," Mar|Apr 2004].
Powell's son was in a terrible car crash in 1985, and while visiting him in the hospital, the former pitcher found out that he himself was seriously ill with acute leukemia. He died on May 21. Powell's brother and sisters decided on a tombstone that featured an image of his baseball card and the line: "He achieved his dreams."
"It was something we wanted to do," Leon says. "That's a true story."
—Gabe Oppenheim C'09