The Master Tester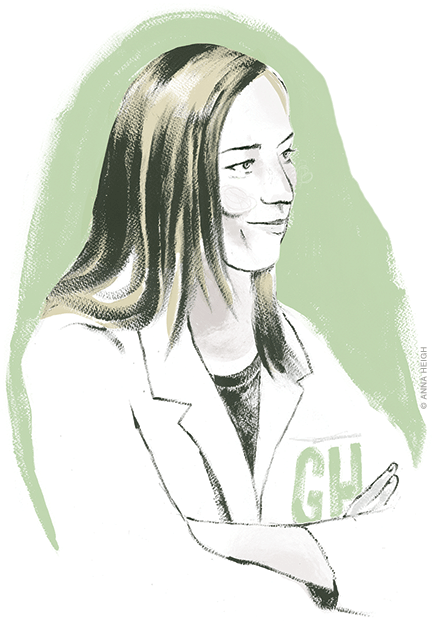 Class of '08 | Not everyone gets to stand around in a white lab coat on national television, cracking eggs with Martin Short. Very few get to trade that lab coat for a helmet and take spins around the Virginia International Racetrack for Car and Driver's Lightning Lap, where the year's hottest performance cars are put to the test. And when your job also involves testing performance metrics on toilets, writing articles about how to make superheroes on a 3-D printer, and extolling the virtues of Play-Doh ice-cream machines on the Today show,you know you're in a seriously rarified line of work.
For Rachel Rothman EAS'08, the technical and engineering director at the venerable Good Housekeeping Institute (GHI), that's part of the fun.
"I love that no two days are the same in my job," she says. "One day I'm testing the latest tablets and running on treadmills, and the next I'm dropping toys, dishes, and luggage from the drop tester and having the latest beauty products placed on my arm to test for firmness, and all the other magical powers they may possess." She also gets to attend a wide range of conferences and events that include the Consumer Electronics Show (CES) in Las Vegas, auto shows in Detroit, and the Toy Fair in New York.
On occasion, Rothman even performs improv, as was evidenced during a discussion about money-saving smartphone apps with Anderson Cooper on Anderson Live. Describing apps that provide instant coupons based on your geographic location while standing beside comedian and actress Retta, who played Donna Meagle on Parks and Recreation, she smoothly worked in a reference to the character's "treat yo' self" catch-phrase.
If the idea of an engineer leading a photo shoot and hamming it up with celebrities runs counter to your usual image of the profession, Rothman is living proof that in the right person, the two sides of the brain can get along just fine.
"I'm just as comfortable in a room full of engineers as I am with corporate execs or media personalities," she says.
The engineer in her was nurtured by her family, which operated a consumer electronics business and often talked shop at the dinner table, while the communications professional in her was kindled by the PR job she held for two years with Sony Pictures and Allied Advertising during her time at Penn.
Both sides of her brain have found a home at the GHI, which was established in 1900, before the Food and Drug Administration existed. From an early warning about formaldehyde in foods, to touting the health benefits of whole wheat, to highlighting sugar's cavity-causing role nearly a decade before the origin of tooth decay was established, the GHI has long been a consumer watchdog. [Disclosure: Gazette Committee member Miriam Arond C'77 directs the GHI.]
Findings from the GHI are reported in Good Housekeeping, which is 130 years old this year, while the Good Housekeeping Seal has served as a trusted rating system for consumer goods over the past 106 years.
That's definitely not a history Rothman ever expected she'd be a part of.
"I didn't know such a cool, dream job existed until my undergraduate advisor [Mark Yim, professor of mechanical engineering and applied mechanics] brought it up in class," she says. "He informed us the GHI was looking for a test engineer in their Consumer Electronics Lab. They wanted a mechanical engineer who liked tech and consumer electronics and had good communication skills."
Rothman was promoted four times over the next seven years, moving from test engineer to her current role as technical director and director of engineering.
"I'm surrounded by all these creative, technical, very diverse people, and it's inspiring to be a part of that," she says. "I usually see things in the consumer-products space before the public does, and I get to see where things are trending, and inform and help shape what happens."
Rothman's ability to shape consumer purchasing isn't always rooted in science, though. In some cases, common sense trumps everything else. She wasn't sold on the selfie brush (a plastic hairbrush with a built-in smartphone case for those perfect-hair snapshots), nor on the Belty, a "smart" belt meant to adjust to one's expanding or shrinking gut. Having discovered the latter while perusing the offerings at the CES, she advised her audience to "stick with a dumb belt and let that guide you if you've eaten too much."
The fact that she gets paid to "play with the coolest gadgets out there, and help make people's lives better" isn't just a lucky break for Rothman. It also means there are "vast opportunities in science people may never have thought of before.
"Through my work, I'm showing just one piece of what's possible with a mechanical-engineering degree," she adds. "There's really no limit to what you can do." —Stefanie Ellis