From Freshmen to Filmmakers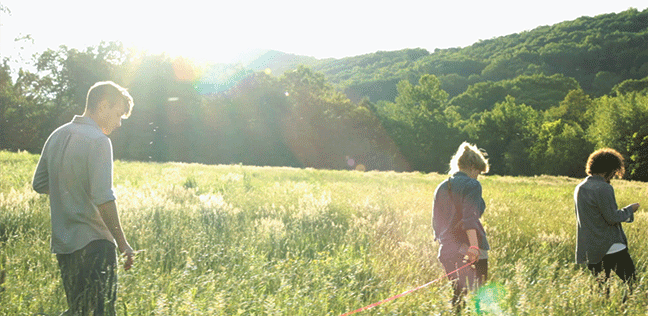 They needed $21,170 to finish their movie.
Just $21,170 to fine-tune the sound, polish up the color, package the DVD. They'd been working on Driving Not Knowing for a year and a half, longer than they'd imagined it would take. They wrote, shot, directed, edited, and acted in it while also finishing their final year at Penn. With $21,170, they could finish those last few tweaks and enter film festivals and…
Actually, let's back up a few seasons first.
March 2013. Dylan Hansen-Fliedner, Dane Mainella, and Jason (Jay) Jadick are gearing up for their last summer break. The juniors have made some short films together, but they want to create something grander before they stride across Franklin Field.
They hole up in Jadick and Hansen-Fliedner's off-campus house with a fourth collaborator, Temple University student Benjamin Davis, and they hash out an outline. They weave character backstories, which isn't too hard, since they're using their own lives for inspiration. Eventually they have their story: Lee (played by Jadick), a sensitive, drug-addled musician, is in love with an ambitious poet, Will (played by Mainella). After a falling out and subsequent year apart, they reconnect and spend a weekend at Lee's country home (Jadick's family farm). There are more layers to the plot—their eventual press kit promises "misfired sexual tension" and "the strained bonds of male friendship, sex, and love"—but those are the basics.
The four guys turned up at Jadick's 300-acre farm in Tunkhannock, Pennsylvania, last June to start shooting. They had their outline and several cameras—but no script.
"None of the dialogue was pre-written, except for a few lines we felt pretty certain we'd need," Hansen-Fliedner says. "We thought it would play more naturally if we shot it in-the-moment. It gave everything a more natural feel. It was akin to a documentary because people were just acting as themselves in moments."
Jadick settles on the same description of Driving Not Knowing: a documentary-fiction hybrid.
They filmed for two intense weekends at the farm, shooting with two cameras at all times. Back at Penn, they added scenes set in the Kelly Writers House, the Institute for Contemporary Art, and the Center for Programs in Contemporary Writing. In between classes, treks up and down Locust Walk, fraternity mixers and work-study jobs, they toiled in the editing room, and eventually they were ready to show several professors their work-in-progress.
"I think it's fantastic," says Keir Politz, a screenwriting professor at Penn since 2011 who taught both Hansen-Fliedner and Jadick. As of late August, he was among only a handful of people who had seen the completed film. "It's a very distinct style of filmmaking. I hesitate to put any labels on it. They show this very mature sense of restraint, which is something you don't see a lot. It feels focused but at the same time loose and naturalistic. I also just like the fact that they were taking risks throughout. It's not mainstream Hollywood fare, but thank God it's not."
"I admire the film's open-endedness—as a matter of style and aesthetic, but also, of course, of plot," adds Al Filreis, the Kelly Family Professor and faculty director of the Kelly Writers House, who is Driving's executive producer. "The film nicely captures, I think, the intense problems and also the deep possibilities of relationships between and amongcreative, associational, or poetic thinkers at the University."
And it could just as easily have never happened. Hansen-Fliedner, Mainella, and Jadick arrived at Penn in the fall of 2010 with different goals, different majors and, it seemed back then, vastly different futures. Hansen-Fliedner was a computer science major. Mainella was learning to be a mechanical engineer. Jadick was studying environmental science. Through a series of random events—Hansen-Fliedner and Jadick bonded on the Class of 2014 Facebook group over a favorite band; Mainella and Jadick were assigned as freshman roommates—they found each other at Penn and began collaborating early on.
As their college years continued, both Hansen-Fliedner and Jadick declared double majors in cinema studies and creative writing. Mainella transferred to the College and starred in a theater-arts program play last fall. Hansen-Fliedner landed on The Atlantic's website and Politico in 2012 for sending love letters in response to Barack Obama fundraising emails.
With their artistic street cred mounting, their senior year ending, and their feature film nearly finished, they began to mull film festivals, Netflix listings, and video-on-demand opportunities. Which brought them to that $21,170. That's the number they landed on for finishing the film—"the ABSOLUTE MINIMUM we need," as they wrote in their appeal on the crowd-funding platform Kickstarter. "In order for our movie to be considered for film festivals, and eventually distributed (in theaters, on Netflix, DVD, iTunes, OnDemand, Amazon, etc.), we need to design, mix, and all-around perfect the sound and color of the picture."
They launched their 30-day Kickstarter campaign on June 20. As per the rules of the site, if they didn't reach their target goal within a month, they wouldn't get any money at all.
"It really was a full-time job for a month, and it was probably one of the most stressful months I've ever had," Jadick says. "It's basically like jumping off a cliff, and if you don't make the money, your parachute's not going to come out. Every night I was going to bed worrying about what was going to happen. I would wake up in a cold sweat checking my phone for updates. It's literally all you do and all you talk about for 30 days."
The four co-directors spent every day spinning out emails, phoning friends, family, and friends of family friends, and trying to get media coverage for their movie and fundraising campaign.
By Day 17, they had raised $10,591. Two days later, they had 200 backers. On Day 25, they still needed $6,802.
They reached their goal on the second-to-last day of fundraising. By the end, they had raised $22,350 from 367 backers. They estimate that about 20 percent of those contributors had a connection to Penn.
As of late summer, they were in the midst of the newly financed polishing. A colorist was making the film look "absolutely beautiful," according to Jadick, while a composer worked to finish the score. He says they'll be submitting Driving to Sundance and other high-profile film festivals. "Hopefully, this winter we'll have our American—or even international—premiere," he adds. "Right now, our prime goal would be to get in a major, top-tier film festival and have our premiere there. Hopefully it would be a market festival, where there are people who want to talk about buying the rights, getting it on video on demand, getting it in theaters, getting it on Netflix, stuff like that. I want people to see this movie, and I'm hoping we can get it out there to as many people as possible."
Politz says he'd be very surprised if the film didn't make it into a festival or find distribution. "It's going to get on-screen," he says. "I hope they get on the biggest screens they can."
Jadick, Hansen-Fliedner, and Mainella are already planning their next collaboration: a film they shot on a cross-country road trip last spring. They were also heading to Brooklyn in early fall to share a house with Davis and two other artists. Jadick, who roomed with Mainella, befriended Hansen-Fliedner, and grew up with Davis—is clearly the lynchpin. "I feel like I've brought together the League of Extraordinary Gentlemen and we're ready to take over," he jokes.
"I think these guys are the real deal," Politz says. "They're artists and filmmakers who are going to be around. It'll be exciting to watch them develop. They're not going to do this and then go get a job working for a bank. That makes me happy."
—Molly Petrilla C'06