Save the Sharks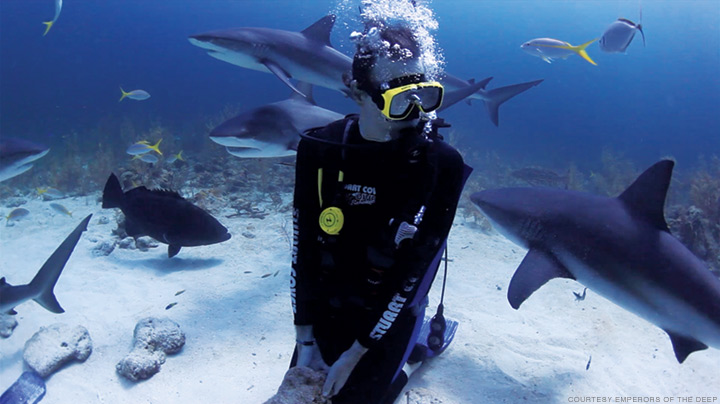 Why a Wall Street executive became a documentary filmmaker and marine conservationist.
---
One summer day in 2015, William "Bill" McKeever WG'80 was wandering around a marina in Montauk, New York, when he made a horrific discovery—carcasses of sharks, with blood and guts spewing from them, strewn about the docks. "One guy cut the heart out of a shark, held the heart in his hand, and showed the crowd," recalls McKeever, an avid boater and scuba diver. "The heart was still beating."
What McKeever had stumbled upon was the conclusion of a shark fishing tournament—one of about 90, he says, that take place each year in the US. Some are "catch and release," in which the shark is returned to the ocean after its capture is documented, while others are "trophy" tournaments in which the fishermen kill and keep the sharks. Although in recent years they've come under more scrutiny and pressure to reform, both have been big moneymakers for the participants.
McKeever didn't know any of this when he first saw the shark tournament on Long Island. All he knew was that "it had to stop," he says, adding that "it just touched a chord. To me, sharks are magnificent animals. They have tremendous strength and beauty. And to see them on the dock, some of them still alive, with the gaff marks where they had been hooked, bleeding, and then chopped up, I decided people had to see it. And the best way to do that was to make a film." And so, having formed a documentary film company in 2009, McKeever Films, that debuted a short documentary that year called Subprime: Bringing Down the House, he did just that.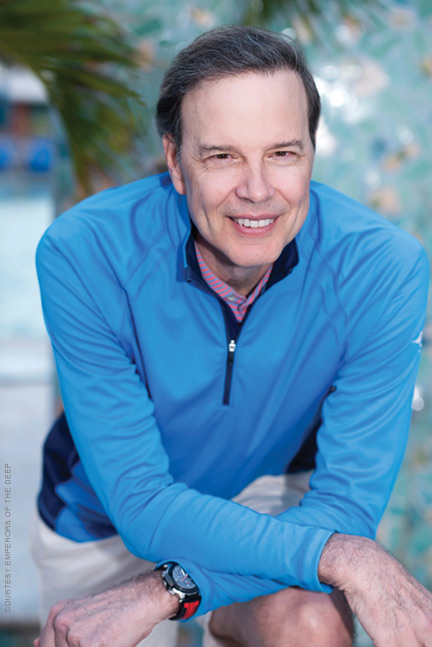 Then a financial analyst for 1st BridgeHouse Securities, McKeever dove into his new passion. Over the next year and a half, he haunted the Montauk shark tournament, filming the event and the aftermath—which included following the tractors that dumped the detritus of the catch into dumpsters and then the landfill. In late 2016, he hired an editor and put together a 10-minute short, which he submitted to various film festivals. When that "went nowhere," he decided to change tactics. "I needed to make the viewer realize how remarkable sharks are," he says. "I needed to educate people that we really need them. If I could build sympathy for the shark, then I could build a case to stop the tournaments."
This time, he put his 30-year career as a Wall Street executive in healthcare for such large firms as Merrill Lynch and UBS on hold. He traveled the globe, making stops in Florida, Hawaii, the Bahamas, Cambodia, Taiwan, Australia, and South Africa (where he dove with great white sharks); interviewed the world's leading shark experts; and produced, directed, partially filmed (with help from some of the world's best underwater cameramen), and narrated a feature-length documentary. Emperors of the Deep was released in 2019, the film documenting McKeever's personal quest to understand these mysterious creatures who have survived five major mass extinctions.
With what McKeever calls "some help from the universe," the editor for the film was friends with a book agent, who encouraged him to write a book to accompany the documentary. The advance for the book of the same name, published in May 2019 by Harper Collins, helped finance some of the movie; the rest came out of McKeever's own pocket. Emperors of the Deep, the film, was accepted into several film festivals to critical acclaim and is currently available on Microsoft Movies.
McKeever's takeaway is simple: sharks have more to fear from humans than vice versa. "While sharks kill an average of four humans a year," he writes, "humans kill 100 million sharks a year." The "Jaws mentality," as he describes it, which spawns the notion that sharks are bloodthirsty man-eating predators, is simply wrong. To help illustrate this point, McKeever filmed his free dive in the Bahamas, where a fellow diver put fish on the end of a skewer and held it up to McKeever's face. Before he could say "You're too close, back up," a shark in his periphery built up speed and headed straight for him. "I just thought don't move," he recalls. The shark went straight for the fish but did come close enough to McKeever that its pectoral fin hit him on the cheek, leaving behind a thin layer of film that sharks have on their skin to protect them from bacteria and viruses. "I must say I had a bit of a thrill," he admits. "Not many people on the planet can say that they were literally kissed by a shark on their cheek."
Another time, he went freediving in Florida with bull sharks, who "just looked at me as an oddity and then they swam off," he says. "I don't want to give the impression that sharks are cute and cuddly, and we can just be nonchalant about them. They are apex predators, and we have to be respectful. But at the same time, they don't fit the Jaws perception that they're out to get us. If they can see you clearly, they'll recognize you're not on the menu and they are not going to mess with you."
The same is not true of our behavior toward sharks. Sharks are hunted for their fins, meat, cartilage (thought to prevent cancer, which McKeever notes is another fallacy), skin, liver, and as collateral damage from tuna fishing. As a result, sharks are "in serious trouble around the world," he says. "Some species, like the oceanic whitetip shark are down 90 percent." The global population of the great hammerhead shark population has declined by 80 percent in the last 25 years. "These beautiful and majestic emperors and empresses of the deep are vital to the health and diversity of the oceans," McKeever says. "Kill the sharks and humankind cripples the seas."
To that end, McKeever also founded a nonprofit called Safeguard the Seas, dedicated to protecting sharks as well as ocean conservation. He is currently working with a scientist out of Boston University who has discovered that the practice of tagging sharks in their dorsal fin, which many scientists do for identification purposes, harms sharks by collecting algae, slowing them down, and potentially causing infection. He worked with the American Bar Association to help pass their national resolution to ban the trade of shark fins in the US. And he remains determined to stop the shark fishing tournaments in his home state through a bill in the New York State Assembly.
For these efforts, McKeever was recently awarded the Wings Award from the Pegasus Foundation, a Florida nonprofit dedicated to promoting animal welfare. McKeever has also written, produced, and directed another soon-to-be-released documentary about the harmful presence of plastics in our oceans.
"This is an unfolding story," he says. "I want to expand to other conservation issues. This is my new world and I love it."
—Kathryn Levy Feldman LPS'09