Education Revolution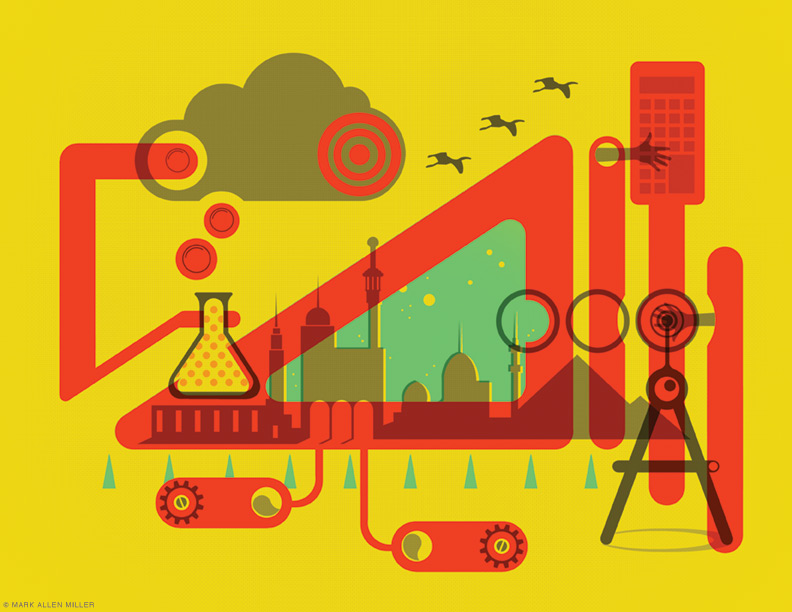 These educators are changing the way STEM is taught in Egypt.
---
In only eight years, four Penn alumni have helped Egypt modernize its Science, Technology, Engineering and Math (STEM) educational approach so that students are winning international competitions, acquiring patents, and earning scholarships to US colleges.
Richard DiDio Gr'83, John Weathers G''04 Gr'06, Vivian Loewenstern CW'75 GEd'75, and John Baker Gr'07 Gr'11 have been key contributors to a United States Agency for International Development (USAID) program aimed at improving STEM instruction for college and high school teachers and students.
In addition to the Penn contingent, approximately 50 American college professors, 150 Egyptian professors, dozens of education researchers in the United States and Egypt, and many translators have been involved since 2013.
"It has been quite a challenge [because of the pandemic], but ultimately we are meeting our goals and deadlines and, at the same time, building collegial relationships across the world," says DiDio, a senior scientist and higher education lead on the project, as well as a liaison between faculty at American universities and their colleagues at Egyptian colleges.
"Egypt went from having little to no presence in international STEM competitions to being an outsize competitor and contributor of innovative ideas following the development of the STEM high schools," adds Weathers, a senior researcher for the project who left it in 2021 to codevelop an education technology startup and advise other edtech startups.
An assistant project director, Baker manages relationships with subcontractors, faculty members, and government officials. "At first, I was working on the development of the math curriculum, then working with teachers to implement the math curriculum, and later helping to develop a new system of exit exams with the Egyptian Ministry of Education," he says.
Loewenstern also helped write the math curriculum, along with "assessments in math and professional development in standards-based grading," she says.
The Penn quartet's efforts are part of a $24 million grant from USAID, which aims to guide and support the expansion of science and technical education at 27 STEM schools, one in every governorate in Egypt. Another component is to support development of an integrated STEM teacher and leadership program at five public universities, including a four-year undergraduate degree in STEM teaching and post-baccalaureate diplomas in STEM leadership and teaching.
Baker says that "by involving our Egyptian counterparts in the design of the programs, they take more ownership of the program product since they helped produce it. Collaboration is not always easy, but it is key to the continued success of the programs into the future, especially once US support has ended."
The impetus for the STEM schools came from Egypt's Minister of Education, his top deputy, and program officers atUSAID who "wanted to modernize the way STEM—and other subjects—is taught in the country," notes Weathers.
The Egyptian educational leadership, he adds, was looking to disrupt the British-style system in which, at the end of high school, students are given assessment tests that determine what school in Egypt's free college system students will attend. To implement a new curriculum and methods of instruction, the USAID program was granted "a complete exemption from the requirements of the government for most high school students," Weathers says. "They [students] no longer had to take that standard assessment."
The Penn alumni participation began with a chance encounter late one night between two people on vacation. In 2012, Weathers ran into F. Joseph Merlino, president of the Philadelphia-area-based 21st Century Partnership for STEM Education (21PSTEM) in New Orleans while at a conference. Merlino's organization was beginning to work with the Egyptian government on STEM education, and the following year Merlino contacted DiDio. "I was enlisted to help craft the physics and mathematics curricula at these schools, and soon began traveling to Cairo to provide professional development for the high school teachers," he says. (DiDio also worked with Merlino on a similar project in Bosnia.)
With the USAID's and 21PSTEM's guidance, Egyptian STEM high schools charged students with carrying out capstone projects geared towards solving science and technological problems. "The students work on one of Egypt's 'grand challenges' each semester, such as pollution, the need for renewable energy, etc.," Weathers says. "The Ministry of Education generated an official list, which is similar to other challenge lists developed around the world."
Because of COVID-19, there were hundreds of virtual meetings among participants in 2021—including a four-day workshop using 10 Zoom breakout rooms at a Cairo hotel with socially distanced Egyptian faculty and Arabic–English translators, all connecting in real time over 10 time zones with faculty from across the United States.
"It has been difficult work but what has been created is brand new, innovative, progressive, and, hopefully, successful in changing learning for the better in Egypt and ultimately back here in the US," Baker says. "This work is not theoretical; it is tangible and practical."
DiDio notes that the working relationship between the American faculty and Egyptian college and high school teachers "has been excellent all around," despite cultural differences. "We are always aware of these differences and respect them, and we have learned much about each other's culture," he says.
For Loewenstern, who was touched to be given a "beautiful necklace" by one of the Egyptian teachers, the project "gave me the privilege of getting to know people of a different culture. They were warm, caring, and very attentive to any of my needs. I found an immediate acceptance from the teachers and administrators."
—Jon Caroulis