Rising to the Challenge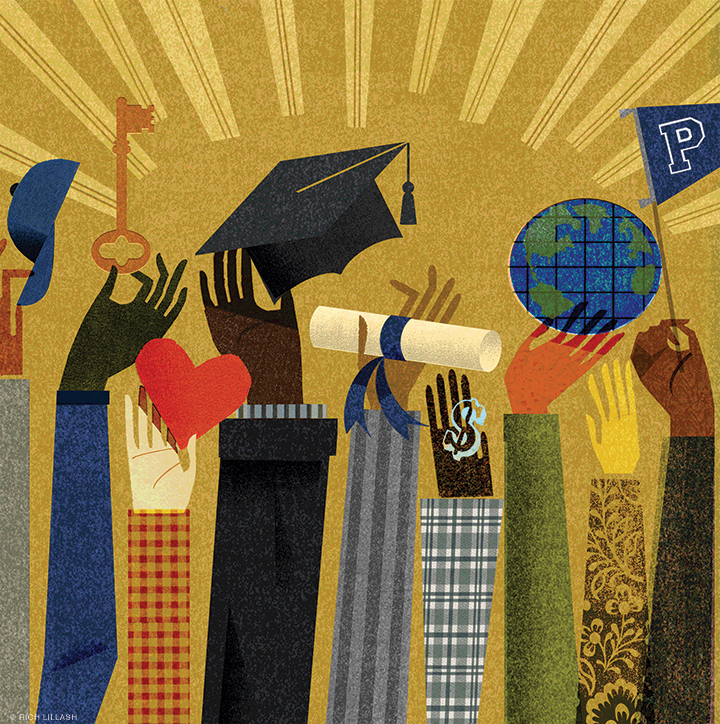 After Making History, the University turns to The Power of Penn to fuel its next advance.
---
For some alumni and friends, the first question about the University's new $4.1 billion fundraising campaign, The Power of Penn: Advancing Knowledge for Good, may be: Why so soon?
The campaign's public launch—at a program for invited volunteers, faculty, students, and staff held in the Annenberg Center's Zellerbach Theater on April 12, 2018—came barely five years after the conclusion of the phenomenally successful $4.3 billion Making History campaign. By contrast, well over a decade separated that campaign's October 2007 kick-off and the 1994 wrap-up of the $1.47 billion Keeping Franklin's Promise (itself a pretty jaw-dropping total at the time).
The answer, University leaders say, involves a combination of increasingly ambitious goals, continuing critical needs, and a demonstrated strong commitment from alumni and other supporters—best (or at least most frequently) summed up as "momentum."
"Coming off the success of the Making History campaign, we think that there's an opportunity to take advantage of that momentum to do another substantial campaign, and to build on the work that the Making History campaign enabled," says David L. Cohen L'81, chair of Penn's board of trustees.
Development results have continued to be "incredibly successful," Cohen adds. "Even though we weren't running a campaign, we were performing at almost campaign-year levels." (According to the annual survey conducted by the Council for Aid to Education, Penn raised $626.49 million in 2017, good for a seventh place ranking among colleges and universities.)
Since the conclusion of Making History, fundraising priorities have been built around the tenets of the Penn Compact 2020, in which President Gutmann laid out the University's strategic vision for the remainder of the decade.
In her "From College Hall" column in the Sep|Oct 2013 Gazette, Gutmann wrote that the plan "outlines next steps to increase access to Penn's exceptional intellectual resources; integrate knowledge across academic disciplines with emphasis on innovative understanding and discovery; and engage locally, nationally, and globally to bring the benefits of Penn's research, teaching, and service to individuals and communities at home and around the world. This renewed strategic vision will serve to spotlight and strengthen three of the core values that we aspire to, and make us uniquely Penn: inclusion, innovation, and impact."
The period covered by the Penn Compact 2020 was also expected to overlap with the conclusion of Gutmann's term as president in 2019. When she agreed to extend her contract by three years ["Gazetteer," Jan|Feb 2017]—meaning that she would remain in College Hall through June 30, 2022—it provided a window of opportunity for a fast-track planning process and a major campaign involving the University as a whole, says John Zeller, senior vice president of development and alumni relations. Rather than individual school or center campaigns, "We'd have much greater success and impact if we did it as a collective," he adds. "And that's where The Power of Penn emerged."
According to Cohen, the prospect of leading another comprehensive fundraising drive was "the opposite of an impediment" for Gutmann. Having her at the helm for the duration of the effort "is a huge benefit," he says. "There's no better visionary and cheerleader for the priorities of the University."
Gutmann herself speaks of "a hunger throughout the Penn community for keeping our momentum strong," along with "a real sense of unity about Penn being a powerful force for good in the world."
While the Making History campaign accomplished a lot, there's still much more to do in virtually every area. "It's more about the goal of what Penn can do to inspire creative solutions to the world's problems, whether they be medical advances or energy solutions or inspiring creative art," she says. "Our ability to make a difference on all these fronts and more obligates us to have the campaign—because the campaign supplies the fuel for the Penn engine of really advancing good in the world."
---
Making History "changed the trajectory of Penn," says Lee Spelman Doty W'76, a Penn trustee who chairs the board's development committee. So when the idea arose for a new campaign aimed at "strengthening and developing" the priorities identified then and continued in the Penn Compact, she says, "the trustees were 100 percent onboard."
It was Doty who advanced the formal motion proposing the campaign, which the board of trustees approved at its March 2, 2018, open meeting. Robert M. Levy WG'74 was named campaign chair, charged with overseeing the effort to spread the word and mobilize volunteers throughout the global Penn community.
"I can't imagine anyone who would be a better overall leader for the campaign than Bob," Cohen says. "He's an extraordinary Penn citizen, with vast experience, absolute uniform respect within the alumni [community] and among the trustees. The deans are getting to know him and seeing just how good he is."
"I view myself as an advocate for the campaign," says Levy, who also serves as vice chair of the trustees. "We have a lot of wonderful things going on at Penn. And the only impediments I can clearly see are financial," he adds. "And if you know that the only impediment is financial, it's pretty easy to be excited about a campaign and participate in a campaign."
But Levy acknowledges that some of the people he and others talk to may be skeptical about those "financial impediments." With one of the top 10 endowments in higher education—$12 billion currently—does Penn really need more?
As the former chair of the trustees' investment committee, Levy played a role in growing the endowment to that lofty level. But the ranking is a little misleading, he says, because, "Penn is much bigger than a lot of those schools." In a ranking published by the Chronicle of Higher Education in November 2017 using financial data from 2014 and enrollment from 2015, Penn ranked 30th in endowment per student among private universities, with a figure of $444,388 as compared to first place Princeton's $2,567,872.
Penn's larger size and (relative) under-endowment factors in especially significantly when it comes to needs like the provision of faculty support and student financial aid. For example, even after the gains from Making History and since, about three quarters of Penn's financial aid budget still comes out of operating funds rather than endowment.
---
The concept of the Penn Compact was first introduced by President Gutmann at her inauguration in 2004. With refinements over the years, its principles have guided the University ever since—and they remain vital, she says.
"The Penn Compact is based on Penn's unique foundational strengths, and it also resonates with what higher education needs to do to show and increase its value in the world," Gutmann explains. "Our unique foundational strengths we relate back to Franklin, who envisioned higher education as being able to take creative ideas and put them into practice. It's a pragmatic vision for higher education. And the Penn Compact brings that into the 21st century. It's a framework that suits the speed at which our world is now changing."
The goals of The Power of Penn campaign can all be traced back to the Compact's pillars of inclusion, innovation, and impact. They were put together, says Cohen, "a tad bit untraditionally." Rather than start by focusing on an attention-grabbing number as a campaign goal, Penn's 12 schools and six centers were invited, within the broad guidelines of the Compact, to identify their key priorities. "And then obviously you can't say yes to everything, so there was then a centralized process to refine the bottom-up requests and then to come to an overall campaign goal." When they added up the schools and centers' identified needs the result was $4.1 billion.
A second part of the process was to identify "multidisciplinary opportunities that would advance the goals of more than one school or center," says Gutmann. Penn's deans and directors, she adds, "are not only strong leaders but great collaborators. So we have a group of multi-school initiatives, many more than we've ever had in the past."
Details about the specific school and center goals and the University-wide campaign priorities can be found at powerofpenn.upenn.edu.
In general terms, The Power of Penn continues and deepens the University's pledge to make a Penn education (undergraduate and graduate/professional) accessible to all qualified students, regardless of financial need; to attract and retain the best faculty through endowed professorships (and for good measure, curator, director, and similar positions) and other support; address global political and social issues; and reinforce Penn's commitment to innovation and entrepreneurship among both faculty and students in areas from medicine to sustainable energy to product development and commercialization. Some key facilities projects included in the campaign are HUP's patient-care Pavilion, under construction on the former site of the Penn Tower ["Gazetteer," Jul|Aug 2017], the planned New College House West at 40th Street ["Gazetteer," Jan|Feb 2018]; and the Penn Museum's ambitious Egyptian Galleries and other renovations ["Gazetteer," Sep|Oct 2017].
Financial aid funding has more than doubled during Gutmann's presidency, with next year's budget set at a record $237 million. Among current freshmen, she says, one in four are either the first generation in their family to go to college or have high financial needs. "That's a huge increase from when we began. But it's still not enough, and we need to do more." An initiative called "Penn First Plus" will supplement the University's existing all-grant financial aid program with other support services and create a center for students as "a home away from home," offering one-stop support and guidance, she adds.
When the University introduced its Penn Integrates Knowledge (PIK) Professorships—leading-edge faculty pursuing multidisciplinary research and teaching who receive appointments in more than one school—it hoped to fund 18 such positions. "We now have 22 PIK University professors," Gutmann says. "And we have a goal of raising more through the campaign because they are such a vital force and such a collaborative force on our campus. We're also raising funds for Presidential Professorships, which have diversified our faculty, and Distinguished Professorships. These are all endowed professorships that help recruit and also retain the very best faculty at Penn."
Gutmann cites the University's 2017 ranking as the fourth most innovative university in the world by Reuters, a slew of recent FDA approvals for breakthrough medical treatments developed by Penn researchers, and the tech startups and cutting-edge projects under way at the Pennovation Works complex as examples of the ferment of innovation going on at Penn.
The campaign will add facilities including a new Venture Lab that will provide space and support for students from all schools to take projects from idea to prototype to potential commercialization, and a science research building to house the Vagelos Institute of Energy Science and Technology, an SAS-Engineering collaboration to search for alternative energy solutions.
"Innovation is the lifeblood of this university," Gutmann says. "It will be more visible as our focus on innovation continues to multiply." Citing existing and planned "maker spaces," the work of PIK professors and others across disciplines, and Penn's investments in biomedical research, "we've really created a novel interdisciplinary ecosystem of innovation," she says.
"Every day across Penn, some of the world's greatest faculty members are at work redefining the known world, and they are mentoring and teaching our students," she says. Devoting more resources through The Power of Penn will help "make this go faster and have a greater effect on the city of Philadelphia and the region, and [provide] the fuel to generate the new discoveries and the kinds of great creativity that innovation is all about."
---
Alumni engagement is another priority, following on a distinctive feature of Making History, which pioneered the inclusion of non-financial goals in a fundraising effort.
That campaign "showed our alumni body that engagement really matters very broadly," says F. Hoopes Wampler GrEd'13, associate vice president of alumni relations (and publisher of the Gazette). "So no matter what you're doing for the institution, it is recognized, appreciated, valued, quantified, and qualified as important to the University, in the same way [as] fundraising."
Wampler points to programs like "Engaging Minds" and "Penn2U" that bring faculty members to locations around the world; new offerings for lifelong learning and career networking; and programs targeting specific alumni audiences, like Penn Spectrum for diverse alumni and YPenn for younger alumni. The alumni interview program, which currently involves some 23,000 volunteers offering interviews to about 36,000 Penn applicants annually, is another innovation introduced during Making History.
Changes were also made to "foundational programs" such as Homecoming—where the addition of arts and culture offerings alongside the traditional football game will mark its 10th anniversary next year—and Alumni Weekend and Commencement. The five-year reunions "have really been dramatically enhanced through giving more responsibility and ownership to volunteers," he adds. Hopefully, these will serve as a "big springboard to continue to increase engagement during this new campaign."
The Power of Penn will also feature closer collaboration on engagement across the University, Wampler adds. "Every school and center now has engagement goals for the campaign. They have strategies that are in place behind them. They know where their data is coming from to be able to track their success. And they will use the campaign—like we did centrally during the last one—to make sure that they're more intentional and deliberate in engaging their alumni or other constituencies."
Data show that alumni engagement has "more than doubled over the last decade," Gutmann says, pointing as an example to record-setting attendance at Alumni Weekend, from the most recent classes to the, well, more seasoned ones. "It gives me just great joy to recognize alumni who come back for their 70th and 75th reunions," she says. "And that's something that The Power of Penn campaign is going to build on, and offer myriad new opportunities for alumni to become a part of this ever more engaged and impassioned Penn community."
"Campaigns give you a unique opportunity. They create focus. They create urgency. They demonstrate impact," says Zeller. "But you're also using platforms and activities to distribute a message. And the long-term benefit to the institution is that you engage alumni and our constituents throughout that process. And it's not about just giving money. It's about becoming closer to the institution, understanding what your alma mater or your place of interest is trying to accomplish. That benefit may not be seen for 10 to 15 years," and it isn't easy to quantify, "but if we don't do it now, it would be a mistake for the future." He also notes the cumulative value of gifts well below the seven- and eight-figure amounts that get the headlines—nearly a quarter of the Making History total was from donations of $100,000 or less.
"Having a strong, impassioned alumni group I think is critical for the long-term strength of the institution," Levy agrees. The number of people participating "is a strong statement of support," he adds. "It's like saying, 'I believe in what you're doing.'" While it may be a lot simpler to have one person write a check for $4.1 billion, say, broad-based participation such as in the Making History campaign, "frankly confirms we're on the right track."
---
It was less than a year after the launch of Making History that the bottom fell out of the stock market, so Penn's leaders are aware that external forces can scramble the best-laid plans for a multi-billion dollar campaign. Given how that campaign ended up, they also know that some pretty stiff headwinds can be overcome. While the relatively truncated public phase of The Power of Penn—about three years, as opposed to a bit more than five for Making History —may offer less time for recovery, they mostly shrug off the possibility.
"We can't tell you what's going to happen in the global economy. So that's always a risk," says Doty—whose "day job" is head of US equity for JP Morgan Asset Management. "The issues around tax deductions and the economy and all that, I think we just have to almost ignore those and really focus on, 'What do we want to get done and how do we make sure we get it done'?"
"Higher education has never been more important," Gutmann says. "There's so much to be done, and our alumni and parents and friends and grateful patients know that Penn has a responsibility to keep going, regardless of the obstacles—some of the obstacles make it all the more important for us to succeed, and we will. We know how to do it."
Recalling the onset of the Great Recession in the early days of Making History, Gutmann says, "We blazed through. We didn't welcome it. We didn't predict it. But, boy, did we know how to deal with it—which was to focus on our highest priority goals. Make it clear why they're important—even more important now than they were in the past—and people rise to that challenge." —JP