Restoring Health To—and Through—a Venerable Institution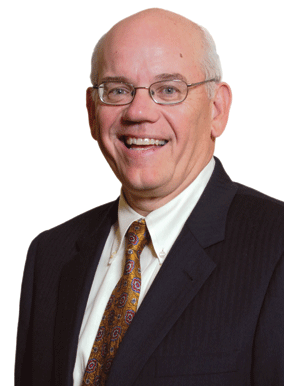 Class of '77 | "Mental-health issues and developmental disabilities are everybody's issues," Bob Kreider G'77 L'80 is saying. "The brain is an incredible thing and it plays tricks on all of us."
As president and CEO of Devereux, a nonprofit behavioral-health and social-welfare organization founded 100 years ago this month, Kreider knows a thing or two about the subject—even if his professional background is in finance rather than psychology, and he was originally hired to be the organization's CFO.
But for Kreider, the transition was surprisingly seamless. He was never quite comfortable working in the for-profit sector. While he was employed by a prominent investment-banking firm, he worked in its nonprofit-education and healthcare sector with universities and hospitals. But "there was fairly constant pressure to maximize the amount of return," Kreider says. "I didn't quite fit in that kind of set-up."
So when Devereux approached him in 1994 about becoming their CFO, Kreider jumped at the opportunity. The organization had originally approached him for a consulting engagement—it had incurred a lot of debt and was losing money. But Devereux's trustees were sufficiently impressed with his recovery plan that they asked him to execute it as their CFO.
At that point, Kreider didn't have much of a background in mental health, "but I had fallen in love with the organization," he says. Devereux was a decidedly old organization, founded in 1912 by Philadelphia teacher Helena Devereux. But the staff was young and idealistic, and "wanted to save the world, sort of one life at a time," Kreider says.
What appealed to Kreider was that Devereux's primary goal has been to help as many individuals and families as possible. "The business stuff," he says, "is essential but secondary."
After just a year at his new job, Kreider had managed to revitalize the company's finances. The National Association of Corporate Treasurers and Treasury and Risk Management magazine gave him the Alexander Hamilton Award for Excellence in Corporate Finance for his innovative financing plan.
"Second and third prize went to multi-billion-dollar for-profit corporations," Kreider says with a laugh. "They were kind of surprised that the winner was the Devereux Foundation."
The next step for Kreider was to learn about the field—a fairly daunting task considering the scope of activities at Devereux, which works with individuals of all ages, encompassing a broad range of psychological needs. The organization has a national network of clinical, therapeutic, educational, and employment programs, as well as research-based initiatives to bolster children's and adolescents' social and emotional health.
Kreider, who became the firm's president and CEO in 2004, spent a good portion of his time visiting Devereux's mental-health and developmental-disability centers across the country, reading textbooks, and getting up to speed on the latest research. Now that he has learned the ropes, he is keen to share his insights about the organization—which, he says, represents a voice advocating for society "to invest in the social and emotional health of everyone."
After 18 years in the business, he sees the lack of mental-healthcare options in underprivileged neighborhoods as one of the nation's biggest problems. Ideally, Kreider says, all Americans should have access to preventative care so that they can identify problems before they escalate. Especially children with developmental disabilities like autism.
Such interventions can not only affect the way the brain develops and grows, Kreider says; they're also "very effective—cost-effective and human-effective."
For all the challenges, Kreider is optimistic about the future.
"I feel that we are at multiple inflection points," he says, noting that the healthcare-reform efforts are changing the way that society views mental health.
"In the 1980s, mental health was pretty much split off from physical health in terms of the way it was paid off," he says. "It created a sort of dividing line, a separation that all the research for the past 30 years says is a bad idea."
Healthcare reform is ending that dichotomy by supporting infrastructures that holistically address patients' mental and physical health, he adds. "That will be a huge change that is clearly coming over the next 10 years."
Devereux now has a presence in 11 states, and has 6,000 employees to help out some 15,000 to 20,000 individuals and families. But as more for-profit organizations start to offer mental-health services, it has to stay competitive.

"We have to change the way we do business," Kreider says. "Devereux has historically not really done any traditional marketing. That has to change."
The next hundred years should be interesting.
—Maanvi Singh C'13