Repeat Defenders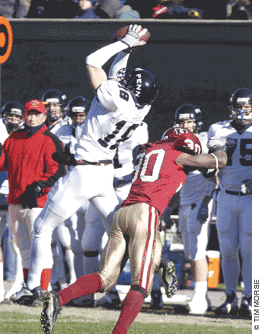 By David Porter | The usual questions abound for head coach Al Bagnoli's football team this fall, regarding who will replace whom and at what position, and how well the new combinations will mesh into a smoothly functioning unit. The overriding question for the Quakers, however, is less prosaic: Simply, can they continue to play at the high level to which they and their followers have become accustomed? The past four years were among the best in Penn's football history and indisputably the best in Ivy League history. The seniors who graduated last year took with them a 26-2 Ivy League record and a 19-0 mark at Franklin Field, leading one to hope that at least some of them were able to make off with a piece of the Franklin Field turf before it was torn up and replaced over the summer. They certainly earned it.
The culture of winning has been ingrained in the Penn program from early in Bagnoli's 12-year tenure, and he credited some of 2003's last-minute triumphs to the fact that his players are used to winning and doing whatever it takes to win. The dark cloud to that silver lining is this, however: How will this team react to a loss, something it hasn't had to do since the middle of the 2002 season? Maybe only then will its character truly be tested, not that anyone is eager for that to happen. Losing often teaches the best lessons, but good luck finding a coach or player who prefers wisdom over the spoils of victory. The no-nonsense Bagnoli recognizes that the difference between the two can be infinitesimal.
"That's why it's so hard to repeat," he says. "It's the hardest thing about continually winning. They believe everything [people] write about them. But they have to comprehend that there's a very fine line between why you win and why you lose, and anything less than your best can put you on the other side of the coin. Battling human nature is very much a constant in every coaching situation."
That said, there can't be too much consternation in Quakerland since two of the leading offensive players from last season return to again form a potent inside-outside threat. Junior running back Sam Mathews ran for 1,266 yards last season, the fourth-best one-season total in Penn history. Bagnoli had originally recruited Mathews as a high-schooler, but lost out to Navy before Mathews transferred to Penn.
"We knew we had a talented kid, but did I think he'd come in and rush for 1,200 yards his first year? Probably not," Bagnoli admits. "But he's a pretty hard-nosed kid and very durable, and he gave our offense good balance."
Wide receiver Dan Castles had the golden touch last year, catching 13 touchdown passes as a junior to tie the record set by Miles Macik C'96 in 1993. At a lanky 6 feet, 3 inches and about 200 pounds, he offers an effective contrast to the bull-like Mathews, who weighs about the same but stands six inches shorter. Castles—and Mathews, who caught 40 passes out of the backfield last season—will be fielding throws from likely starter Pat McDermott, a junior who appeared in six games and filled in ably when starter Mike Mitchell W'03 was felled by an injury last season. In contrast to Mitchell and predecessor Gavin Hoffman W'01, McDermott is more swift afoot, and thus adds more options to the Quakers' attack.
"He has some features that some of our other quarterbacks haven't had," Bagnoli says. "Maybe for the first time in a long time we can have a running play designed to go to the quarterback. We'll probably look at that more. Also, when the pocket collapses, he's more apt to get out and escape with his speed."
The area of biggest concern for the Quakers is the offensive line, which has been the team's bulwark for the last few seasons. All five starters in 2003 graduated, including first-team All-Ivy selections Chris Clark W'04, Matt Dukes W'03, and Ben Noll W'04. Seniors Erik Curtis and Michael Pierce and junior Greg Williams should step into starting roles, but they are largely untested in the heat of battle. Their success in protecting McDermott and clearing paths for Mathews could determine Penn's fate this season.
"It's not a question of athletic ability, but getting on the same page," Bagnoli says. "A lot of it has to do with communication, which only gets better through repetition. We're going to have to live through some growing pains. Hopefully, they'll be in preseason and not in week six."
Defensively, Penn should again be strong, particularly in the defensive backfield where 2003 first-team All-Ivy cornerback Duvol Thompson and second-team All-Ivy pick Bryan Arguello, both seniors, return along with junior Casey Edgar and senior Kevin Stefanski. Bagnoli is particularly enthused about having the services of Stefanski, who injured a knee in practice last season and missed the team's first eight games. Stefanski was named a tri-captain with Castles and senior Ric San Doval. San Doval, another first-team All-Ivy selection in 2003, and honorable mention All-Ivy and senior Luke Hadden anchor a solid linebacking corps, and second-team All-Ivy pick Michael Sangobowale, also a senior, spearheads the defensive line. They'll attempt to meet the high standards set by the 2001-2003 teams, which allowed an average of 13 points per game.
If it's any consolation to Quaker fans, the prognosis for the 2004 season resembles the one for 2002—a 9-1 season that brought the Quakers their third league crown in five years under Bagnoli. The rest of the league apparently has gained some wisdom since then: after providing some locker-room bulletin board material by picking the Quakers to finish in the middle of the pack in 2002 and being proved wrong, they made Penn the top choice in the Ivy League's 2004 preseason poll.
Penn will open its season at San Diego on September 18 in its first visit to the West Coast in 50 years, then will christen the new turf at Franklin Field on Saturday night, September 25, against Villanova. Six of the Quakers' games will be televised on cable: three on CN8 (September 25 vs. Villanova, October 23 at Yale, November 13 vs. Harvard), two on YES (October 2 vs. Dartmouth, November 20 at Cornell) and one on College Sports Television (November 6 at Princeton).
---
David Porter C'82 writes for the Associated Press.