Homage to a Cathedral of Hoops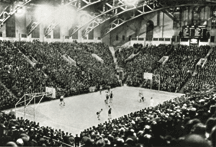 Class of '04 | For Mikaelyn Austin C'04, it's payback time. As a member of the varsity women's basketball team, she was given the opportunity to play in the Palestra for four years. Even in practices, she recalls, "there was this energy that seemed to seize the air—as if the building had encapsulated a piece of excitement from every game it ever hosted back to 1927."
Now she wants to give something back, in the form of a documentary film about the legendary building. She's hoping that other alumni will help her: with memories, photos, and the like.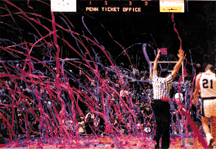 "The Palestra deserves the recognition of being the greatest basketball gymnasium America has, or ever will know," says Austin, who is the film's director and main producer. "It is, as the title of the documentary will assert, 'The Cathedral of Basketball.'"
Those interested can contact Austin at mikaelyn@alumni.upenn.edu or Christine Royer C'03 G'03 G'04 at croyer@alumni.upenn.edu, or check out their website: www.PalestraDocumentary.com." 
—S.H.