Pinup Boy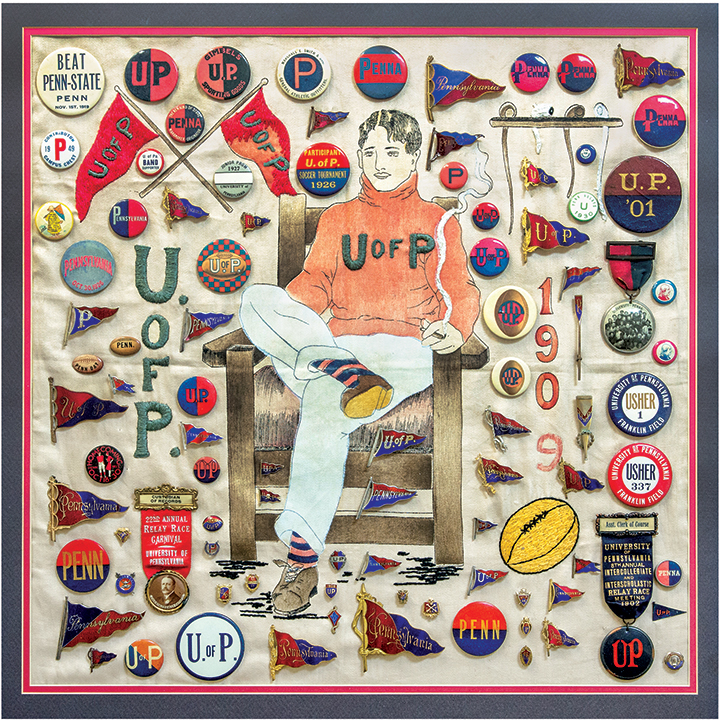 Back in 1985, Chris Olmstead C'64 was poking around an Atlanta flea market when he saw, spread out on a dealer's table, this hand-sewn depiction of a sweater-clad Penn man from the Class of 1909, his casually held cigar issuing smoke.
"The surprising thing to me was that I found it here and not anywhere near Philly," recalls Olmstead, an Atlanta-based lawyer and collector. He immediately saw its potential as a backdrop for some of the Penn memorabilia he's acquired over the past four decades: buttons, ceramic pitchers and mugs, "tobacco premiums" of silks and leathers and felt—and, most of all, pins, especially the "beautiful enamel pennant pins" that were made as far back as the late 1800s. Lest any of our readers be offended by the image of a tobacco product (it's happened before), Olmstead points out that back in the day, "Penn gatherings such as fraternity rush parties were called smokers."
Olmstead's other passion is political buttons, and we have it on good authority that his collection from the 1916 presidential campaign of Charles Evans Hughes is "mind-bending."—S.H.
Photo by Clay Calhoun