One Last Dance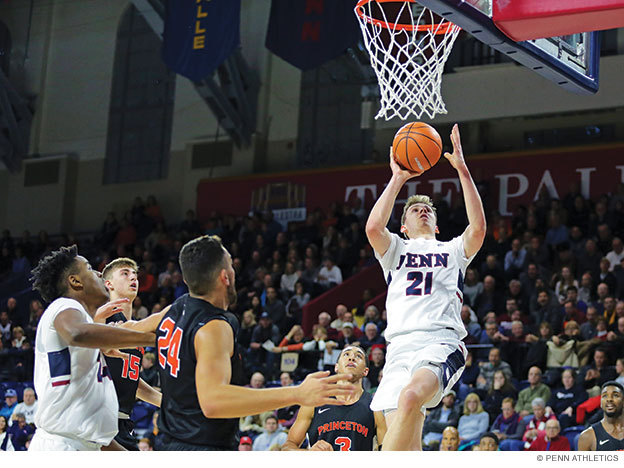 Back from a knee injury that derailed his junior season, Ryan Betley rejoins a senior core that's revived Penn men's basketball—and feels primed to finish on top.
---
Fresh off a surprise Ivy League championship in his sophomore season, Ryan Betley was feeling great as his junior campaign began a year ago. The guard scored the first points of the season—a three-pointer 30 seconds into the Penn men's basketball team's opener at George Mason. A few minutes later, he went up for a layup, and "the next thing I know I'm on the floor and my kneecap is out of place," he says. "Not a great experience."
The Quakers won the game but suffered a far more significant loss: Betley, one of the Ivy League's top players, ruptured the patellar tendon in his right knee. He didn't play again the rest of the season—an absence that ultimately doomed Penn's quest to repeat as Ivy champs. The Quakers actually swept through the Big 5, but faltered at the start of Ivy play, finished with a .500 league record, and were bounced by Harvard in the first game of the conference tournament.
"When we started really struggling to score consistently down the stretch, that's when we all probably felt a little frustrated he wasn't there," says head coach Steve Donahue, who enters his fifth season at the helm. "But he's such an even-keeled kid. He rebounded pretty quickly and he made sure he did everything he could to be better than he was before."
After surgery and a long rehab process, Betley was back to 100 percent as practices began for the 2019–20 season, which opens on November 5 at Alabama. But the eight-month recovery was grueling—particularly "the mental side, which was harder than the physical side," he says. Watching his teammates stun defending national champion Villanova, for instance, was a lot less fun than it would have been if he had been on the court instead of on crutches. "It wasn't easy," Betley says, "but you learn to accept it."
One of the best parts was watching his classmates shine. Guard Devon Goodman was arguably the most improved player in the league, increasing his scoring average by more than 10 points per game. And forward AJ Brodeur was the only player in the Ivies to rank in the top five in five categories: points per game (17.4), rebounds per game (8.2), field-goal percentage (53.0), assists (111), and blocked shots (41). "He fills up the stat sheet," Betley says. "He's the total team player."
Donahue, who believes Brodeur has been "the best player in the league the last couple of years," predicts even better things this season for the star forward. "He's bigger, he's stronger," the coach says. "I think you'll see him shoot the ball from the perimeter more. And I don't think we'll rely on him as much as we did last year."
A big reason for that is the return of Betley, who's excited to rejoin forces with Brodeur and Goodman—a trio that makes up the core of Donahue's first recruiting class and has "far exceeded our expectations," the Penn coach says. Betley was the first call Donahue made after the coach was hired in March 2015. A native of nearby Downingtown, Pennsylvania, who grew up going to Big 5 games, the sharpshooter didn't need much convincing. "I really loved Penn and I knew, given the opportunity, it was going to be hard to turn down a Penn offer," Betley says. "But knowing [Donahue] was so confident in me from the start helps me to this day."
As Betley, Brodeur, and Goodman helped turn around a program whose 2018 Ivy title was its first in 11 years, Donahue's recruiting has only improved. This season's five freshmen—guards Jordan Dingle, Jonah Charles, and Lucas Monroe, and forwards Max Martz and Max Lorca-Lloyd—can all "play at a very high level," Donahue says. The coach, who previously led Boston College and took Cornell to the Sweet 16, adds, "I can't imagine I've ever brought in a better class, really at any place I've ever been."
The two standouts of last year's freshman class, Michael Wang and Bryce Washington, "kind of have to re-establish themselves," Donahue says; both had "dramatic drop-offs" following blistering starts last season. (Wang also had to deal with postseason knee surgery and an ankle injury this preseason.) And juniors Jarrod Simmons and Eddie Scott are likely in line for key roles—though the prized member of that class, Jelani Williams, will miss his third straight season after tearing his ACL for a third time. "I don't think there's any words for that kind of disappointment," says Donahue, noting Williams is taking the fall semester off to rehab in his native Washington, DC.
Betley feels fortunate that his recovery was smooth and that he'll be able to have one final go at a title with Brodeur and Goodman. (Betley will still have a season of eligibility remaining after this one but he plans to graduate in May before playing elsewhere as a graduate-student transfer). And playing on a team loaded with talent, he can't help but dream of giving the program its first NCAA Tournament win since 1994.
"We have high hopes," Betley says. "Our goal every year is to win the Ivy League. And we think if we win the Ivy League, we can maybe have an upset or two in March."
Squash courts get major upgrades
Jack Wyant first played at Ringe Squash Courts as a nine-year-old in 1983, and grew to love the place even more in the last 15 years that he's served as Penn's women's squash head coach. But he also recognized that the University facility, built in 1959, "was tired, and it was time for a change."
Thanks to roughly $20 million in alumni donations, the change happened in the form of a renovation project that began in the summer of 2018 (and forced the Quakers to play their home matches at Drexel last season). Even better, the new Penn Squash Center, which will be ready when this season begins in November, still maintains much of the old Ringe charm.
"This kind of reminds me of Ringe in a good way," says Wyant, noting they had initially thought of demolishing the old structure before settling on renovating and refitting the facility in the same location, adjacent to the Tse Center. "We intentionally went for an industrial look in places. That's the way Ringe was, originally. It wasn't a fancy place, there wasn't a lot of flair, but it was very functional and it made for a great home-court advantage."
The renovation replaces 10 plaster courts with 12 new ones, including a pair of prominent glass-wall tournament courts, which Wyant likens to "Center Court at Wimbledon." Two mezzanine levels were replaced with one, but Wyant—now Penn's director of squash, in addition to his role as the women's coach—hopes the verticality will remain a prominent feature. "In the old show court, we had people literally hanging over the court," he says. "We hope to recreate a bit of that feel."
Another major change, according to EwingCole project designer Andrew Donaldson-Evans C'98 GAr'03, was "opening it up, so it's more of a racetrack now." The light-drenched loop should make the facility feel more connected, while providing more views for spectators. Other upgrades include: new offices and team rooms; air conditioning; a wood-paneled entrance; and video technology that allows for global streaming on all courts (the latter of which, Wyant notes, is quite important on a team with several international players).
"This is truly a world-class place for squash to be played at the highest level," he says. "I kind of pinch myself when I walk in, still." —DZ