Once Again, Play Ball!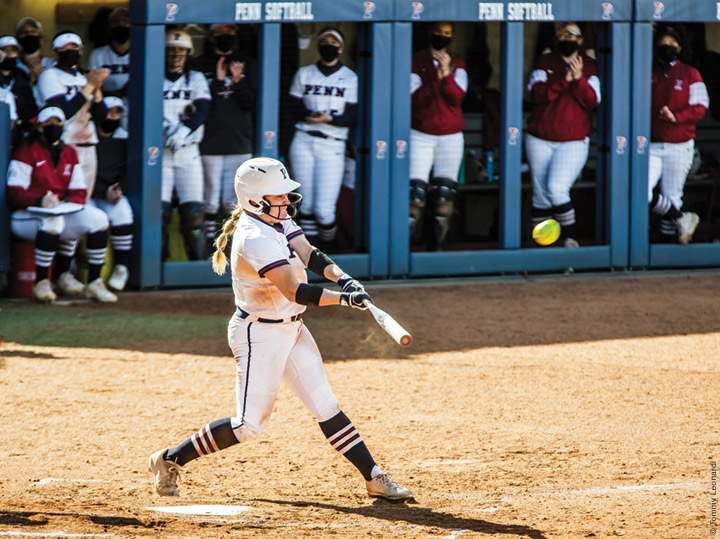 ---
Though the Ivy League season was canceled, Penn's spring-sport teams returned for local action.
---
When Penn softball coach Leslie King looked around Penn Park on a warm Saturday afternoon, she saw people stop what they were doing to sit on the grass and gaze onto the softball field. She saw picnicking families look over with curiosity. She even saw the Easter bunny.
No spectators are officially allowed at any games—one of the rules implemented when the University decided in March to allow its spring-sport teams to play a modified schedule against teams within a 40-mile radius of Penn.
But the softball stadium's prime location at the center of a semi-public park created a unique moment for players and passersby alike to enjoy a live Penn sporting event for the first time in more than a year. "Mentally and physically," King says, "it was just so healthy for everybody."
While the games have certainly uplifted spirits, it's been far from a return to normal. In mid-February, the Ivy League canceled its spring sports season, wiping out an entire year of conference competition following previous cancellations of fall and winter sports due to the pandemic. The Ivy's decision was particularly tough for the spring-sport athletes, who also saw their 2020 seasons cut short at the onset of the pandemic ["Dashed Dreams," May|Jun 2020].
"It was pretty devastating," admits King. Even with the advancement of COVID-19 vaccines and the safer nature of playing outdoors, the "big sticking point for the league was travel," King says. "They didn't want to make an exception for athletics," when other university-sponsored travel has been restricted.
But about a month after the Ivy League's decision, Penn received University and Philadelphia Department of Public Health approval to move into "Ivy Phase Four," which allowed for local competition beginning March 27. (Previous phases that went into effect earlier in the semester allowed teams, including basketball and football, to practice together for the first time in close to a year.)
"It felt like we got dealt bad news after bad news after bad news for months," King says. "And to finally get that little bit of good news that you guys can play some softball was great."
An "optimist by nature," King had kept city rivals like Drexel, Saint Joseph's, and Villanova on Penn's schedule, so the softball team had games teed up when March 27 arrived. So did John Yurkow's baseball team. The harder part for him was getting his players back in the flow after so much time on the sideline. "Starting the season the way we did, I've never felt that unprepared before as a head coach," says Yurkow, whose team lost its first five games before sweeping a doubleheader against La Salle.
Without any championships to contend for or NCAA tournaments to strive toward, Yurkow and King see the 2021 season as being more about staying sharp and acclimating freshmen (which could give them an advantage over other Ivy League teams heading into next year). But it varies from program to program.
While Penn's national-caliber lacrosse squads had difficulties finding teams to play, the men's and women's track and field teams were able to set up several meets at Franklin Field, including one on April 24 to at least partially replace the Penn Relays, which was canceled for a second straight year after 125 consecutive previous runnings.
Star performances were also not lost. In Penn's second track meet on April 3, senior Camille Dickson broke the program long jump record. And that same day, junior Emma Nedley belted a three-run home run to lead the Quakers to a softball sweep over St. Joe's on a day the team honored its five graduating seniors.
King is excited to see what Nedley and the rest of her "very talented class" can do next year after two straight pandemic-shortened seasons. But she does have some reservations about the future of the program since the Ivy League has been the only Division 1 conference to cancel sports this year.
"I'm fearful that potential recruits are going to look at the conference and just think they don't really care about athletics," the softball coach says. "I don't think that's the case; I think the Ivy League cares about the health and safety of its players. But I don't know if that's the perception out there."
Yurkow is less worried about that being a problem. "I can tell you that we haven't skipped a beat in terms of recruiting," the baseball coach says. "The opportunity that Penn provides both on and off the field far outweighs any doubt."
There are other uncertainties on the horizon, including whether any players will try to use an extra year of eligibility that the Ivy League Council of Presidents granted senior student-athletes if they enroll at a graduate school of their current university (a departure from Ivy norms). But for Yurkow, the joy of opening day at the ballpark overrode anything else at the time.
"It was almost a surreal feeling," he says. "The first game, seeing our guys get dressed and putting on their uniform, that's when it started to really sink in."
King agrees. "To see them put their jerseys on," she says, "that was a moment." —DZ