Diamond Days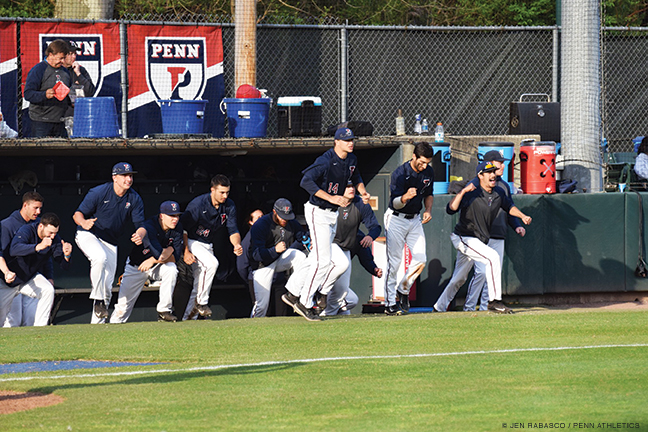 By Dave Zeitlin | During the short trip from New York to Philadelphia, Penn baseball coach John Yurkow received more than 50 text messages. The Quakers had just beaten Columbia, 6-3, to capture the program's first Ivy League Lou Gehrig Division title in a decade, and Penn baseball alums across several eras immediately reached out to tell the coach and his players how much it meant.
The program's history is peopled with Major League Baseball players like Doug Glanville EAS'93 and Mark DeRosa W'97, but hasn't included many titles since an excellent stretch in the late 1980s and early '90s.
And even though Penn was swept by Yale in the Ivy League Championship Series, missing out on an automatic NCAA Tournament berth, just getting there was something they hope will help restore the program's tradition.
"It was nice to break through, finally," Yurkow said.
Under Yurkow's watch, Penn has developed an interesting rivalry with Columbia. In 2014 and 2015—his first two years in charge—the Quakers lost to the Lions in a one-game playoff for the Gehrig Division (which includes Penn, Columbia, Cornell, and Princeton; the Ivy's other four teams make up the Red Rolfe Division). And this year, Penn lost three of its last four regular-season games to Columbia to set up another one-game playoff with the Lions.
But the Quakers didn't lose their confidence.
"We knew it was a new start," said Tim Graul C'17, the team's star hitter. "We had Jake Cousins [C'17] on the hill, which was huge. We knew we had the better guy on the mound, which for us made it feel like we could win this game, no problem."
Graul and Cousins were certainly two big reasons why the Quakers believed they could win their first division title since 2007. Graul followed his Ivy League Player of the Year campaign in 2016 with the conference's batting-average title this year (.468) while Cousins went 7-2 with a 3.15 ERA to finish his career with 20 wins, the third-highest total in program history.
His 20th win came in the playoff against Columbia, thanks in large part to Graul's two-run homer in the first inning.
"That was awesome," Graul said. "Probably one of the high moments of the season."
He's enjoyed a lot of high moments at Penn, despite biding his time behind catcher Austin Bossart C'15—now in the Philadelphia Phillies organization—during his first two years at Penn. He finished his career fourth on Penn's all-time doubles list (41) and single-season hits list (65).
"I feel like we've done a pretty good job developing kids here," Yurkow said, "and I think Timmy's a testament to that."
Now, Graul and Cousins are hoping to join Bossart in the professional ranks. And they also believe an Ivy League baseball championship is coming for their alma mater.
Said Graul, "I think we left the program in a great spot."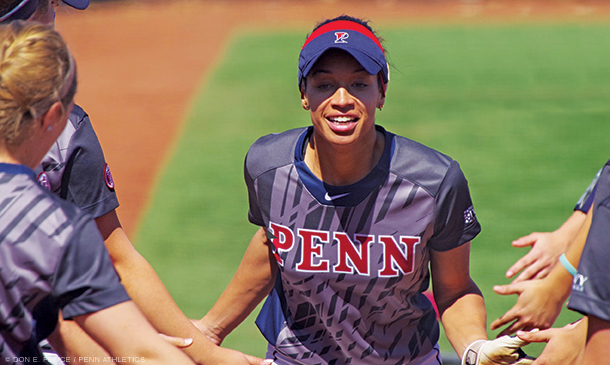 One of Penn's best softball players ever says goodbye
Leah Allen C'17 had already committed to play softball at Kent State University when she decided, on a whim, to visit Penn. As she stood on Locust Walk that day, looking around at the historic buildings, she knew in her heart that she needed to change her mind.
That's the beginning of her Penn story. It ended when she won the 2017 Ivy League Player of the Year to cap one of the most illustrious softball careers in school history.
"Penn was the greatest four years of my life," Allen said. "I was very lucky I had the chance to come to Penn at all. To even be a student here would be enough—but to play a sport here was awesome."
Although the Quakers finished second in the Ivy League South Division with a 12-8 record (22-18 overall), Allen went out in style, leading Penn in batting average (.408), slugging percentage (.697), home runs (nine), and on-base percentage (.434), while leading the Ivies with 20 stolen bases, a Penn single-season record. And the outfielder left Penn as the program's all-time leader in home runs (33), RBIs (135), triples (10), and stolen bases (61). She ranks second in all-time hits (188).
What does it mean when people tell her that she's one of the best softball players ever at Penn?
"It's very nice that people recognize it," she said. "I think for me, it wasn't about going out and trying to break records and have the best stats. I've been playing softball since I was four, and I love this game. And I had a chance to come to an amazing school like Penn."
The softball team had some highs during her career, too. This year, she relished Penn's 3-2 victory over a strong University of South Florida program. "We were the Ivy League underdogs," she said, "and surprised a lot of people." And the Quakers won the Ivy League South Division title in each of her first two seasons. Allen helped the team clinch its 2014 berth in the Ivy League Championship Series with a memorable grand slam at Penn Park.
"It felt so good to do that at home … having everyone there," she recalled. "People that didn't even know softball were there for Penn Relays and in the stands cheering for us. It felt awesome to represent Penn in that way."
"It stinks" that an outright Ivy League Championship remained elusive to the end, she admitted. "But I learned so many life skills that will take me further than a ring will ever take me."
Dave Zeitlin C'03 writes frequently for the Gazette.