New Set of Wheels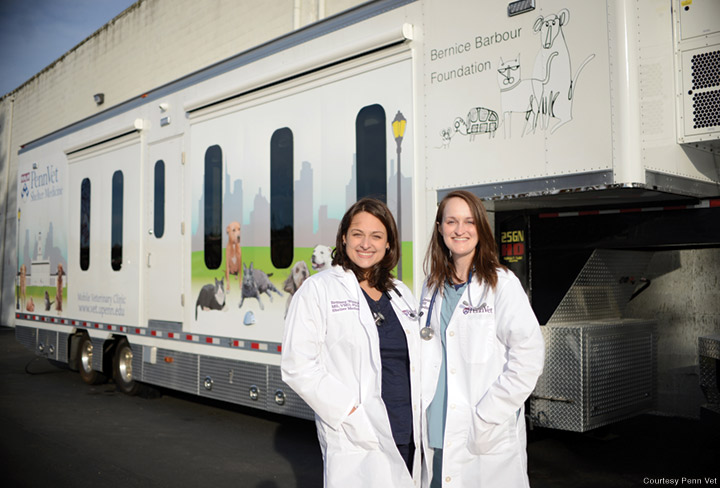 ---
With a mobile veterinary hospital, Penn Vet's Shelter Medicine Program has kept saving animal lives amidst COVID-19 restrictions.
---
As a 40-foot-long hospital, the School of Veterinary Medicine's new mobile unit is "actually larger than most surgery centers," says Brittany Watson V'10, clinical associate professor of shelter medicine and community engagement, and director of Penn Vet's Shelter Medicine Program. "It's the only reason that we can really operate [with adherence to COVID-19 restrictions] because otherwise we'd be too close together."
The mobile unit offers a safe, controlled environment for students to practice their surgical skills while also helping homeless animals in need. Without it, the program's surgeries at its shelter partner, the Animal Care & Control Team of Philadelphia (ACCT Philly), would not have been able to continue during the pandemic.
Under normal circumstances the Shelter Medicine Program offers spay/neuter surgeries with nine different shelter partners, basic animal health examinations in-home and in-shelter, humane education for high schoolers, and policy consults with area shelters ["A Double Reward," Sep|Oct 2010].
The mobile unit, acquired in 2019 and supported in part by the Bernice Barbour Foundation and Pet Smart Charities, is set to expand the program's reach even further. It is designed for surgical procedures, medical and clinical assessments, and educational outreach; and it offers several kinds of diagnostics, with dental radiographs, dental machines, and ultrasound to come eventually.
However, like many initiatives, the rollout was delayed due to the pandemic while organizers determined what measures were needed to keep students, staff, and the community safe.
"The mobile unit allows us to go where we're most needed in the community," Watson says. And during the pandemic, the team—which also includes the Bernice Barbour Assistant Professor of Clinical Shelter Medicine Chelsea Reinhard, and the Bernice Barbour Mobile Clinic Lead CVT Danielle Okulski—decided the greatest need was at Philadelphia's municipal animal shelter, ACCT Philly.
As an open-admission shelter, ACCT Philly took in more than 17,000 animals in 2019. Between 2017 and 2019, 38 percent of all surgeries at ACCT Philly were performed by Shelter Medicine Program participants, lifting a significant financial and practical burden off of the shelter.
In the same time period, the Shelter Medicine Program completed more than 11,247 total surgeries and 1,000 exams across all of its shelter partners. Those numbers will surely rise post-COVID when the mobile unit—which officially launched last October and is typically at ACCT Philly twice a week—is operating at full capacity.
During these unprecedented times, Watson and Reinhard have also cocreated a new emergency preparedness course for the Shelter Medicine Program. "We've had it in our docket for a really long time," Watson says. "And then when all this happened, we're like, 'Well, what's a better time to teach emergency preparedness and response than now?'"
"We're hoping it can be a permanent course," adds Reinhard.
Even when it wasn't offering treatments, the mobile unit and the systems around it have proven useful during the pandemic. In preparation to see patients in the unit, the team implemented an electronic medical records system, which for now is utilized for telemedicine visits. Watson says the telemedicine option has nearly doubled the amount of time they can provide public services through their partner Pets for Life.
"It's kind of like we're setting this up as [the Shelter Medicine Program's] hospital system," she explains. "And then because we have the hospital system, we can then do the telemedicine; whereas if we didn't have the mobile unit and the systems surrounding it, it would be very difficult—probably impossible, honestly—for us to execute."
When COVID is no longer a major factor, she says, the program will use the mobile unit for community clinics and, down the line, as an asset in disaster and emergency response, and in animal cruelty cases.—NP