New Face of Penn Athletics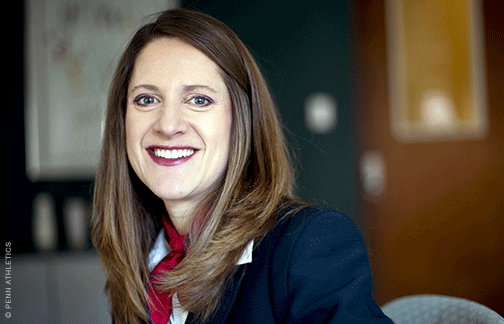 The Penn basketball season had just ended, but the Palestra was still buzzing on March 24. That's when the University introduced M. Grace Calhoun as the school's next director of recreation and intercollegiate athletics.
She will begin on July 1, succeeding Steve Bilsky W'71, who announced his retirement in November after 20 years on the job ["Gazetteer," Mar|Apr].
"As I stand in the Palestra, looking at all of this history and tradition, I promise I will never forget how really cool it is to be the director of recreation and intercollegiate athletics at Penn," Calhoun said during her introductory remarks. "Wow, what an honor."
Calhoun currently serves as the athletic director at Loyola University of Chicago, and has previously worked in the athletic administrations at Indiana University, Saint Francis University, and the University of Florida. She was also associate executive director of the Patriot League. Although she's not a Penn alumna, she has ties to the Ivy League as a former student-athlete at Brown and an administrator at Dartmouth.
"Penn can and will set the gold standard for combining competitiveness with an educationally sound approach to athletics," Calhoun said. "No one cares more than I do about winning. I'm a competitor through and through. Yet you will soon find out I approach athletics and recreation as an educator."
Calhoun will have her work cut out to build on Bilsky's fundraising success while addressing issues including sagging attendance, student apathy toward athletics, and the fall of the men's basketball program.
But for now, she is simply excited about becoming the first female athletic director in the history of Philadelphia's Big 5 (made up of Penn, Villanova, Temple, Saint Joseph's and La Salle).
"I've always looked at that as a sense of responsibility—that I need to ensure that I do a fantastic job," she said. "Because I know if I do so, I'm helping open doors for other women, just like so many other phenomenal women have helped open doors for me." —Dave Zeitlin C'03