Reversal of Hardwood Fortunes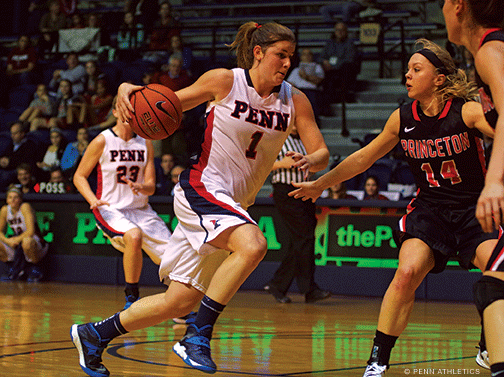 By Dave Zeitlin | Alyssa Baron knew what was coming, but the senior didn't want to accept it.
Less than a minute remained in Penn's NCAA women's basketball tournament game against Texas on March 23, and with the Quakers trailing by double-digits, Baron heard a buzzer and realized she would be summoned to the bench to receive a warm ovation from the Penn fans in attendance.
But she didn't want to come out of the game. Not with Penn about to lose a heartbreaker after having led by 15 points. Not after she just missed a shot she normally makes, adding to her frustration on a day when she still managed to pour in a game-high 25 points against one of the country's most decorated women's basketball programs. Not when she knew she would never play another basketball game for the Quakers, the team she transformed from the worst to the best in the Ivy League during her remarkable four-year career.
"Knowing that I didn't want to come out of the game, because I knew it would be the final time—that was pretty much what was going through my mind," said Baron shortly after the game, still wearing her uniform while standing outside a cramped locker room in the bowels of the University of Maryland's Comcast Center. "I kind of didn't want to hear what [head coach Mike McLaughlin] had to say, but he said, 'Look at what you did. Look at where we've come.'"
She paused and added: "It's just a lot to take in right now. It still hasn't sunk in that this is my last time in this uniform."
The next day, after a mostly sleepless night, it started to sink in for Baron, who woke up early to head over to the Palestra for an early-morning workout. McLaughlin, who recruited her and helped her develop into perhaps the best player in program history, laughed when he arrived at his office at 9 a.m. only to find Baron had beat him there. "Because it's only fitting," he says, that the ultra-competitive guard would be in the gym less than 24 hours after her college athletics career had ended.
Then he sat her down and told her what he had tried to say the previous day: how she should feel proud that she led the Quakers to an unlikely Ivy League championship, and just the program's third trip to the NCAA tournament.
"We talked about the journey," McLaughlin says. "I like to reflect with the players from where they were to where they are—how she grew as a person, as a player, as a leader."
When McLaughlin recruited Baron, he had to make a bold sales pitch to the talented guard from Miami: come to a team that had won just two total games in 2009-10, his first year in charge. But it worked, and other top recruits followed, allowing McLaughlin to set a sturdy foundation for success. Slowly, the wins began to come. Penn followed its dismal 2-26 record with an 11-17 mark in 2010-11, a 13-15 record in 2011-12, and an 18-13 campaign culminating in a postseason berth in the Women's Basketball Invitational tournament in 2012-13.
Then it all came together this season, as Baron and the Quakers matched a school record for wins with 22—none more improbable and dramatic than their last. Needing a victory in its regular-season finale at Princeton to win the Ivy League title, Penn led from start to finish to dethrone the four-time defending champion Tigers. Making the title-winning performance even more exciting for the Quakers was the fact that Princeton had not only beaten Penn every time the two rivals met since McLaughlin took over, but had done so by an average of nearly 30 points per game—including an 84-53 rout earlier in the season at the Palestra.
"It was probably the best feeling I've had as a coach," says McLaughlin, who led Division II Holy Family to 10 conference titles before coming to Penn. "Just to watch our team play so well, to capture the moment, to rise to a great challenge, to beat a very good team and just play our best basketball at the right time—that was something I know the players will never forget."
Another thing the players will never forget is playing in the NCAA tournament, for which they qualified by virtue of capturing the Ivy title. But it was clear from the start of the game that the Quakers, seeded 12th in their 16-team region, weren't just happy to be there, as they opened up a 15-point first-half lead and led by seven at the halftime break.
Eventually, though, the shots stopped falling and foul trouble caught up with the Quakers, who had difficulty dealing with a level of size and speed they don't see in the Ivy League.
"We just ran out of gas," McLaughlin says. "Certainly [a win] would have added to an already special season. We competed all the way until the end. Over 40 minutes, they just outplayed us."
The truth is, winning in the NCAA women's basketball tournament is extremely rare for Ivy League teams. It's only happened once, in 1997, when Harvard became the only 16 seed to ever win a first-round contest—in the men's or women's NCAA tourney—by stunning Stanford. But McLaughlin believes it will happen again soon, saying he'd be "surprised if over the next couple of years an Ivy League team doesn't get a win."
For the Quakers to get back to the postseason, they'll need to find a way to replace Baron, who was named the Ivy League Player of the Year and the Big 5 Player of the Year after finishing her career in second place on Penn's all-time scoring list with 1,806 points.
Luckily for McLaughlin, he'll still have a lot in the cupboard with the return of freshmen Sydney Stipanovich—who helped Penn sweep the postseason Ivy League awards by snagging Rookie of the Year and Defensive Player of the Year honors—and Kara Boneberger, a second team all-Big 5 and all-Ivy League selection.
"It's going to be different," McLaughlin says, without Baron. "It's going to be different not saying her name. It's going to be different not running a play for her. But I also think she left the program in good shape. I definitely think she's taught the younger players how to play at this level. And now it's their turn."
An 'Unacceptable' Season for Men's Hoops
Before the 2013-14 season began, encouraged by the fact that every player from the previous season was back in the fold, Penn men's basketball coach Jerome Allen W'09 was uncharacteristically open about his optimism for his team's chances at chasing down an Ivy League title.
But a few months later, after yet another loss in a season filled with them, he was left to answer why a team with seemingly so much returning talent was no better than it was a year ago.
"I think we underestimate how important team chemistry is," Allen said following Penn's 83-63 defeat to eventual Ivy League champion Harvard on February 21. "We've struggled for the most part this year in being a team."
It was, in many ways, a damning indictment of a team that was predicted to finish second in the Ivy League's preseason poll but instead sputtered to its second straight 20-loss season to finish tied for sixth in the league. But it also seemed to be a fairly accurate assessment about a group of players that never seemed to gel—as evidenced, among other ways, by the fact that Penn finished with a worse turnover rate than all but three of the 345 teams in Division I .
Injuries once again proved to be a problem for Penn, which had a handful of players dressed in street clothes almost every game. But considering that the team's core four—seniors Miles Jackson-Cartwright and Fran Dougherty, and sophomores Tony Hicks and Darien Nelson-Henry—stayed mostly healthy, Allen offered no excuses.
And after the Quakers' seventh straight season ended without an Ivy title following a 71-58 loss to Princeton on March 12, the head coach vowed that he would get the program back on the right track—while continuing to block out the ever-growing chorus of those calling for a coaching change.
"I could care less what the periphery says," Allen said. "I hold myself to a higher standard than anyone can put on me. So it's my job to get us headed in the direction we need to because, to me, this is unacceptable."
---
Dave Zeitlin C'03 writes frequently for the Gazette.