New Center for Personalized Immunotherapies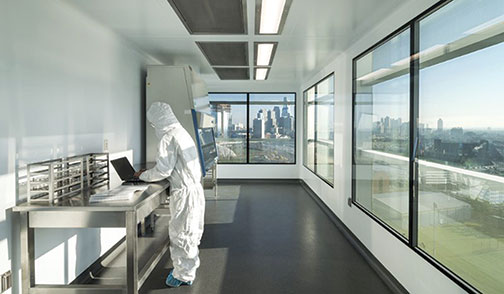 Following the sustained early success of an experimental immunotherapy against certain forms of cancer ["The T-Cell Warriors," Mar|Apr 2015], February brought the unveiling of the Penn-Novartis Center for Advanced Cellular Therapeutics (CACT). The $27 million facility, financed in part through a $20 investment from the Swiss multinational pharmaceutical company, will provide dedicated space for further development of personalized cellular therapies for cancer.
"In only a few years, we have generated significant achievements that have moved the field of personalized cellular therapies forward, opening clinical trials to test these treatments not only for patients with blood cancers, but also those with solid tumors," said Carl June, the Richard W. Vague Professor in Immunotherapy and director of the Center for Cellular Immunotherapies in the Perelman School of Medicine. "The CACT will allow us to leverage this progress to develop and test new approaches more quickly and expand our ability to manufacture personalized cell therapies for a greater number of trials."
The CACT, located in the South Pavilion Extension behind the Perelman Center for Advanced Medicine, is part of an exclusive research and licensing agreement between Penn and Novartis to further study and commercialize the chimeric-antigen-receptor therapies June's group has pioneered. With approximately 23,000 square feet, roughly a quarter of which is "clean room" space, it will have the capacity to manufacture personalized cellular therapies for up to 400 patients per year.