Out of the Submarine, Into the Work Force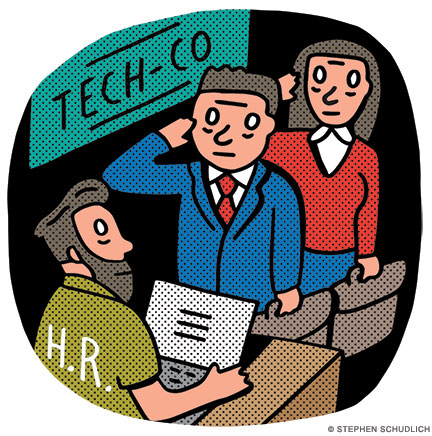 More than 200,000 people leave the military every year, and in 2014, Steve Weiner WG'16 was one of them.
Weiner had spent six years in the Navy by then, much of it below Arctic ice and deep in the western Pacific Ocean as a nuclear submarine officer. When he re-surfaced as a civilian, he'd already been accepted at Wharton's MBA program and had an internship lined up at Goldman Sachs.
Impressive as that was, Weiner now realizes just how little he knew about his career options at the time. And the mandatory transition program he slogged through before he left the military hadn't helped to illuminate them.
"We can't agree on wearing the same uniform," he says about the five branches of the US Armed Forces, "but we're going to say that every single person coming out of the military needs to take the same transition class? They were giving me resumés and teaching me how to tie a tie and wear a civilian suit. I realized that one-size-fits-all solutions are basically one-size-fits-none."
That's why Weiner and his Naval Academy roommate Mike Slagh came up with VetTechTrek last May. The nonprofit introduces veterans to tech startups and larger companies like Google, Twitter, and Uber, connecting them with founders, CEOs, hiring managers—and whenever possible, fellow vets.
As of late February, they'd taken 150 veterans and spouses to 50 tech companies in Silicon Valley, New York, and Washington. They'd also broadcast two virtual trips, first as live Web feeds and then as free online videos. Weiner says more than 10,000 people have watched so far.
Veterans are hungry for this content, Weiner says, "because it just doesn't exist out there." He points to a recent email he received from a veteran of SEAL Team Six—a special-operations naval unit responsible for counterterrorism and hostage rescue—who said he'd watched one of the virtual treks three times in a row. That adds up to nine hours soaking up information about the military-to-tech transition. Weiner says the vet told him he simply "couldn't get enough."
Veterans and tech companies may not be as firmly linked as, say, fashion and photography, but Weiner thinks they should be. He says that many of the qualities instilled by military service—self-discipline, leadership, quick pivots, and decision-making—are crucial in the tech world, especially at startups.
"People understand that veterans would be great working as government contractors," he says. "But never did anyone say to me, 'Hey, you'd be really good working at this 10-person startup.'"
Nor did anyone suggest it to Ben Williams EAS'01 WG'13, who served in the Navy from 2001 to 2006. Williams co-founded the tech startup Reelio—which matches brands with social-media creators—in 2012, and remembers his own transition to civilian life as "interesting."
"Coming from the military, you don't know there are thousands of different jobs out there," he says. "You've heard about maybe 10 or 15."
Williams hosted a VetTechTrek group at Reelio's Manhattan office in November. The group also stopped by Twitter, Uber, and Warby Parker ["The Vision Thing Pays Off," July|Aug 2012]. When possible, fellow vets talk to the group about how they got their jobs and what it's like where they work. They also offer advice for the post-military transition. Other employees often drop in to discuss their individual departments, or to explain why veterans could be a good fit.
The trekkers cover their own travel expenses; the companies donate their time, their expertise, and sometimes lunch. Weiner says VetTechTrek has charitable gifts in-process from several tech companies.
Recently Weiner and Slagh have been developing more specialized trips. The last one focused on entrepreneurs, and in April they're holding a women's summit in New York City. Tech companies and the military alike "struggle to attract and retain top female talent," Weiner says, "and our goal is to bridge the gap."
He isn't sure what's next for him personally, but Weiner seems to have a knack for striding forward.
"I'm 30 years old, but I'm still chasing passions," he says. "And that's also what we're trying to do with [VetTechTrek]: let people know that it's okay to question what you want to do—and we'll even provide the resources and support for you to do that."

—Molly Petrilla C'06