New Alumni Relations AVP: "It's All About the Relationships"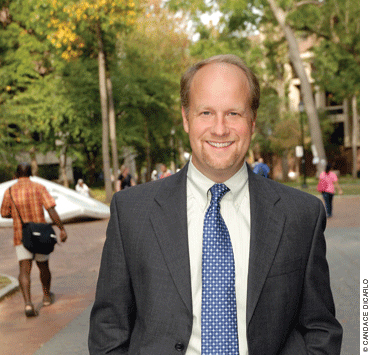 Penn's new assistant vice president for alumni relations, Fredrick Hoopes Wampler, understands that some alumni might be skeptical about a non-alumnus coming into his position. He's been there before.
Wampler recalls that, on his first day working in Harvard's college-alumni program, one volunteer confided that the only reason he was talking to him at all was that at least his graduate degree (a master's in higher-education administration) was Crimson. It's a testament to how effectively Wampler was able to overcome such assumptions that the volunteer in question—"a sweet guy who I'm still close to"—sang a song of his own composition at Wampler's going-away party.
"It's all about relationships. It's taking time to get to know people and listening to people," he says. "Understanding the alumni experience of the school and why they continue to want to be engaged is one of the most important questions you can ask any alum—but it's also an easy thing to start up a conversation with because people are very willing to talk about their experience. All you need to do is ask.
"The other thing that makes a big difference is if you really work hard and try to support your volunteers and your constituent groups," he adds, "then that's much more important than an official affiliation with the school."
That sense of performance and responsiveness to alumni was what "made Hoopes stand out in a broad field of very strong candidates," notes Penn Alumni President Paul Williams W'67. "What we felt distinguished Hoopes was his demonstrated commitment to the mission of a leading
university and the goals of building the alumni community and a real track-record in meeting the demands to coordinate activities—to handle and juggle diverse, time-driven deadlines," he says, along with an "absolutely marvelous sensitivity and accessibility to alumni volunteer leadership" that came through in his references and other feedback. Wampler's work advancing initiatives on alumni affinity groups and diversity at Harvard also were a key factor, Williams adds. "We felt that commitment was a fundamental element in terms of the core values, outlook, and approach" of the person heading alumni relations at Penn.
After graduating from the University of Richmond's Robins School with a B.S. in business administration, Wampler worked in advertising, marketing, and high technology, but a career in higher education was always at the back of his mind. "In college I was involved in a lot of groups and organizations that gave me exposure to the higher administrators," he recalls. "I always thought they were amazing people, but I also thought they had these great jobs."
After about seven years in the private sector, he had "sort of an epiphany type of day," he recalls. "Everything was going great, and it occurred to me that this was becoming a career and not just a job—and I didn't really want that to be my career. I just about did a 180 right then and there." While attending Harvard's Graduate School of Education, he worked in the office of student affairs, which led to a position as assistant director and special programs coordinator with the Harvard Alumni Association (HAA) after graduation, where he served from 1999 to 2001. Since then, he had been director of College Alumni Programs for HAA until coming to Penn in September.
Wampler grew up in the Philadelphia suburbs, and the opportunity to return home—plus a knowledge of Penn's ongoing partnership with the city—were among the attractions of the position, he says. He adds that he had also been impressed by the "strengths and skills" of the University's alumni relations staff, many of whom he'd gotten to know at professional meetings; by Penn's alumni relations program as being "operated both very successfully, and in very interesting, very progressive ways"; and by the senior leadership of John Zeller, vice president for development and alumni relations, to whom he reports, as well as Penn President Amy Gutmann.
Arriving on campus on the eve of the public launch of Penn's "Making History" capital campaign (see this issue's cover story) "adds a little pressure to things—but a healthy pressure," Wampler says. In fact, the excitement surrounding the campaign and the fresh resources it will likely bring to alumni relations were "huge selling points." That measures to support and increase alumni involvement are included as explicit non-financial goals of the campaign "is very unique and says a lot about the priorities of the University—not just to get [alumni] financial support, but to have their time and presence on campus and representing Penn around the world," he adds. 
—J.P.