Mapping the Tricky Terrain of Startups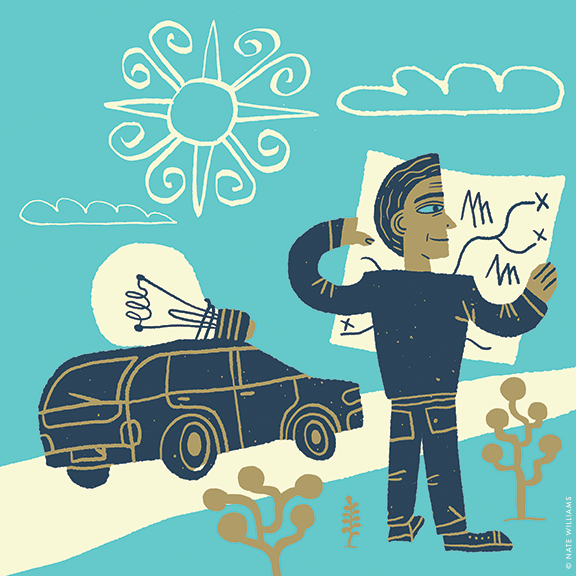 Class of '90 | A few months ago, 60 entrepreneurs in the early stages of launching companies sat in a corporate conference room in midtown Manhattan, taking notes on their laptops. They had been there for almost 30 hours during a two-day boot camp known as Andrew's Roadmaps, which was designed to walk them through every component of starting a business. They received templates for business plans and cash-flow projections, insider knowledge on the ins and outs of financing, best-practice guides on how to hire and fire staff. Though a cocktail reception awaited them at an Upper East Side mansion, no one seemed in a hurry to leave. Instead, they asked question after question.
These entrepreneurs knew how hard it is to start a business—90 percent of new companies don't make it—and they were looking for any help they could get. But they were especially eager to learn from the guy behind the bootcamp: serial entrepreneur Andrew Weinreich C'90.
"Let me describe an inevitability, a theme that is bigger than me that will occur whether or not I'm successful," Weinreich told the crowd. "At least then you know you are pointed in the right direction."
Weinreich, who is known in startup circles for launching seriously forward-thinking companies, knows a thing or two about directions. Seven years before Facebook, he launched Six Degrees, the world's first website that allowed members to connect with friends of friends. (He sold it in 1999 to YouthStreams Media Networks for a cool $125 million.) Later, he filed the patent that still governs all social networks. (LinkedIn CEO Reid Hoffman, who now owns it, called it the "most valuable patent in the world.")
In 2003, a year before the Howard Dean campaign earned a reputation for its savvy use of technology, Weinreich started I Stand For, a tool for crowdsourcing campaign donations used by politicians like former New York Governor Eliot Spitzer and US Senator Maria Cantwell of Washington. He started Joltage, which tried to put Wi-Fi in public spaces, and Xtify, which created the software behind push notifications. He sold four of his companies and still owns two.
Weinreich is someone who loves the process of starting businesses more than he loves an actual idea, says his friend and fellow serial entrepreneur Jamie Rosen: "He is drawn to the process of being in a startup. He could do a Wi-Fi company one day, a social networking company another day, and a dating site another day. It's exciting to start stuff."
If some of Weinrich's business ideas seem random, he has a clear process for generating them: Think about what will be happening in the world in the near future and come up with a business to fit that situation. SixDegrees, for example, was sparked by Weinreich's belief that the world would turn to the Internet for networking.
"I was saying to investment bankers, 'You see that Rolodex? [Its contents are] going to be typed into a computer, and you are going to ask all those people to validate that they know you, and all those relationships are going to sit in a database, and everyone is going to be able to see the people they don't know.'"
He used the same process for I Stand For. As an avid follower of politics, he thought there was room for a more democratic approach to financing campaigns.
Of course, the risk for an entrepreneurial trendsetter is identifying trends too early. SixDegrees, for example, failed because not enough people were online in the late 1990s, and the technology to upload photos and other images was still in its infancy.
The same thing happened with Joltage, the company that tried to introduce Wi-Fi to public spaces, says Weinreich. "I remember Cosi or McDonalds or some big chain saying, 'If we do what you are proposing, people will come and never leave.'"
With Andrew's Roadmaps, though, Weinreich may have a company the world is ready for. In recent years founders have come to him looking for advice on everything from big-picture tasks like writing business plans to more granular details like establishing key performance indictors. Realizing that they were all making similar mistakes, he started creating templates and best-practice manuals for them to use.
"It really forced me to think through a lot of the planning, marketing, development stages that I had been sort of been winging before," says Aaron Price, founder of Rocketfuel, a company that produces inspirational events for businesses. "I had been making mistakes along the way."
Though Weinreich's original idea was to turn this information into a book, it soon evolved into a seminar. Wanting to work with the best talent regardless of how much they could afford to pay, he got sponsors to cover the costs, which allowed him to offer the event at no charge. In the two years since it launched, Andrew's Roadmaps has served 185 CEOs over three weekend events. He envisions six-to-10 sessions a year, with much larger groups and special sessions for different kinds of startups.
Weinreich believes his company fits in with the changing world. According to the Deloitte Millennial Survey released in January 2014, 70 percent of Millennials believe they will work for themselves. But business schools are expensive and time-consuming, while accelerators and incubators are highly competitive to get into, and require considerable time and equity. Even nonprofit ventures don't usually provide the nuts-and-bolts information founders need the most.
Which is why, of all his companies, Andrew's Roadmaps may be the most special to Weinreich. It's a way for him to use his past experiences, his successes and his failures, to help others do what he loves best: building companies.
"He told a few different stories about companies that he ran, some that he exited, and some that didn't work out, and the ones that were the most useful were the ones that didn't work out," says Daniel Heyman, co-founder of Stack Al, Inc., an app that helps manage communication with contacts. "I think it's useful to understand what not to do, especially from someone like Andrew, because he has perspective on what is working and what doesn't."
But, says Weinreich, Andrew's Roadmaps has the potential to be his next successful enterprise: "I really do believe we can scale this school and make it the largest early-stage school of its kind."
Stay tuned.
—Alyson Krueger C'07