A History of HERfinance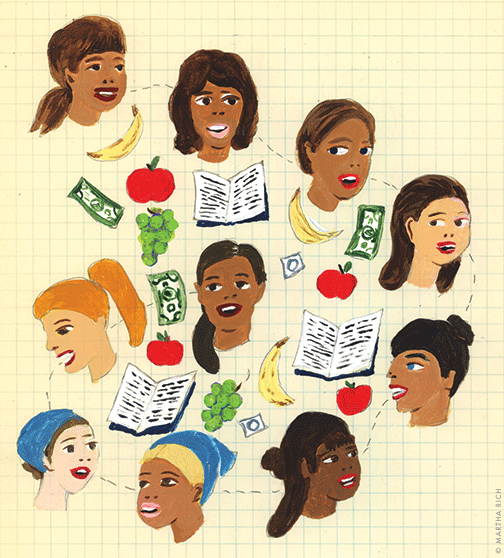 Class of '09 | In developing countries around the globe, women are driving the export market, comprising between 60 and 80 percent of the manufacturing labor force. But there's another story. They often don't see their wages, forced by cultural norms to hand over earnings to a male head of household. Men, in turn, are less likely to spend the money on such socially beneficial purchases as nutrition, health, and education, according to research by the San Francisco-based nonprofit Business for Social Responsibility (BSR).
It's a pattern Chhavi Ghuliani G'09 WG'09 is working to change. As associate director at BSR and head of its HERfinance program, he is helping to give factory workers in Brazil, India, Indonesia, and Mexico a say in their financial futures.
It starts with exposing them to the rudiments: financial planning, savings, budgeting, and responsible borrowing. Because the women may in some cases be challenging longstanding male roles, there's also a section on how to talk about finances as a family.
"These women are working in factories six days a week, eight to 10 hours a day," says Ghuliani, who collaborates with more than 40 member businesses, most of them multinational companies, to provide women with the personal-finance practicum. "They really don't even have time to access information about services that are already available to them."
HERfinance also targets women in the agriculture industry, where they constitute a growing portion of the labor force.
After a company accepts Ghuliani's offer to bring HERfinance to the workplace, he works with non-governmental organizations in the host country to implement the program. Using a peer-to-peer model, in which women share their newly acquired acumen with co-workers, HERfinance oversees lectures and discussions at the companies.
"We don't train 100 percent of the employees; we might train about 5 percent," Ghuliani says. "Passing on that information becomes automatic. They also take it into their communities and teach family members."
Complete statistics aren't available, but 10,000 women (and men) received financial information in the two-year India pilot program that kicked off HERfinance.
"Only a third of the women we surveyed even knew how to use an ATM machine," Ghuliani says. "If they don't even have that confidence, then the default is to let somebody take care of it for you. They just don't feel comfortable doing it any other way."
In a survey of factory workers in Bangalore and Delhi, India, 66 percent of women reported controlling their own salaries (up from 47 percent) after receiving HERfinance training; 92 percent said they are saving a larger portion of their income than before the program. Some women have even opened separate bank accounts, unbeknownst to their husbands, Ghuliani says. ("There are creative ways that women are kind of getting around some of these cultural issues," he adds dryly.)
Supporting the financial inclusion of women in the formal sector—as opposed to sweatshops—has tangible benefits, BSR reports. Overall, women earmark 90 cents of every dollar for nutrition, health, and education, Ghuliani notes; that pattern leads to social and economic improvements in their communities and countries.
HERfinance's work isn't limited to its four target countries. Because companies in those nations source materials from elsewhere, women in nations such as Vietnam and Bangladesh also are getting a financial education.
The program was financed by a grant from the Walt Disney Company. Other participants include Microsoft Corporation, Walmart, Nordstrom Inc., and Levi Strauss & Co.
HERfinance appeals to companies both for the goodwill it engenders among its workers and for the message it conveys to Western consumers, says Ghuliani: "They have some assurance that the people making their products are being treated fairly. They are more likely now than ever before to prioritize their business with companies that they think have good labor practices within their supply chain."
Levi Strauss, for example, brought on HERfinance because investing in and improving worker rights and wellbeing is a "long-term goal and strategy at the company," says Daniel Lee, executive director of the Levi Strauss Foundation.
"Given the right training, tools, and opportunities, working poor and low-income people can save," he adds. "Asset-building policy focuses on long-term development of individuals, families, and communities. HERfinance presented a good opportunity and an overlap of these two issues."
Calling the program "game-changing," Lee says that Ghuliani plays a critical role in connecting brands, suppliers, and global and local community organizations.
What's more, "since all stakeholders see the value of investing in women's health in social and business terms, changes are sustained over time," he adds. "This requires deft soft and hard skills."
The concept of empowering women in developing countries goes back to mid-1970s Bangladesh, where 42 women borrowed the equivalent of $27 to make bamboo stools. Thus was born micro-financing, and a nascent commitment to working women.
As has been largely the case with HERfinance, there was no sexist backlash in Bangladesh. HERfinance is careful to involve both genders in its outreach.
"Once husbands or fathers start to see the economic benefits of women running their own businesses or working and applying their salaries in a productive manner, their mindset changes," Ghuliani says. "Of course, our ultimate goal is empowering women, but we don't exclude men from the work. That is very important. There needs to be a realization from women and men that when there is collaboration, the family benefits. They're also more likely to meet their financial goals than if they are operating independently."
BSR has been adding HERfinance programs every month. Based in the nonprofit's New York offices, Ghuliani racked up 100,000 frequent flyer miles last year in his efforts to enlist new partners. Now there is talk of expanding the program into Africa.
In a big world, it's just another day on the job.
—Andrew Faught