Let The Madness Begin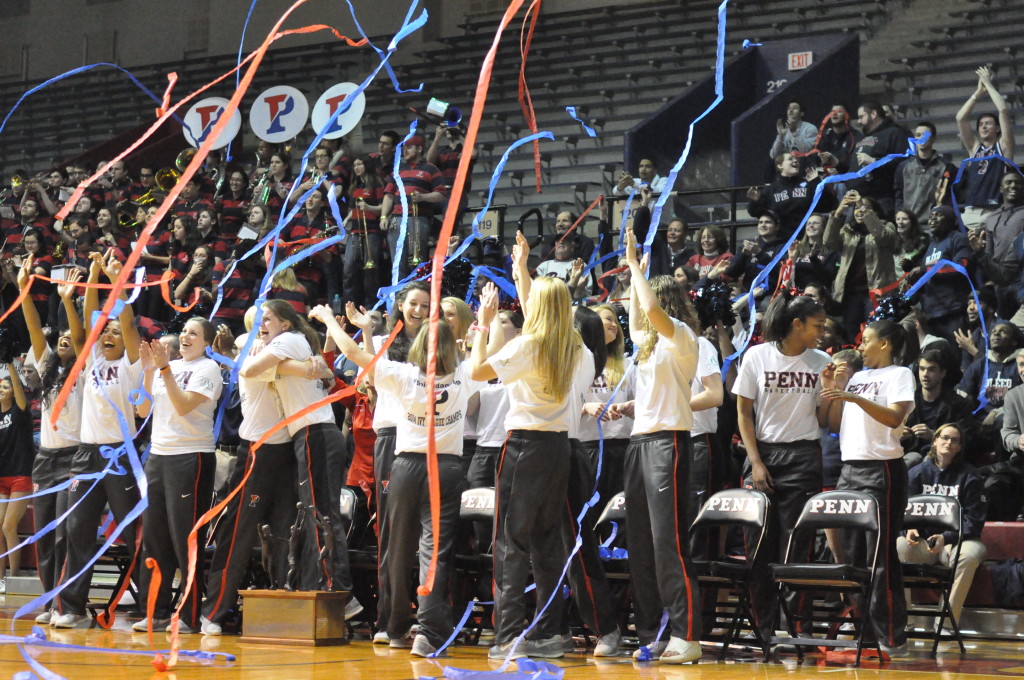 For as long as they can remember, Alyssa Baron and Sydney Stipanovich have watched NCAA tournament games, filled out brackets and gotten engrossed in the spirit of March Madness.
Now, they get to be a part of it.
Fresh off of a surprising Ivy League championship, Baron, Stipanovich and the rest of the Penn women's basketball team will open play in the NCAA tournament with a first-round game against Texas at the Comcast Center in College Park, Maryland on Sunday (3 p.m., ESPN).
"The NCAA tournament is probably the best tournament out there," Penn head coach Mike McLaughlin said. "To be a part of it, to have players experience that, is really, really special for them – and something they'll cherish for a lifetime."
In the past week-and-a-half alone, the Quakers have already made a lifetime worth of memories. Completing a remarkable turnaround from a 2-26 team in 2009-10 – McLaughlin's first year in charge – Penn dethroned four-time defending Ivy champion Princeton, a team it hadn't beaten in six years, to win the Ivy title last Tuesday. Then, they spent the next few days celebrating with their families, fans and fellow Penn students, culminating with Monday's Selection Show watch party at the Palestra when the Quakers learned on live TV that they had drawn the 12 seed in the Louisville regional and a date with fifth-seeded Texas.
Even now, with the game rapidly approaching, the players still can hardly contain their excitement.
"Coming from a sports family, I've always watched the NCAA tournament and filled out my share of brackets," said Baron, the team's star senior guard. "It's pretty surreal getting your name called and having the fans cheering for you instead of just blindly picking other teams you have no relation to."
"It's kind of indescribable how excited I am personally – and I think our whole team is," added Stipanovich, the team's star freshman center. "To play in this amazing tournament, I think it's just a dream come true pretty much."
Of course, like most teams in the tourney, the Quakers aren't just happy to be there. They want to win. And they might actually have a decent chance at becoming just the second Ivy League team to ever win an NCAA tournament game. (Harvard was the only other Ivy team to win in the tourney when the Crimson stunned top-seeded Stanford in 1997. They remain the only 16 seed in NCAA history – men or women – to beat a 1 seed.)
Whereas in the Quakers' previous two NCAA trips, they were seeded 15th and faced brutally tough road matchups against Texas Tech (2001) and perennial powerhouse UConn (2004), this time they face a less daunting opponent at a neutral site that's close to home.
"For us, it's a tremendous opportunity," McLaughlin said. "We knew we'd get a real good opponent. We're excited the game is within a distance that fans can travel down there, so it should be an exciting time."
Still, if the Quakers can knock off a Texas program that's been to the NCAA tournament 28 times before, it would certainly be a big upset. Luckily, the Quakers have already proven they know how to pull off upsets – as Princeton can attest. And, after welcoming undefeated Notre Dame to the Palestra earlier this season, they also know what it takes to step on the same court as nationally renowned programs.
They key now is just to make sure they can manage their excitement and not be intimidated by the big stage.
"My goal with the players is to put them in the moment," McLaughlin said. "The court stays the same; the moment gets a little bigger."
It's time to dance.
– Dave Zeitlin