iDesigning the Future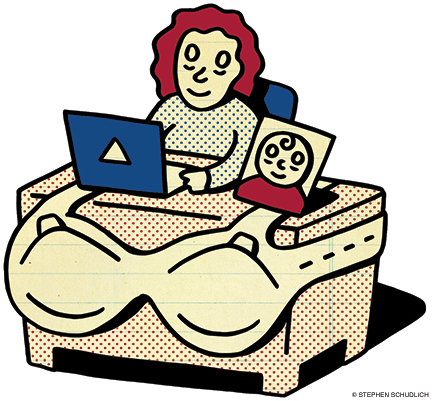 Inside Meyerson Hall, people in suits were talking to themselves. Facing a blank white wall or pacing the concrete floor, they gestured and explained. Practicing would probably be the less concerning way to say it. It was minutes before the second annual iDesign competition, and five teams would each have one chance—10 minutes—to sell their ideas to a panel of judges charged with awarding a $50,000 prize.
Started last year by the Integrated Product Design Master's Program (IPD) and the School of Design, the award champions the design of physical objects—rather than, say, computer code—to solve real-world problems.
Last year's winner, SafeStamp, designed a security tag for medication packaging to combat counterfeit products in developing countries. This year, all five finalist teams created health-related products, and three of them focused on women's health.
The winner, Lilu, is a dual-purpose nursing and pumping bra that automates breast compression so that moms can pump milk more efficiently and keep their hands free.
"We believe that the breast pump is fundamentally failing working women," Clementine Gilbert GEng'16 told the audience during her team's pitch. She explained that Lilu would be compatible with the breast pumps moms already own, and that it would help them pump more milk, more quickly.
"You demonstrated a clear need for the product and you had a clear sense of what the value proposition might be to a mother," judge Turi McKinley, who works for the global design and strategy firm Frog, told the Lilu team.
Lilu was the brainchild of three IPD students—Gilbert, Adriana Vazquez Ortiz GEng'16, and Alexandra Looney GEng'16—along with Sujay Suresh Kumar GEE'16, a master's student in electrical engineering.
Gilbert says the IPD trio came together in September as part of their program coursework. "I wanted to investigate the domain of working mothers and breastfeeding," she says. "And I knew there was this low-hanging fruit of terrible industrial design around the breast pump." Kumar soon joined the team to work on technology that could automate breast compression during pumping.
The group tapped Penn doctors and Children's Hospital of Philadelphia lactation consultants to test ideas and gather information, and by the iDesign presentation, they had a prototype. (Gilbert sewed it herself.)
"We're really excited about continuing to flesh it out and test its efficacy," Gilbert says. The short-term plans include patenting, setting up a corporation, investigating manufacturing options, and testing the prototype on moms this summer.
Back in Meyerson Hall, before the judges announced the winner, IPD associate director Sarah Rottenberg urged all five teams to keep moving their projects forward, regardless of which one ended up posing for pictures with a giant novelty check.
Alicia Siman GEng'16 competed for the prize with Hint—a period-tracking product for tween and teen girls that she created with teammates Monica Butler GEn'16 and Yichen Huang GEn'16.
She says her team is talking about applying to business accelerators and testing Hint with young girls. "We're going to keep going in some form," she adds.
The other iDesign finalists included a self-administered cervical cancer screening device, a respiratory-assistance device for people with emphysema, and a wearable device to track joint motion after surgery.
—Molly Petrilla C'06