Preserving Civil Rights Heritage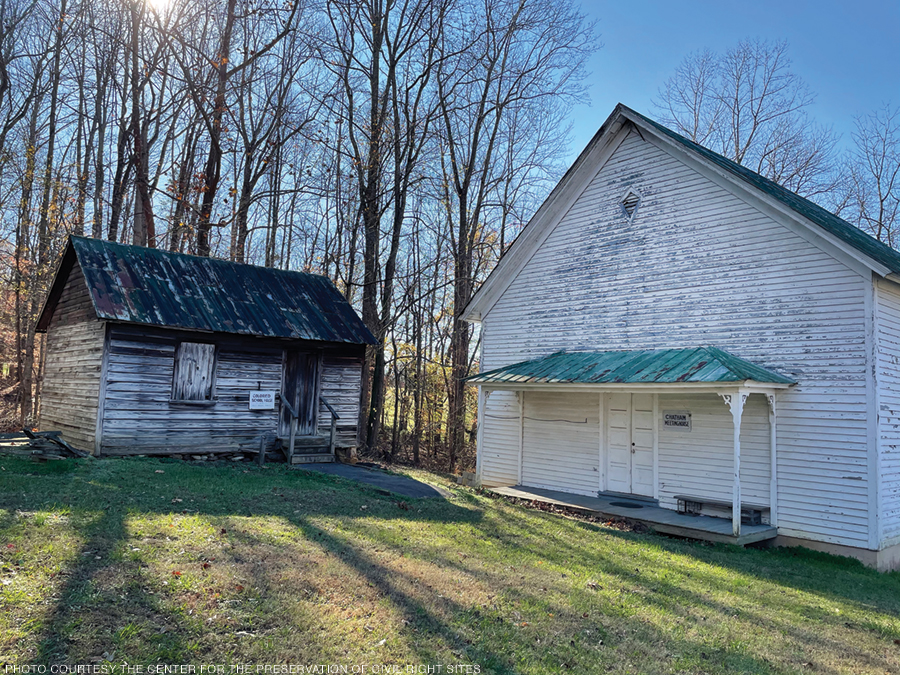 ---
A new center at the Weitzman School commemorates and aims to understand the African American struggle.
---
When Booker T. Washington was named principal of Alabama's new Tuskegee Normal School for Colored Teachers in 1881, his domain encompassed not much more than a one-room shanty. After about a year, the celebrated educator purchased a former plantation and began developing a 100-acre campus that formed the nucleus of what blossomed into Tuskegee University. "The students actually built the early parts of the campus themselves," says Randall Mason, associate professor in historic preservation at Penn's Stuart Weitzman School of Design. "They literally dug the clay so they could make the bricks that turned into the buildings."
In the 1890s, Robert Robinson Taylor, the nation's first accredited Black architect, and David A. Williston, its first professionally trained African American landscape architect, collaborated on a further expansion and later joined the faculty. More than a century later, Tuskegee remains one of just a handful of the nation's historically black colleges and universities (HBCUs) that offers an accredited architecture degree. In fact, its Robert R. Taylor School of Architecture and Construction Science is a core partner of the Weitzman School's new Center for the Preservation of Civil Rights Sites (CPCRS), which launched last fall with Mason serving as faculty director. The initiative traces its roots to a collaboration between Penn and Tuskegee that started in 2019 with the support of Amy Freitag GFA'94 GLA'94, executive director of the philanthropic organization J. M. Kaplan Fund, and Kevin Penn W'83, chair of Weitzman's board of advisors.
The center's scope, according to Mason, is to explore how the pursuit of civil rights has shaped America's built environment and its society. That includes recognizing both iconic sites and ordinary places "where the Black community prevailed and triumphed" throughout the 19th and 20th centuries—not just "the era that we refer to with a capital C and capital R" in the 1950s and 1960s.
According to a recent New Yorker article, only two percent of the nearly 100,000 sites on the National Register of Historic Places are associated with the Black experience. Brent Leggs, founding executive director of the National Trust for Historic Preservation's new African American Cultural Heritage Action Fund, is a leader in rectifying that—and one of the first experts that Mason contacted as he fleshed out the idea of a center. "Brent's program has had a pretty amazing impact," Mason says. "Beyond raising money to support these sites, it's brought many untold stories to the surface."
During this spring semester, Leggs and Mason have cotaught a course called Reckoning with Civil Rights Sites that includes opportunities to collaborate with students at Tuskegee to consider future possibilities for a school building in rural Alabama, and with local partners to search for sustainable strategies for the Marian Anderson House in Philadelphia. Leggs also serves on the advisory board of CPCRS, along with Freitag; Penn; Monica Rhodes GFA'12, director of resource management for the National Park Foundation; Kwesi Daniels, Tuskegee's architecture chair and assistant professor; and Bill Adair C'85, an independent arts and culture consultant.
After more than a decade spent chipping away at "elevating the significance of African America culture" by securing historic designation for sites like the estate of entrepreneur Madam C. J. Walker in Irvington, New York, and the Negro League's Hinchliffe Stadium in Paterson, New Jersey, Leggs says he was inspired by the 2017 Charlottesville, Virginia, protests over Civil War monuments to consider how "historic preservation could have a role in equity and social justice." Since the African American Cultural Heritage Action Fund was launched, it has awarded grants totaling more than $4.3 million for preservation efforts at some 150 sites.
"My first goal is always to protect the site in perpetuity and to buy time for its future," Leggs says. "Ultimately, though, a site must contribute to the cultural vibrancy and life of its communities—it can't just sit as an artifact on the landscape. So for me, after protection comes planning, restoration, and finally activation for the public use. The big goal is that these assets are positioned as cultural anchors within their communities, and to foster conversation about identity and place."
Leggs has particular fondness for Philadelphia's built legacy, and has worked on historically designated sites in the city like the John Coltrane House, Joe Frazier's Gym, and Tindley Temple United Methodist Church. "When I look at the American cultural landscape and when I think of African American history, I see that Philadelphia has been home to a most remarkable collection of people [who contributed to that history], from Marian Anderson to Dox Thrash to W. E. B. Dubois to Paul Robeson," he says. "I've respected and followed [Mason's] work for years, and in my opinion, Penn's is the leading academic preservation program in the United States. So when this bold vision was coalescing, I was really interested to be a part of [it]."
In addition to the coursework, the center plans to conduct research at several field sites, organize virtual panels, and feature on its website a crowdsourced digital exhibition of places that commemorate civil rights stories. More than anything, "we're taking an open and inquisitive attitude toward understanding what civil rights sites are and how we preserve their history," Mason says. "What other means besides the current array of preservation tools do we need to acknowledge them when, for instance, the sites don't have the presence of, say, Independence Hall? When something like Joe Frazier's Gym, for example, is now a furniture store or when the physical evidence of the MOVE tragedy is mostly gone? These questions are part of a conversation about what's been purposely forgotten or erased and how to begin redefining heritage."
—JoAnn Greco