Huntsman Hall: Wharton's New Nerve Center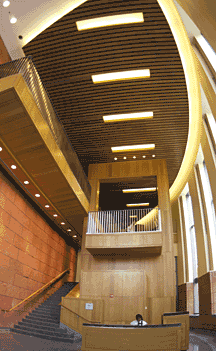 Dr. Patrick Harker CE'81GCE'81 Gr'83, dean of the Wharton School, stood beneath a canopy at the Locust Walk entrance to Jon M. Huntsman Hall. Behind him, the massive new building stretched all the way to Walnut Street, its long west façade flanking 38th Street like a great red-brick locomotive, its glassy six-story circular tower commanding impressive views of West Philadelphia and Center City.
"Today I am confident that we have created the premier 21st-century learning environment for our students, and a home base for our growing global campus that our alumni can look to with pride," said Harker, as the school celebrated the building's dedication in late October.
"It is fitting that Huntsman Hall stands tall as an academic gateway to Penn's campus," said Penn President Judith Rodin. "Now, a building has risen almost as high as Wharton's reputation to become the school's nerve center and a vital contributor to the vibrant academic life of the University."
The hall bears the name and stamp of Jon M. Huntsman W'59, chairman of the Huntsman Corporation, the largest privately held petrochemical and plastics business in the world. Huntsman gave $40 million to the building, whose $140 million cost was funded entirely by major gifts and pledges from alumni, corporations, and friends of the school. He was hailed as an "excellent role model," a "beloved friend," and an "authentic Penn hero" by Rodin.
The 320,000-square-foot hall, designed by Kohn Pedersen Fox, contributes the "largest addition of classrooms to the University since World War II: 48 classrooms, to be precise," Rodin pointed out. "And that doesn't include 58 group-study rooms, several conference and colloquium rooms, as well as a magnificent auditorium. Nor does that include faculty and staff offices that offer incredible views of the campus, the neighborhood, and the city."
Saying that the hall "puts students first," she noted that, "given the shaky state of the world economy, we'll be looking to our business and management students to find new answers and solutions." And, she added: "Having the best facilities, the best technology, and the finest faculty will give our students a distinct advantage that will ultimately benefit us all."
Although the dedication was a festive affair, parts of it were relatively low-key, as only a select few (which did not include the press or most students) were invited to hear the morning ceremony's keynote speaker: Vice President Dick Cheney, a longtime friend of Huntsman. Cheney's presence drew a crowd of several hundred protesters, who blocked traffic on Walnut Street as they chanted slogans ("One, two, three, four, we don't want your oil war!") and carried signs decrying the administration's approach to Iraq.
Cheney (according to a transcript provided by Wharton after his speech) told his audience that his "highest hope for this building is that every person who goes through its doors will know something about the man for whom it is named, about his life of great accomplishment and purpose, and about the values that define it."
Noting that he has known Huntsman for more than 30 years, "going back to our days as young staffers in the White House," Cheney added: "In every setting, public, private, and personal, I found him to be one of the people I most admire, a man of discernment, of character, and humanity. With Jon, there's no ethic greater than integrity and there can be no dealing without honesty, fairness, and loyalty."
Huntsman himself, surrounded by family and friends, stressed a moral approach to business in his remarks.
"No longer should we talk or teach of business without ethics, free markets without a sense of community, and wealth without responsibility," he said. "High ethics and morals in a free and open marketplace should be the hallmark of this great and beautiful facility. We dedicate this building at a time when an assessment of business and social values is needed like no other time in our recent history."