This Land Was Made for Wackos Like You and Me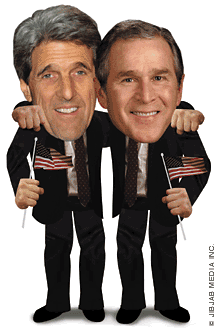 Class of '99 | Gregg Spiridellis WG'99 and his brother Evan have a monster on their hands, and it may have already given birth to another. First spotted July 9, it's been watched by more than 65 million people, and the numbers just keep climbing. Even if you've never ventured into its Internet habitat, (www.jibjab.com), you've probably glimpsed the monster, since it and its creators have appeared on everything from the CBS Morning Show to the Today Show to The Tonight Show with Jay Leno to CNN Headline Newsto Larry King Live and the Australian Today Show.
The monster in question is an animated version of "This Land Is Your Land," sung by gleefully demented collage-cartoon candidates George W. Bush and John Kerry—who use some very adulterated lyrics of the Woody Guthrie classic to insult each other. ("I'm a Texas tiger, you're a liberal weiner," sings Bush, while Kerry responds with "You can't say nuclear; that really scares me. Sometimes a brain can come in quite handy.")
"I have a friend from Wharton who tells me that whenever his three-year-old daughter sees Kerry on TV, she says, 'That's the guy who sings "This Land,"'" said Gregg Spiridellis with evident delight. And the cartoon is an equal-opportunity offender, gleefully caricaturing both candidates—which is a big part of "This Land's" widespread appeal.
"You never really know why something works creatively," says Spiridellis, who handles the writing chores, while Evan does the artwork. "But my brother and I think that the political dialogue in the country has been so divisive that this is the first thing to come out and take shots at both sides." As a result, he says: "You don't have to censor who you send it to in your address book."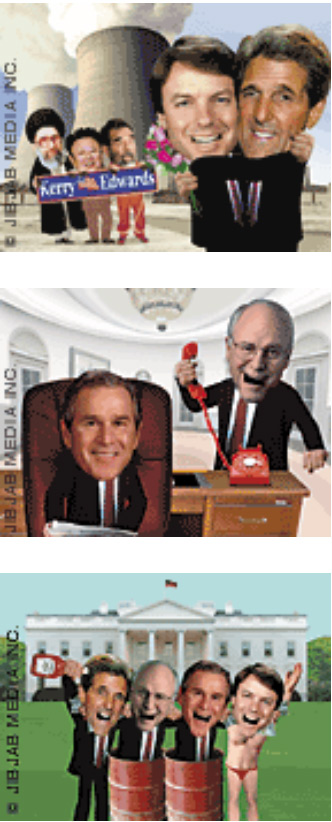 When the Spiridellis brothers were on The Tonight Show in July, host Jay Leno asked them to do something for the show—"which is a hard opportunity to turn down!" says Gregg. The result: a short animated film titled "Good to Be in DC!"—sung to the tune of "Dixie." It premiered on The Tonight Show October 7.
"This Land" was not the first foray into political cartooning for the brothers Spiridellis, who founded JibJab.com in 1999. During the 2000 Presidential campaign, they launched an animated rap battle between Bush and Al Gore that was shown on CNN and licensed to MadTV. That same year, during the California governor's race, they did an "Ahhnold for Governor" skit.
But when they sat down to do "This Land," they had no idea that they would end up with such a monster.
Their exposure has been helped by their recent partnership with AtomFilms, which distributes their work and helps with the bandwidth end of the equation. But apart from luring viewers to the JibJab website—where toys, T-shirts, and other commodities are sold—Internet cartoons are a dicey way to make a living. "We're two guys trying to nimbly survive using all kinds of business models," says Spiridellis. "You don't make a living doing cartoons on the Internet. You build a brand."
What the huge success of "This Land" did do is give the Spiridellis brothers an entrée into the big-time.
"We're trying to translate that into a feature-film project for TV," says Spiridellis. "We've got all the big studios calling because of 'This Land.'"
That film, which is still in the discussion stage, would be based on their children's book, Are You Grumpy, Santa?, published by Hyperion Books. "It's a Shrekish kind of tale about an overworked and overwhelmed Santa trying to give stuff away in the modern world," says Spiridellis. Asked if the character was modeled after him, he laughs: "Exactly! I hadn't thought of that. We're trying to survive giving it away for free.
"We all know there's plenty of room for humor," he adds. "The goal is to spread it as far and as wide as possible and get the JibJab name out there."—S.H.