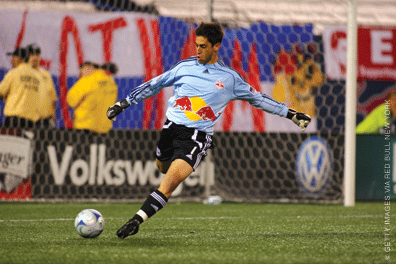 Class of '08 | On a sunny Wednesday morning this past June, New York Red Bulls goalkeeper Danny Cepero C'08 was on his team's practice field in Montclair, New Jersey. The 2009 season was only half over, but the Red Bulls' record of two wins, 10 losses, and three ties had put the postseason all but out of reach.

This would not, however, have been evident to anyone watching Cepero as he shifted slightly to his right, cutting off the angle to the goal. He slapped away a dangerous cross that could have easily ended up in the net.

"That is unacceptable!" he yelled to his defenders, somehow managing to sound more encouraging than annoyed. Cepero's six-man side was winning the short-field scrimmage, and he wanted them to keep it that way.

Out of uniform, Cepero is soft-spoken and humble, and he prefers to focus on his team's performance rather than his own, no matter whether the Red Bulls are succeeding, as they did in 2008 (when he helped take the team to its first MLS Cup final), or struggling as they are this year.

So when he's asked about his MLS debut last October—when, with an 81-yard free kick, he became the first goalie in the league's history to score a goal (check it out at youtube.com)—Cepero says, "The win was the most important thing."

Given the amount of self-promotion Cepero had to do to get here, his humility—which borders on self-effacement—is even more remarkable. Penn did not recruit him out of high school, so he had to go "knocking on [men's soccer coach] Rudy Fuller's door" to get noticed. He walked on to the team as a freshman, the fourth of four goalies, and by the first game of his sophomore year he had won the job. He never let it go, spending every minute of the next three seasons between the pipes for the Red and Blue, and racking up more shutouts—23—than any other goalie in Penn history.

At the end of his last college season, Cepero faced a familiar situation. He had not been asked to the MLS Player Combine (a multi-day, invite-only tryout) and was not drafted in the MLS SuperDraft. With help from Coach Fuller, Cepero got invited to a private tryout with DC United, where he caught the attention of DC goalkeeper coach Mark Simpson, who eventually passed his name to New York. A few days later, the Red Bulls took Cepero in the final round of the MLS Supplemental Draft.

Before he could go to training camp, though, Cepero first had to sell his parents on the idea.

"I'm expecting them to say, 'Danny, you have to finish, you have to graduate. We didn't spend all this money for you not to graduate,'" he recalls, noting that at the time he was two credits away from finishing his degree in diplomatic history. "And it's completely the opposite. My mom's from Mexico, and obviously soccer is a big deal, and she was all about it. 'I can't believe it! You need to go play soccer,' she said. And I was like, 'Really? Are you serious?' And she's like, 'Yeah, you can always go back to Penn; you can't always go play soccer professionally.'"

His father took more convincing, but after promising to finish his B.A. sometime in the future, Cepero headed to New Jersey. He spent the first year playing for the reserves and sitting on the Red Bulls' bench.

New York's goalkeeper coach, Des McAleenan, describes Cepero as having been "very nervous" but obviously talented. "You could see he had very good reflexes," McAleenan says. "He's got some of the safest hands I've ever seen." Coming from McAleenan, this is high praise: He has coached New York's goalies for nine years, including the U.S. National Team's goalkeeper, Tim Howard.

The consensus among coaches is that goalkeepers only mature in their early 30s, making Cepero, in the words of one reporter, "an infant" with a lot of potential. LA Galaxy head coach Bruce Arena (a former Ivy League goalie himself) put it this way: "I think in a hundred games, Danny Cepero could be a pretty good goalkeeper in this league."

There were three keepers on the Red Bulls' practice field in June, a clear sign that, despite Cepero's recent performance, the job is still up for grabs. And even if he does play consistently well, Cepero is well aware that a professional goalkeeper's career is necessarily a limited one.

"I love what I do, but I also know that it's not going to last forever," he says. Asked about what second careers he might be considering, he answers simply: "I think about it, and I have no idea."

Whatever it turns out to be, he'll have a degree from Penn on his resume. He finished the last of his coursework in December 2008, and in May he donned a different uniform to walk in the College graduation. He didn't make the University exercises at Franklin Field the next day, though. He had to go to practice.

—Jonah Lowenfeld C'03