Full Circle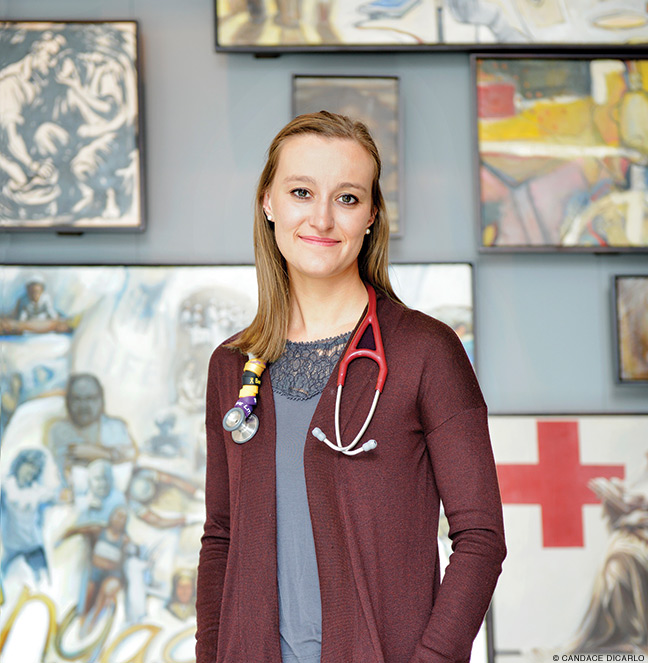 A childhood cancer survivor returns to work at the hospital that saved her life.
---
Jennifer Toth Nu'15 GNu'19 remembers the Jenga blocks crashing to the floor in the hospital playroom. And the rides up and down the hallway in little plastic cars, her mother sometimes in tow holding an IV pole. And the warm interactions with her favorite nurse, Pat Brophy, whose goodbyes always came with a familiar ring.
"See ya later, alligator."
"In a while, crocodile."
"Not so soon, baboon."
For her parents, Jennifer's childhood was a time of almost unbearable fear and anxiety. But for Jennifer herself, the memories are mostly happy and normal—a testament to the staff at the Children's Hospital of Philadelphia, where she was treated for hepatoblastoma, a very rare cancerous tumor that primarily affects young children.
That's the main reason why, a couple of decades after her cancer diagnosis, Jennifer has returned to CHOP to work as a pediatric oncology nurse—with a mission to help as many children like her heal and feel comfortable in the most trying circumstances.
"She's been through so much," says her mother, Gail. "She was so little, and at the time had no idea what she was going through. We never used the word cancer with her; she wouldn't be able to comprehend what it meant. She just knew her stomach hurt, and the doctors tried to make it better, and that the medicine made her hair fall out. Now she's working with other kids going through what she did—at the same hospital that saved her life. That just blows my mind."
It was a typical Friday night in the fall of 1995 when Gail felt a lump under her daughter's ribs while giving her a bath. She called the family's pediatrician and they were sent for an ultrasound and a CAT scan at their local hospital in northern New Jersey. The results were not good. "When they told us she had a mass in her liver that's the size of a softball—in a2½-year-old—it was just like, Oh my gosh, how can this be happening?" Gail says.
After several long stays at CHOP (where their doctors had immediately referred them) and six months of chemotherapy, the tumor shrunk from the size of a softball to that of a golf ball. At that point, a team of doctors led by Scott Adzick—now CHOP's Surgeon-in-Chief and the director of the Center for Fetal Diagnosis and Treatment ["Saved Before Birth," Jan|Feb 2014]—successfully removed it. She's been cancer free ever since.
About 20 years later, Adzick and Jennifer reconnected when Gail reached out to invite the surgeon to her Penn graduation ceremony. Adzick remembered his patient right away and was moved to learn about what he calls her "holy mission." "She said she wanted to work at CHOP, and I said, 'Of course you do, that's your destiny!'" says Adzick, who attended Jennifer's induction into the Sigma Theta Tau International Honor Society of Nursing during 2015 Commencement weekend.
Even aside from the reunion with her old surgeon, graduating from Penn was emotional for Jennifer. "I think for my parents, with any big milestone, there's always the thought of, We didn't know if you'd be alive to get to this point," she says. And it was a long journey to get there, complete with yearly trips to CHOP from their northern Virginia home (where the Toth family moved when Jennifer was around 5). But they always tried to make the most of those excursions, going out for wonton soup at Beijing Restaurant or to the Philadelphia Zoo in between check-ups with Jennifer's oncologist. And Brophy was the family's "lifeline through everything," Gail remembers, saying the nurse practitioner "was always there" to answer all of their questions—until she passed away in 2008 after her own battle with cancer.
"She was such a huge support to my parents throughout the whole experience," Jennifer says. "I remember her once saying, 'Oh, you would make a great nurse.'" Jennifer took that to heart and was aided by others along the way. CHOP's Childhood Cancer Survivorship Program was an important resource in navigating her post-cancer life, while The National Children's Cancer Society (NCCS) awarded her the Beyond the Cure Ambassador Scholarship (reserved for cancer survivors) every year she attended Penn.
And through it all, Jennifer's family—including her father Bill Toth WAM'95 and younger sister Julianna, as well as her mother—have become dedicated advocates for childhood cancer research, whether it's organizing polar dips to raise money for Camp Sunshine (a retreat for children with life-threatening illnesses and their families) or going to Capitol Hill rallies put on by the Alliance for Childhood Cancer. "We just felt for us, we were so fortunate and blessed with the experience we had, and the positive outcome, that we wanted to give back," Gail says.
Jennifer—who first worked on the surgical floor at CHOP before moving into oncology—doesn't always volunteer her backstory when talking with patients and their families. But she doesn't try to hide it, either. Occasionally, someone will notice her hearing aid—which she wears due to the high-frequency hearing loss from chemotherapy, the only long-term effect she suffered—and will ask if she's a cancer survivor. Other times, if she can sense someone needs a pick-me-up, she'll share what she overcame, or think back to what her old nurses might have said in a particularly challenging situation.
"I want my patients to have feelings about being understood and cared for in the way my family felt," she says. "One of the things I love about my job is getting to work with the entire family—educating them, supporting them, trying to bring a little bit of normalcy into their lives when nothing is normal."
Jennifer is slated to earn her second degree from Penn in August, graduating from the pediatric acute nurse practitioner program with a concentration in oncology. She'll then apply for nurse practitioner jobs around the country. "CHOP will always have a special place in my heart," she says—but that doesn't mean she'll limit her search.
If she does end up at another children's hospital, though, perhaps one day she'll find her way back to CHOP. Life has a funny way, she's learned, of coming full circle. "Sometimes I wonder," she says, "if maybe one of my patients will come back and be working alongside me one day. You never know." —DZ
---
If you're interested in learning more about The National Children's Cancer Society's Beyond the Cure Ambassador Scholarship program, or to donate to help more students like Jennifer achieve their academic goals, visit www.thenccs.org.