Saved Before Birth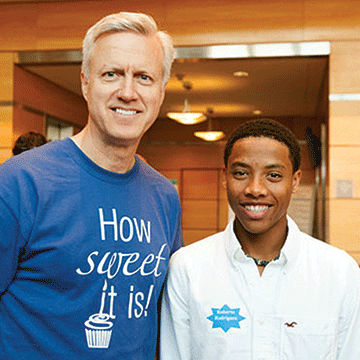 At Palm Beach Lakes High School in Florida, there's a speedy baseball player named Roberto Rodriguez who aspires to play in college and then, perhaps, professionally.
At the Children's Hospital of Philadelphia (CHOP), there's a surgeon-in-chief named Scott Adzick who played college baseball at Harvard, keeps a signed Sandy Koufax ball in his office, and whose son was drafted by the Philadelphia Phillies.
Their love of baseball aside, there seems to be little that would connect these two men. But when Adzick, the C. Everett Koop Professor of Pediatric Surgery at CHOP and a professor of pediatric medicine at the Perelman School of Medicine—talks about Rodriguez, he turns into the high school ballplayer's biggest fan.
Adzick, after all, has a lot invested in the young man. Rodriguez was his first fetal-surgery patient at CHOP in 1996.
Since the operation on Rodriguez, in which a tumor was removed from the fetus's lung when his mother was 22 weeks pregnant, fetal surgery has grown from a new and risky endeavor into a far more commonplace practice. And led by Adzick, who founded and directs CHOP's Center for Fetal Diagnosis and Treatment, the hospital has corrected debilitating or life-threatening birth defects on more than 1,000 babies still in the womb—which represents about a quarter of all fetal surgeries performed worldwide.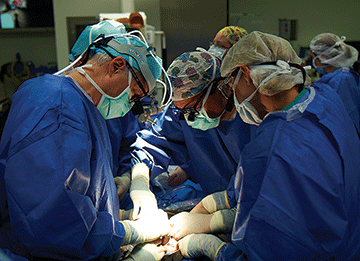 For his pioneering contributions to fetal surgery, Adzick received the prestigious John Scott Award at a ceremony at the American Philosophical Society in November. This year, another Penn-affiliated doctor, P. Leslie Dutton, a biochemist and biophysicist at the Perelman School of Medicine, also received the award, which was created in 1822 as a legacy to Benjamin Franklin and is intended to honor "ingenious men and women who make useful inventions" to benefit society. Past winners of the Scott Medal include such luminaries as Madame Curie, Thomas Edison, and Jonas Salk.
As a resident at Massachusetts General Hospital in the early 1980s, Adzick had the opportunity to do research in the pediatric surgery laboratory of the late Judah Folkman (another John Scott Award winner), which he called a "very prestigious spot." But Adzick took a risk by following what he called a "very unusual" path, calling a doctor in San Francisco named Michael Harrison who was creating birth defects in fetal sheep and fetal monkeys. Harrison told him he'd never had a research fellow before, but he soon brought Adzick into his lab, where the two of them did "homework meticulously for years and years before we could even approach the first mother to offer this clinically."
"It just seemed like the right thing to do," Adzick says. "Birth defects begin before birth, and I knew that even if fetal surgery wasn't successful we would learn a lot along the way that might help in the management of babies after birth."
But after "a lot of starts and stops and failures," surgery did prove to be successful in the clinical phase. Since coming to CHOP in 1995, Adzick has spearheaded major advances in the field, including opening the world's first birth facility specifically designed for mothers carrying babies with known birth defects, as well as pioneering surgeries for fetuses with spina bifida.
It's the resources at the University that also helped Dutton win one of the top prizes in the world of science and medicine. The Eldridge Reeves Johnson Professor of Biochemistry and Biophysics, Dutton has been at Penn for the last 45 years, laughing that he's never had to apply for a job. Luckily, he's never wanted to leave.
"I think Penn is a place where you can do anything," Dutton says.
Dutton was honored for his contributions to the field of electron transfer, studying the organization of electrons in cells and how they convert light or oxygen into energy for the cell. Over the past 50 years, Dutton says he's gone from "trying to understand what electron-transfer proteins are like and how they work" to "trying to reproduce them in a manmade format without any mimicry," which, he adds, they are finding "easier than we ever thought it would be." The long-term goal is to use the man-made version of those proteins to cure diseases in children—making his work, in some ways, similar to Adzick's.
"We're very different, but in some ways my work is pointing in the same direction," Dutton says. "He is making corrections to children with pre-birth defects and fixing them. [With] our own approach, maybe in 50 years time there will be man-made proteins that will be put into a child with a genetic deficiency just after conception. This will be fixing a problem right there and then. This is a dream right now, but we are thinking about it."
—Dave Zeitlin C'03