Quaker Women Take The Ivy Crown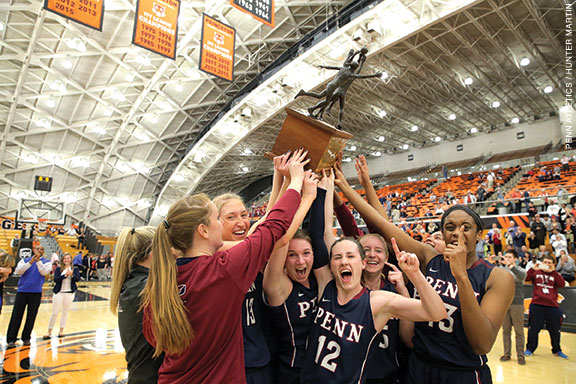 By Dave Zeitlin | When Penn women's basketball head coach Mike McLaughlin took out his best players in the final minute of the Quakers' first-round loss to University of Washington in the NCAA women's basketball tournament, there weren't any tears. Instead, as the last 26.5 seconds ticked off the clock, some players stood on their feet and clapped—an acknowledgement, perhaps, of the historically good 2015-16 season that came to an end that March afternoon in College Park, Maryland.
"You put in so much work and then, all of a sudden, it's just over," junior point guard Kasey Chambers said outside the locker room after the game. "But this was better than I could have ever dreamed," she added. "I'm never going to forget this. Winning that championship was one of the best moments of my life."
That championship came on March 8, when Penn defeated Princeton on the road in the final game of the regular season to win the outright Ivy League title and book an automatic NCAA tourney berth for the second time in three years.
Chambers wasn't a part of the 2013-14 team that won the Ivy crown—McLaughlin's first at Penn. And last season, as Princeton exacted revenge by capping a perfect regular season at the Palestra, she was only a practice player after transferring from Monmouth, watching from the sidelines because of NCAA transfer rules. Still, it didn't take long for her to recognize the magnitude of the Penn-Princeton rivalry, making this season's sweep of the Tigers especially gratifying.
"I didn't know how big it was before I got here," Chambers said at the Palestra, where the team returned to cut down the nets following its 62-60 win at Princeton's Jadwin Gym. "I definitely heard about Penn-Princeton, but I never felt it. Then last year I was like, 'OK, I'm starting to understand. That doesn't feel so good.' And this year, playing them for the first time, I was like, 'Wow, that's what this rivalry is.'"
Chambers was a big reason why Penn swept Princeton; she made four clutch free throws in the final 20 seconds, as well as a difficult shot with the shot clock expiring earlier in the fourth quarter. Penn amassed a 13-1 record in the Ivy League, and finished with a 24-5 overall mark, notching the most wins in program history.
In many ways, Chambers was living every point guard's dream. She had two great post players to feed—junior Sydney Stipanovich and sophomore Michelle Nwokedi—and formed a productive backcourt partnership with sophomore Anna Ross and sophomore Lauren Whitlatch (the team's top three-point shooter).
Stipanovich, who averaged a double-double with 12.7 points and 10.0 rebounds per game, was named the Ivy League's Player of the Year and Defensive Player of the Year. Nwokedi (14.0 ppg, 9.6 rpg) was selected as first-team All-Ivy, and Ross (9.4 ppg) was an all-Ivy honorable mention pick. Stipanovich and Nwokedi combined to block more shots (152) than any other team in the Ivy League.
Given those eye-popping numbers, it wasn't too surprising that Penn earned its highest NCAA Tournament seed—a 10—in program history, drawing an opening-round matchup with seventh-seeded Washington. And perhaps it also shouldn't have been a surprise that the Quakers took a lead into halftime against the favored Huskies on Chambers' buzzer-beating three-pointer, and only trailed by two heading into the fourth quarter.
But at that point, Washington star senior Kelsey Plum—one of the nation's premier players—took over and led the Huskies to a 65-53 victory.
Of the program's four all-time NCAA tournament appearances, the Quakers were by far the most competitive in this one. And they weren't doing it against a lightweight opponent; Washington went on to upset Maryland two days later en route to a surprising trip to the Final Four.
So when you consider that promising performance, combined with the fact that Penn returns every key player, expectations are high for next season.
Dave Zeitlin C'03 writes frequently for the Gazette.