Entrepreneurship for Ex-Cons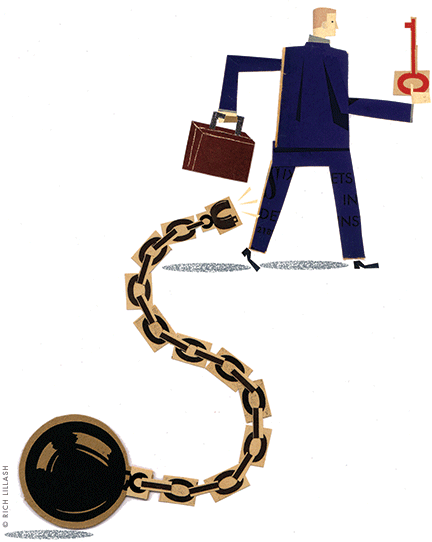 It's Saturday afternoon inside the Rescue Mission of Trenton, and eight men sit around tables arranged in a large U shape. They've all landed at the Mission for similar reasons: a recent incarceration coupled with a substance-abuse problem. They live together and participate in work therapy, group meetings, and individual counseling sessions. But today they're in this room—a plain space with white walls and white floors and closed white mini blinds—to focus on something entirely different. They're here to become entrepreneurs.
Nicole Schneidman, a second-year JD/MBA student, stands in the middle, a pink hat pulled over her dark hair. She gestures toward the slide projected behind her. "Sole proprietorship," it says, along with "partnership," "corporation," and "S corp."
"I like this one for you guys," Schneidman says, referring to the S corporation option. She asks her students to each fill out a practice business registration form and the room goes silent, except for the occasional rumbling truck or shrill siren that passes invisibly behind the mini blinds.
In eight two-and-a-half-hour Saturday sessions over the course of the spring, Schneidman and seven other Penn students enrolled in an independent-study course called "The Social Entrepreneurial Approach to Community Reintegration" led ex-inmates at Rescue Mission through lessons in entrepreneurship. They covered everything from the basics, like choosing a name and proper email etiquette, to nuanced discussions on creating a business plan, filing the right paperwork, and finding financing.
The course is the brainchild of Charlotte Ren, a visiting assistant professor at the School of Social Policy and Practice (SP2) and senior fellow at Wharton's Mack Institute for Innovation Management. Ren says she came up with the idea years ago, when she first attempted to study the entrepreneurial activities and patterns of formerly incarcerated people.
"I didn't find many programs offering this sort of service or help to this population," she says. "I also came to realize that they face a lot of barriers we would not be able to imagine. When they get out of prison, they often don't have money, job skills, or social ties. They're burdened with this stigma associated with their past, and no one wants to hire them.
"I kept asking myself what we as scholars can do to help them become valuable assets to the community," she adds. "As an entrepreneurship scholar, it was only natural for me to identify entrepreneurship as a tool—a vehicle for this community."
While many inmate programs offer training in particular job skills, Ren found just one that focused on entrepreneurship. Yet she says starting a business is ideal for some ex-inmates, partly because it eliminates job-hunting difficulties, and partly because they share many qualities with successful entrepreneurs: a propensity for risk-taking, a need for achievement, and a low level of conformity.
Soon after arriving at Penn, Ren connected with SP2's Goldring Reentry Initiative, a program established in 2011 to address the difficulty ex-prisoners face upon reentry into society. That led to Ren's creation of the Penn Restorative Entrepreneurship Program (PREP). It debuted in January at the Rescue Mission, co-led by a group of Penn graduate students and undergrads studying business, communications, political science, law, and social work.
Anthony, a tall former basketball player and current resident of the Mission, has used PREP to refine his vision for a nonprofit athletic center. He wants to open it in a crime-ridden area of Camden, New Jersey, and use it to get teens off the street. Four weeks into PREP, "I feel like I actually have a plan," he said. "That's probably the best part of it.
"I have a long rap sheet of crime or whatever, and it feels good to help someone for a change, instead of doing stuff that's counter-productive," he added. "I can see the benefits already. I'm a lot more confident that I can help people, even if this particular plan doesn't work out. That's really encouraging."
In March, while Anthony worked on his rec-center plan, other Mission residents tackled their own proposals. Ideas ranged widely: a food truck, a halfway house, a welding company, a smartphone app, and a chocolate shop.
Barrett Young SP2'15 is chief operating officer of the Rescue Mission and was enrolled in SP2's nonprofit leadership program when he heard about Ren's idea. He met with her and lobbied to have the course make its debut at his facility. As a result of PREP, he says he's noticed significant changes in the Mission residents who are enrolled.
"You're looking at guys—some of whom have done 20 years in and out of institutions—who are now saying for the first time in a long time that they have something to live for," he says. "They want to be successful at whatever their business idea is, and this class has given them the opportunity to dream."
The Penn student-instructors say they're equally grateful for PREP.
"As students, we're taking as much away from it as our clients are in terms of learning," says Schneidman, who helped Ren adapt her undergraduate and MBA business courses for the Mission class. "We can get used to being in a bubble—this is my academic world, these are the people I interact with. It's neat to take Penn students out of that comfort zone and even out of Philadelphia. It's been a really inspiring experience for me, and it's empowering and pretty remarkable to do something like this as a student."
Ren calls the eight-week course "Phase One" for PREP. When it ends, the Mission clients will present their business plans to an evaluation committee. That committee will select a few ideas for Phase Two, which will start this summer or fall and include more detailed business help and, if Ren can secure the funding, seed money.
She hopes to run Phase One again next spring for a new set of clients. "I want to make this a sustainable and replicable model," she says. "I want the program to have a social impact—[and I want] to help people who are interested in addressing similar social issues. I'm happy to share any information I get from this process."
As the weekly session ended in March, a Mission resident named James approached a visitor to talk about his entrepreneurial plan. He's working on a smartphone app for business cards, an idea he'd mulled for a while but hadn't really pursued before PREP.
The course "helped me refine my vision—and not only refine it, but give me a motivation to know that it's attainable," he said. He called PREP "a blessing and an awesome opportunity for someone who has some dreams and ambitions of one day being a business owner."
With that, he went over to talk one-on-one with Ren about making his idea happen.
—Molly Petrilla C'06