East West Marriage Test
Pop Tarts in Hong Kong, dim sum in New York.
By Marci Alboher Nusbaum
---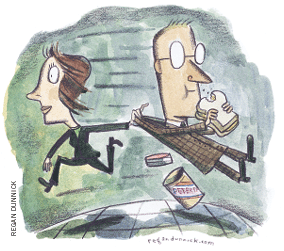 "Would you be interested in moving to Hong Kong?" asked Gary, my husband, one night at dinner. His firm had just opened a Hong Kong office and was looking for talent from New York to guide their Asian investment strategy. He knew I would have had us packed and ready to go in 15 minutes. I had been itching to live overseas since our days at Penn, but for Gary this was more nightmare than dream-come-true. He had been with the same firm for nearly 10 years and had eaten the same breakfast every day (a black & white cookie and raspberry Snapple) for probably just as long. He would have been traumatized by a move from the East Side of Manhattan to the West Side.
Before we knew it, we were unpacking boxes in our flat overlooking Hong Kong's harbor in a giant pink-and-green monstrosity called "Dynasty Court." Reader's Digest, where I had worked as an attorney, found a place for me in its Hong Kong office. Gary worked in an office not too far away, but he was on the road (or to be exact, in the air) more of the time scouting investment opportunities in India, China and the Philippines. Everyone who knew us thought I was living out a fantasy and Gary was out of his mind. He has a lot of rules in his life and moving halfway around the world on two month's notice was not among them (what really happened here was two rules clashed—"follow your career" trumped "live where you know the dry cleaner's name"). Given our wildly differing attitudes, I feared the move would put our five-year-old marriage to its first major test.
We soon realized that we were living in a place where every working person has full-time help (as Gary put it, either you are a maid or you have one) and where rice is sold in bags the size of charcoal. I noted with keen interest that in Hong Kong there is no occasion inappropriate to use a cell phone, spit on the sidewalk or clean your teeth with a toothpick. Feeling the breath of a stranger on my neck in an ATM line was a reminder that Hong Kongers don't have much respect for personal space. For Gary these habits were just offensive.
He counted other experiences as high points in his adjustment, like when he taught our Filipina amah how to make S'mores or when he learned that the commissary at the American Club carried Pop Tarts and Lucky Charms. While I was out at Wing On (Hong Kong's K-Mart) outfitting our new home with rice cooker, Chinese tea pot and wok, Gary was unpacking boxes filled with bottles of Pepto Bismol, cartons of Bazooka bubble gum, and enough jars of Peter Pan peanut butter to feed a class of kindergartners. I chided him that we'd be prepared for a birthday party of five-year-olds with diarrhea.
After countless business trips to Bombay in 112 degrees and 12-course banquets in Beijing (where, as guest of honor, he had to feign enthusiasm over the fish head whose vacant eyes stared up at him), Gary treasured the days at his posh office alongside Hong Kong's harbor just a short walk away from McDonald's and the American Club. I couldn't have been happier that my office was in an out-of-the way, low-rent district as my daily journey to work in the tiny fishing village of Shaukiwan fed my craving for the exotic. I emerged from the subway to the smell of freshly caught fish flopping in buckets and taking their final gasps, walked through a flower market to pick up orchids, and waved jo sun to the merchants who recognized me as the friendly little foreign lady.
We traveled back to New York frequently and, predictably, Gary developed a system for managing jet lag. His rules were straightforward: take an evening flight, pass up the rich multi-course meal (he ordered a "Happy Meal" instead), avoid alcohol and caffeine, and with the help of an eye patch, sleep on the schedule of the destination country. I, on the other hand, was like a fat person sampling every fad diet in the book. I tried the Wine-and-a-Sleeping-Pill method (aka "surefire dehydration"), the Chinese-Herbs-and-Vegetarian approach, the Melatonin program, and the Stay-Up-Reading-and-Watching-Movies system. When we arrived at our destination, Gary knew exactly how much napping he needed, how much energy he would have, and how many days it would take to adjust. I was a mess every time, gorging on food and collapsing from exhaustion at the most inconvenient times.
"You need to follow a regular system," Gary lectured.
"But then how would I know that wine, sleeping pills and 18 hours on a plane would cause me to faint?" I countered.
Around the time of the dehydration-diet flight, it dawned on me that while our methods of embracing a new culture were so different, the move didn't really add any new tensions to our relationship—because the tensions were already there. We had
always been a classic opposites-attraction. Though I like to add daily shake-ups to my routine, I find comfort in Gary's stability. And while Gary likes the constants in his life, he is fascinated that he can ask me the same question on two different days and get two different answers. (He says he can handle my inconsistency since it's so predictable.)
While it took him a little longer, once Gary got his rituals in place, he actually acclimated to Hong Kong life as much as I did. Weekly visits from Sammy the tailor (who made house calls when we paged him) ensured that he soon had a custom-fitted wardrobe. With a closet full of suits with a special pocket for his cell phone and monograms reminiscent of sleep-away camp, Gary realized that hand-tailored clothing was the perfect choice for a guy who craves predictability. On Sunday mornings we fell into the dim sum routine, becoming regulars at the originally named "Dim Sum" (whose menu boasted a selection of "tit-bits") where he ordered shrimp dumplings (extra soy sauce please) and I sampled everything from chicken feet to lotus-seed buns.
After a year, Gary was offered a plum assignment back in New York, which meant coming home sooner than we had anticipated. Rather than destroying our marriage, an interesting side effect of our Hong Kong sojourn was that we rubbed off on one another a bit. Back in New York, Gary indulged my wish to live on the West Side, conceding that it wouldn't be so bad to try out a new neighborhood. Surprisingly, I reveled in the constants of New York daily life I never knew I missed: a Ray's Pizza on every corner, the Sunday Times read on a Sunday, undubbed American movies, coffee in that little blue-and-white cup from the Greek diner, and even those annoying celebrity seatbelt reminders in taxis. We both enjoy being regulars at Shun Lee Café for New York-style dim sum. The waiter knows to immediately bring Gary his shrimp dumplings with extra soy sauce. But at least he waits to see what I'll decide to order each week. Even rituals can use a little spice.
---
Marci Nusbaum C'88 <heymarci@yahoo.com> is a lawyer and freelance writer. She is married to Gary D. Nusbaum W'88 WG'89, a partner at the venture-capital firm Warburg, Pincus & Co. They met at Penn and now live in New York.