Hub of the University
Penn's "historic heart" is beating again, stronger than ever.
By Judith Rodin
---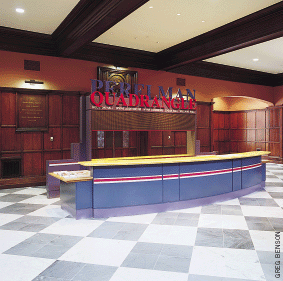 Like so many alumni who wax nostalgic about their years at Penn, I often return in my mind's eye to a grand, old building with an impressive façade of limestone and Wissahickon schist. Houston Hall stirs in me a deep, personal affection for a special place scored with impressions of people and experiences that would shape and inspire me the rest of my life.

    As an undergraduate at Penn in the 1960s, I joined the throng of students who adopted Houston Hall as our "living room." Who could blame us? Houston Hall offered a cornucopia of features, resources and attractions.
    Some of us flocked to the inviting common areas or made use of the spacious meeting rooms. Some were drawn to the aesthetic and decorative bounty that included mauve-colored walls, antique fixtures, fireplaces, majestic staircases, fabulous paintings and the Class of 1899 Clock. Some liked to gather around the grand piano in Room 101, take in a cabaret or play in the Class of 1949 Auditorium or shoot pool in the basement game room. Many students enjoyed just hanging out in the lounge or soaking in the building's history as the nation's first student union.
    But everybody sooner or later made it to the great bell that originally clanged out class times from atop College Hall before its relocation to the main floor of Houston Hall. All over campus, you would hear classmates make plans to "meet at the bell," which for generations was the spot for friends and sweethearts and student leaders to rendezvous at Penn.
    In the mid-1960s, I would meet a classmate of mine named Tom Lang W'66 WG'68 at the bell and repair for a cup of joe in a Houston Hall coffee shop that the Office of Student Life would later occupy. Tom and I were presidents of the men's and women's student governments, respectively. In that great meeting place, over many cups of coffee, Tom and I laid the groundwork to merge the two governments.
    Knowing that the University administration, which we simply called "the establishment," preferred to keep the men's and women's governments separated, Tom and I took it slow. We would arrange for committees from the women's student government to join the men's contingent for its meetings in Houston Hall.
    Although our assemblies remained separate until our graduation from Penn, we had succeeded by our senior year in merging all of the committees of the formerly divided governments. Much like the Founders who delivered the United States from the ineffectual Articles of Confederation unto a new Constitution, we felt—with perhaps a pinch of hubris—that we had helped to give birth to a new Penn.
    The Founders had Independence Hall.
    We had Houston Hall, the heart and hearth of the University.
    We had much more. With Houston Hall and neighboring College Hall, Logan Hall and Irvine Auditorium, we had a vibrant center around which the University's academic, social and cultural lives all happily converged.
    But as age caught up with these buildings toward the end of the 20th century, Penn's historic heart began to wear down under the strain of serving a larger, more demanding student population. These buildings, and the common area around which they stood, no longer formed a distinct student hub or destination.
    Out of Penn's strong desire to preserve its historic heart grew the vision of creating a 21st-century town square on campus and gateway to the University. Ronald O. Perelman W'64 WG'66 supported and amplified that vision with a $20 million gift. Thanks to his extraordinary generosity, that vision has become reality with the opening this month of the new Perelman Quad.
    In Perelman Quad, Penn's historic heart has not only regained its grandeur, it has begun to pump new life and excitement into the University. Designed by Robert Venturi Hon'80 and Graduate School of Fine Arts alumna Denise Scott Brown GCP'60 GAr'65 Hon'94, the Perelman Quad radiates the genius of two internationally acclaimed architects who have developed a vision to create a seamlessly integrated precinct of student life.
    The buildings have been treated to the three Rs: restoration, renovation and rejuvenation. The commons—once a pleasant, nondescript outdoor venue for lunch breaks—has been redesigned into a central plaza that provides a dynamic and unifying sense of community and purpose.
    Houston Hall, for example, has regained its décor, a second majestic staircase, and spacious common areas, which will be enriched with a browsing library on one end and a café on the other. But now, there will be more dining options for students, faculty and staff, a dance studio, more meeting rooms, more recreational offerings, and a perfectly restored Class of 1949 Auditorium.
    Irvine Auditorium has also received a loving and intelligent makeover. Always cherished for its dazzling murals and Curtis Organ, Irvine also took its drubbing as an acoustic black hole where sounds went to die. Now, besides the welcome addition of a café and a small recital hall, Irvine dazzles anew with the Curtis Organ refurbished, the murals restored, and the acoustic black holes filled.
    The design of the open-air plaza Wynn Commons, supported by a $7.5 million gift from Stephen A. Wynn C'63, presents another striking change.
    With its sinuous ramps, its dramatic diagonal vista and promenade across the front of the Silfen Study Center, its amphitheater in front of Logan Hall, and its rostrum in front of Irvine, Wynn Commons unites the colorful buildings of Perelman Quad aesthetically and strategically. Splashed with brilliant natural light on sunny days, it will become the premier outdoor hub for concerts, ceremonies, debates, celebrations and spontaneous fun at Penn.
    In the meantime, I look forward to seeing all of you in Perelman Quad—at the bell, whose home, the Class of 1966 Reading Room (my class!), has never looked better.