Earthly Dances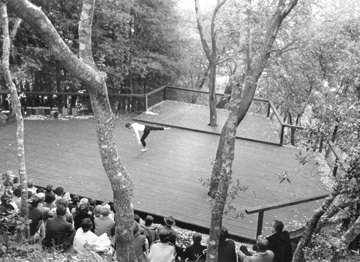 To the casual observer, a landscape garden might appear to be a fixed, rooted design force, its movement limited to the swaying of branches and perhaps the tumbling of water. In the eyes and hands of Lawrence Halprin Hon'90, the garden gradually took on (as he put it in 1949) "the fine sense of a dance."
Some arresting images of that sense can be found in "Lawrence Halprin: The Choreography of Gardens," an exhibition drawn from the Architectural Archives' extensive collection of that renowned landscape designer's work. More than 60 design sketches, archival photographs, magazine covers, and the like are on display at the Kroiz Gallery through February 29.
"Convinced that how we move—the speed, mode, and direction of travel—affects our feeling and relationship to the environment, he developed a system to document the various physical and perceptual events of different journeys," said Laurie Olin, another highly regarded landscape architect ["Mr. Olin's Neighborhood," July|Aug 2007], during a talk about Halprin in late October. "His notations of such perception while in motion he called Motation."
The 91-year-old Halprin is married to the influential dancer and choreographer Anna Halprin, and a path from their dramatic house at Kent Woodlands in Marin County winds down the wooded slopes of Mount Tamalpais to a redwood dance deck. There, in one old photograph, the choreographer Merce Cunningham limbers up.
According to Alison Hirsch GFA'05, a Ph.D. candidate in the School of Design who curated the exhibition, Anna Halprin believed that the deck, "which reaches out into the treetops in its irregular form, forces a complete reorientation of the dancer, who becomes less introverted and more receptive to environmental change."
"The customary points of reference are gone and in place of a cubic space all confined by right angles … the space explodes and becomes mobile," said Anna Halprin in 1956. "Movement within a moving space, I have found, is different than movement within a static cube."
It was no accident that her husband, who designed nearly 400 private gardens as well as some celebrated public spaces, created so many of these gardens in California.
Along with its dramatic topography, the Golden State "provided an open landscape, relaxed lifestyle, and appealing climate, which were ideal conditions for the enhanced leisure emerging in this period of wealth and optimism after the war," says Hirsch. "Obviously the climate played a significant role in the development of such gardens, since one could actually play, work, and live in the outdoors as Halprin intended."
By observing people, "studying the movement of water, examining ancient ritual spaces and ceremonial routes, modern highways, and performances of all sorts, he explored various techniques for describing and recording various physical, spatial, and movement sequences," said Olin. "Those he referred to by an appropriate term borrowed from music: Scores."
—S.H.