Dental School Names New Dean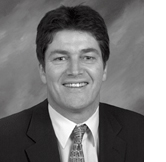 In late February, the School of Dental Medicine announced its next dean. Denis F. Kinane, an endowed professor and the associate dean for research and enterprise at the University of Louisville School of Dentistry, will take over the helm at Penn on July 1. He replaces Marjorie Jeffcoat, who stepped down last July to focus on research and teaching in the periodontics department ["Gazetteer," July|Aug 2008].
"Dr. Kinane brings to Penn a compelling and interdisciplinary vision for the future of dental science," Penn President Amy Gutmann said. "He has a deep understanding of the interdependence among the educational, research, and clinical missions of a dental school."
In addition to his positions at the University of Louisville School of Dentistry, Kinane held a professorship in microbiology and immunology at the medical school. In an interview with the Gazette, he expressed enthusiasm about forging closer ties between Penn's dental school and the business sector.
"One thing that I have done a lot of is consultancy with dental companies. I'd like to continue that, and make alliances with other companies such that Penn Dental can contribute to the development of new products and testing new products so that we can give back to the dental business community as well as patients," he said. "One of the best avenues to actually get products into the hands of patients is through the companies that actually develop and market them, and I think that's something we have to take seriously."
Kinane, a native of Scotland, has a bachelor of dental surgery and a PhD in microbiology from the University of Edinburgh. He has taught periodontics for more than 20 years, and served as chair of the periodontal department at the University of Glasgow.
Asked about what he hopes to achieve at Penn, Kinane said, "I want to try to bring the school back to where it should be. At the moment it's excellent, but it should be preeminent, across all the different facets—the research side of things, the clinical side, teaching.
"I'm also hoping that people will understand my Scottish accent," he added. 
—T.P.