Crafting Art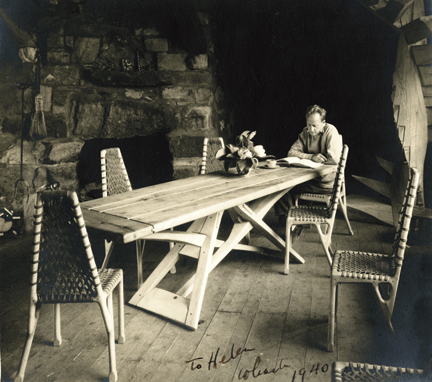 A new exhibition celebrates the singular designs of Wharton Esherick.
---
By David Perrelli | For Wharton Esherick, work was play. "If it isn't fun," he was fond of saying, "it isn't worth doing." Lauded in his lifetime as the dean of American craftsmen and recognized today as a pivotal figure in 20th-century American art, the Chester County-based furniture designer and wood sculptor—whose strikingly original creative output also included paintings, prints, buildings, interiors, and utilitarian objects—is the subject of a new exhibition at Penn's Rare Book & Manuscript Library and Architectural Archives.

Wharton Esherick and the Birth of the American Modern is the most comprehensive survey of Esherick's work in recent memory, and has been three years in the making. It began when Lynne Farrington, curator of printed books at the Rare Book & Manuscript Library, visited Esherick's former home and studio in Paoli, 20 miles west of Philadelphia. Now a museum, the hilltop property was occupied by the artist for over half a century, and there he gradually built a series of highly personal structures for working and living. He designed and crafted almost every detail, including an iconic double-spiral staircase.

"It was one of those places that's so phenomenal that you hardly know what to say when you get there," Farrington recalls. "I felt like it was a privilege just to spend time there."

She found herself wondering what the library could do to celebrate this singular man's life and work. Her first instinct was to organize a print show, but as eager collaborators began to come forward, and as a wealth of Esherick-related materials started coming to light in the library's collection, it became clear that a more ambitious project was merited.

Esherick was born in 1887 into a prosperous family whose house stood near the corner of 39th and Locust streets in Philadelphia. As a child he drew tirelessly, and in his youth he set his sights on becoming a painter in the impressionistic style then popular. After a period of study at the Pennsylvania Academy of Fine Arts, Esherick and his new bride left Philadelphia for good in 1913, settling down to paint in the Paoli countryside where he was to remain more or less for the rest of his life.

More competent than remarkable, Esherick's paintings did not find an audience, and eventually it became obvious that his brush would never bring him much serious attention. Fortunately, something else had become obvious as well: He had simply chosen the wrong medium.

Shaping wood came naturally to Esherick. He began by carving some frames for his paintings and, partly at the urging of a friend, the writer Sherwood Anderson, Esherick became an accomplished and avid woodblock printmaker. In addition, out of necessity, he had begun to make furniture. When another friend insisted on buying the dining-room table he had made, Esherick promptly sculpted a set of chairs to go with it—and his career as a furniture designer took flight. He would never paint again.

The period of the 1920s and '30s was of crucial importance for Esherick's artistic development, as it was for all of the arts in America and Europe.

"He was living in an incredible time, a time of revolutions in art and politics and literature and everything else," notes Paul Eisenhauer, curator of the Wharton Esherick Museum, a partner in the exhibition. "It was when Egyptian and African art get discovered and heavily promoted; it's the age of Cubism and Dada, and all kinds of other –isms."

As Farrington and Andrea Gottschalk, exhibition designer and coordinator at the Rare Book & Manuscript Library, began to sort through the library's holdings, a broad and complex network of relationships emerged.

"We have Theodore Dreiser's papers here, which contain an enormous amount of Esherick correspondence, as well as works by Esherick that were in the Dreiser collection," says Farrington. "And Esherick turned out to be good friends with the print and drawing curator Carl Zigrosser, whose papers we also have."

Moreover, the library had a collection of photographs relating to the Hedgerow Theatre, an innovative acting troupe founded by director Jasper Deeter in Rose Valley (a stone's throw from Paoli), for which Esherick had designed sets, posters, and furniture.

"We realized that there was a really big story here, and a lot of it was not well known," says Eisenhauer.

The exhibition gradually evolved into a full-fledged, multi-media, multi-venue retrospective. The Van Pelt Library's Kamin Gallery will showcase a selection of prints, correspondence, photographs, sculpture, and books, while the Architectural Archives offered its Kroiz Gallery to house a selection of furniture. In addition, the second annual Anne D'Harnoncourt Symposium is offering a series of talks about Esherick, and the Hedgerow Theatre is re-staging Dreiser's An American Tragedy.

Although Esherick's work tends to defy easy classification, it unfailingly embodies a buoyant, playful spirit of exploration.

"He's an amazing synthesizer," says Eisenhauer. "He keeps jumping back and forth, taking ideas and playing with them like no one else can. Actually, up in his bedroom he hung the first photograph of an atom, taken in the 1950s. The curves and the forms and the angles that the electrons are making really do look like one of his sketches, and I think he hung that photo there because he loved [how] the concept of what he was doing was operating on that atomic level."
David Perrelli C'01, a regular contributor to the Gazette, is the owner of Old Beautiful Antiques & Art in Clinton, Connecticut.
---
Wharton Esherick and the Birth of the American Modern opens September 7 and runs through February 13, 2011 at the Kamin Gallery in the Van Pelt-Dietrich Library Center and the Croiz Gallery of the Architectural Archives. for more information, see the archived exhibit here .