City of Provinces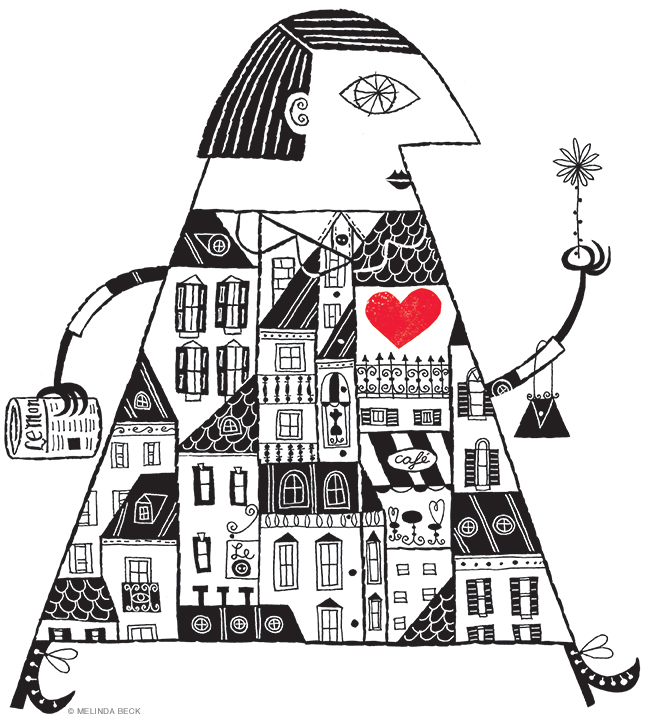 Paris, minus the bucket list.
By Beebe Bahrami
---
The older woman sat next to me on a bench in the Square de Montholon, the shawl collar of her wool coat turned up against the cold. Her hair was dyed jet black, like my grandmother wore hers, and matched the classic houndstooth wool my grandmother also favored. The black and white pattern made the square's variegated evergreens luminous, even on this gray, bone-chilling winter day in Paris. I greeted her but returned to my laptop.
A pair of 200-year-old plane trees towered over the path before us, and beyond a short hedge was a playground—still at this midmorning hour on a school day. A gardener at the far end of the lane pruned branches and gathered fallen leaves. I clutched my laptop, both to keep it from slipping and from anxiety provoked by my landlord's warning about transients from the nearby Gare du Nord station.
It was he who had told me that many of the city's public libraries and parks had free wifi and that Montholon was the nearest. A pharmaceutical researcher, my landlord had recently bought a larger apartment in Paris but kept his matchbox-size studio, both out of nostalgia and for profit. The profit was modest: my rent for six weeks in the 9th arrondissement would have barely bought one week further south, in the center of quintessential Paris.
But quintessential Paris was where I was destined. I patted my jacket pocket, for there I had tucked the list: all the things I intended to see. The Champs-Élysées, Sainte-Chapelle, Notre Dame, Place Vendôme, Luxembourg Gardens, Shakespeare & Company, Île St-Louis, Marais, the Louvre, the Eiffel Tower.
Ah, Paris! Even in this deserted square, on a cold gray day in winter, remote from the glories of Paris in springtime, all the evergreen clichés rang through my mind and pulsated on my list.
"What is that," the lady asked. "And what are you typing?"
Had she just asked me what I had on my lap?
"This is a laptop," I said, and noticed it didn't seem to mean anything to her. "A portable computer," I ventured, "and this whole park is a wifi zone." She creased her brow. "I can connect through this machine and send instant letters to my family and friends."
She smiled at that; I detected fleeting loneliness in her eyes at the words family and friends. I closed my laptop and slipped it into my bag. At that moment, the gardener left his work and walked over. He greeted Madame warmly and handed her two newspapers.
"Yesterday's and today's," he said. His face turned serious. "I looked for you yesterday. Are you well?"
"Fine," she replied, "It's just so cold, I didn't feel like leaving my apartment. But today, I missed this." She gestured to the bench and turned to me.
"We save money and share a newspaper subscription," she explained. "He gets the newspaper at his apartment and then he brings it to me here, my address in the park." They laughed.
The gardener, a man half her age, turned to go back to pruning. "It's good to see you," he said. "À demain?"
"Oui," she smiled. "À demain."
Madame told me that the gardener, who was from the Côte d'Ivoire, had been here for decades and was "as Parisian as they come." She had come to Paris from Provence, 57 years ago, with her husband. "He died 23 years ago, in his sixties." The sadness in her eyes began to dissipate the more she spoke.
Life had been hard, she continued: life is hard. "For all of us, no matter if you live here, or there," she pointed south to the more privileged center of town, "or elsewhere," pointing to the gardener and implying his origins, and then to me, indicating mine in America. "Life is simply hard. You do what you have to do to make a living. You move away from your roots, but you do it to care for your future and for your children."
Her children had moved away and were attending to their own lives. She rarely saw them. A long silence.
"But life is also beautiful," she picked up again. "Listen," she turned and looked me straight in the eyes. "You have to savor the good stuff, precisely because things can be tough." I nodded. "And what brings you to Paris?" she asked.
I told her I had come here more than 20 years earlier, after a semester in Spain. I'd spent a week here with cousins, taking in the sites while lingering timidly at café entrances, wanting to join in but lacking French. At the end of that week, I'd felt Paris had eluded me and vowed to return, with the coveted language skills, to go more deeply into those same places.
Over the years I taught myself French, piggybacking on Spanish. I was back, at last, to do Paris right.
"Listen," she said again. "Don't make the mistake so many make, that Paris is all those things. If you do, you will leave and discover the city eluded you again. Toss that list aside and open your eyes. This," she swept her hands, "right here, is Paris, pure Paris. Let your page be blank, let the city write on it for you, without expectations."
Her words slammed into me. What she said was more profound than Paris: It exposed a way of being in the world.
"Paris is a city of provinces," Madame concluded, "That is its beauty."
The physical cold of the bench was now too much. Madame and I stood. " À demain," she said. "À demain," I replied.
I walked back to my studio, pulled the list from my pocket, and set it aside. I would let the city write itself on the blank page of my experience.
It began right away.
Paris quickly introduced me to my neighbors: three German students, a family from Ecuador, two men from Normandy, and a young Parisian living for the first time on his own. His apartment window faced mine across the building's interior light well. His windowsill became daily theater, a moveable feast. One day it held running shoes. The next, a bag of clams. On another day, there was a potted basil plant and two lemons. On yet another, biker's shorts right next to wedges of cheese wrapped in wax paper. Sometimes he danced while he cleaned. When he had a special lady friend over, oysters appeared on the sill while he lit candles inside. I drew my curtains to let the oysters work their magic.
I discovered the neighborhood hub, a corner café where I began reviewing grammar daily, as a cheerful 20-year-old bartender and his patrons corrected me over coffee and wine. One patron taught me that a slang alternative for je suis en pleine forme—I'm in top form—wasje pète le feu: I fart fire. In Paris, je pè te le feu. Thanks to Madame.
In a deep and narrow tailor's shop across the street, four men from Senegal stitched, designed, and altered clothing to make ordinary people look extraordinary, better than the picture windows on the Place de Vendome. Other craft workshops appeared: a stonemason restoring church capitals, a jeweler restoring antique ivory, a weaver working on a tapestry. All were little places easily missed had I not slowed down to look on my way to the center.
My little neighborhood grocery store, too, wrote on my pages. I stopped there daily to buy sausages from Lyon, goat cheese from the Corrèze, green olives from Provence, and endive, beets, arugula, radishes, and hoophouse tomatoes from farms nearby. Once I stood behind an elderly couple in the cheese section and overheard the wife lament the manner in which food was packaged these days.
"This cheese," she complained to her husband while holding a wedge of Comté, "was handled and packaged differently when I was younger." Her spouse didn't skip a beat. "Mais chéri, be realistic, my handling and packaging has changed over the years, too." The whole store erupted in laughter.
One afternoon, shortly before departing, I walked over to see Madame and the gardener. The small park was packed. Kids were playing raucously in the playground and parents took up the surrounding benches. The gardener was nowhere to be found, but Madame was there at her place, a newspaper across her lap.
I began to approach her when a little girl ran to her and tugged on the hem of her houndstooth coat. Her face lit up. I held back and let them be, but sent her a silent thank you through the soft winter air.
---
Beebe Bahrami Gr'95 is the author of two travelogues on France: Café Oc: A Nomad's Tales of Magic, Mystery, and Finding Home in the Dordogne of Southwestern France and Café Neandertal—Excavating the Past in One of Europe' s Most Ancient Places.