Celebrating a Choral Master's Four Decades at Penn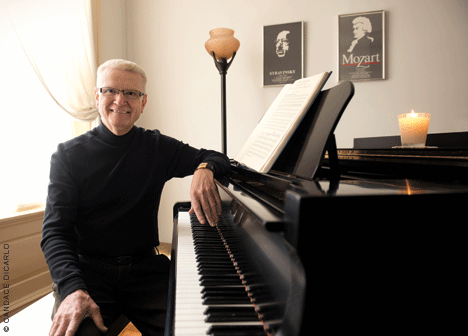 William Parberry Gr'80 was a mop-haired, 25-year-old whiz kid with a pair of performance degrees under his belt when he arrived at Penn in 1972. His plan was to pursue a PhD in musicology and become a scholar of 20th-century music. But Parberry was also a trained choral conductor, and soon he found himself pinch-hitting for music professor Eugene Narmour, the overtaxed director of Penn's many performance ensembles. Within the year, Parberry had been hired by the Music Department to take over as conductor of the choirs.
What began as a graduate-school assistantship evolved into a celebrated career of music-making and mentoring for generations of Penn students. With more than 200 concerts under his belt, Parberry still exudes the youthful energy and charisma that made him an instant campus favorite 40 years ago.
"It is very clear through the anecdotes that he tells us during class time, that Professor Parberry is forever passionate and in love with his music," says College senior Liz Cheek, a second-generation chorister (along with her father and older brother) and a student in his perennially popular Wednesday night class on the history of modern jazz. "I keep coming back to Choral Society year after year because of his music selections and the musicianship that he inspires in us."
"Bill is a great conductor—the best I have ever sung with," says Nancy Hornberger, professor and chair of educational linguistics at Penn, who has sung with Parberry "at least twice a week" for 25 years now. "He has an amazing ear and works patiently with the group to achieve exactly the sound he aims for. You cannot sing under his baton without learning a lot about singing, about music, and indeed about the human experience." Furthermore, she adds, "he has never faltered from a vision of the University as serving and including not only students but the wider University and community as a whole. He takes true delight in introducing each new generation of undergraduates to the riches of the classical repertoire and the nuances of choral singing."
Since 1994, in addition to the 120-member Choral Society, the 35-voice Penn Choir, and the elite 12-member Chamber Singers, Parberry has led Ancient Voices, Penn's quasi-professional early-music vocal ensemble. He also gives private voice lessons—and sings. Cheek says she finds it "incredibly impressive that over all of these years he has protected and continued to hone his strong, beautiful tenor voice."
Frequent Gazette contributor Karen Rile C'80 recently caught up with Parberry at his corner office overlooking 34th Street.
---
You've been working with Penn students since the early 1970s. How have they changed over 40 years?
There's been an enormous and positive shift in the level of the musical talent and experience at Penn. In the past, we did not see many serious musicians in our applicant pool, but the music department's recent efforts to incorporate performance into the curriculum have attracted academically talented students whose skills are also so advanced that they could have gone to conservatory. We have a lot of high-powered grad students and undergrads in the choral program now; medical students and Wharton students find chorus to be a great stress-reliever in their packed schedules—and they are serious, dedicated musicians. In fact, most of our choir soloists are not music majors. The quality of our instrumentalists and singers now puts us into the league of other elite colleges with strong performing-arts programs, like Oberlin and Yale.
Another welcome side effect of offering academic credit for our ensembles is that the department is now drawing gifted musicians who might otherwise have signed up for student-sponsored extracurricular ensembles. Those enrolled for credit come to my office at the end of the semester for a singing test on our performance repertoire; because they are graded, their reliability and attendance is better than ever.
Do you see yourself as an artist or a pedagogue?
I'm a musician first, but I take the pedagogical aspect of my work here very seriously. Most of my undergraduate students come to Penn having already sung at a high level in their high-school choirs. This is a step forward for them musically,  their first encounter with the great choral repertoire, much of which they may never have a chance to sing again, even if they continue in community and volunteer choruses after they graduate. I have a mission to expose them to the warhorses—the great literature for large ensembles, and I also want to open their minds to music that is utterly new to them.
I believe that performance practice is crucial, and I teach the proper historical style for each era, something which my students may not have the opportunity to learn later in life, when they are singing in amateur choirs that are locked into a specific contemporary approach. In the university setting, singers are open and willing, for example, to learning how to sing Bach without vibrato.
I don't shy away from difficulty, either. For example, the choir has performed Ligeti's Lux Aeterna, a micropolyphonic work from the mid-1960s, written in 16 parts, what you might call the "white noise school of composition." It's an intricate piece, with each part only a half-step away from the next. We performed it in 2004 with 32 students, two to a part. And we've done Ives' Psalm 90, which is written in 22 parts and contains complex rhythmic palindromes. The math-oriented students get a kick out of singing these passages, for the sheer joy of unfurling the musical puzzle. It's tremendously fun and challenging. I've found that these very demanding works help them to develop their musical thinking. After wrestling with Ives, they no longer turn off their ears when a work sounds dissonant.

Tell me about your interest in early music.
As a musicologist, my original focus was the 20th century, but in the 1960s there was a boom in early music, with the rise in popularity of groups like the Deller Consort and New York Pro Musica. When I got to Penn, there were two professors specializing in early music, Lawrence Bernstein and Norman Smith. As I studied with them and started listening deeply, I realized there was a wealth of undiscovered early music—literally, a world of unexplored repertoire that is sophisticated and beautiful. In 1994 I took over Ancient Voices, an 18-20 voice a capella group specializing in music written prior to 1600, everything from chant through the late Renaissance. Our group draws professionals from varied backgrounds, including choir directors, early-music specialists, medievalists, and even a few skilled undergraduates who have a love for this complex, beautiful music.
You seem to be improving with age.
This is a profession where it gets better and you get better from experience. Every time I come back to a piece, I bring to it the history of all my previous performances. Experience makes a huge difference in how I'm able to present these works to my singers, most of whom are approaching them for the first time, because I cycle major works infrequently enough that students will be learning new repertoire throughout their time with me. I know where all the printer's errors are in the editions we keep renting from the library. I know all the musical trouble spots in advance.
Are you still in touch with many of your former students?
I run into former singers of every age from the Choral Society all the time, everywhere I travel. Singers come up to me in Wyoming, Amsterdam, Florida, New York, and say, "Aren't you Professor Parberry?  I sang with you …"  One former soprano in the Choir who was a soloist back in the early 90s called me out of the blue last semester and asked to re-join—she is now a realtor in the city. She became the principal soloist in last semester's Choral Society concert.
What are you doing to celebrate the 40th?
The Brahms Requiem, my all-time favorite choral work for large ensemble! We'll perform it on April 20 in Irvine Auditorium, in a combined concert with the University Choir, the Choral Society, and the University Symphony Orchestra. I am thrilled that some alumni will be participating as well, a few of them of them flying in from around the country. The soloists will be baritone Andrew Cummings, who'll reprise his role from our last performance of the Requiem, in 2005, and Sarah Joanne Davis, a rising young soprano who has sung several solos with the Choral Society. I'm proud to say that we helped to launch her solo career.
In addition to performing the Brahms with the Choral Society, the University Choir will present a concert of their own on April 6. The featured work on that program will be Handel's Psalm 112, "Laudate pueri Dominum," scored for soprano, choir, and a Baroque instrumental ensemble of strings, oboes, and harpsichord. Ancient Voices will perform on April 15 in Irvine Auditorium's Amado Recital Hall, and the featured work will be Missa l'homme armé sexti toni by Josquin des Pres, one of the most beautiful masses of the Renaissance.
What's your wish list for the next 40 years?
I'd love to repeat the Verdi Requiem, which we last did in 2007. And the Bach B Minor Mass, one of my favorite choral works, which we last performed in 2007. But highest and most ambitious on my wish list: the Bach Christmas Oratorio. It's a huge, expensive production, about three-and-a-half hours long, written to be performed over six days.