Both Sides Now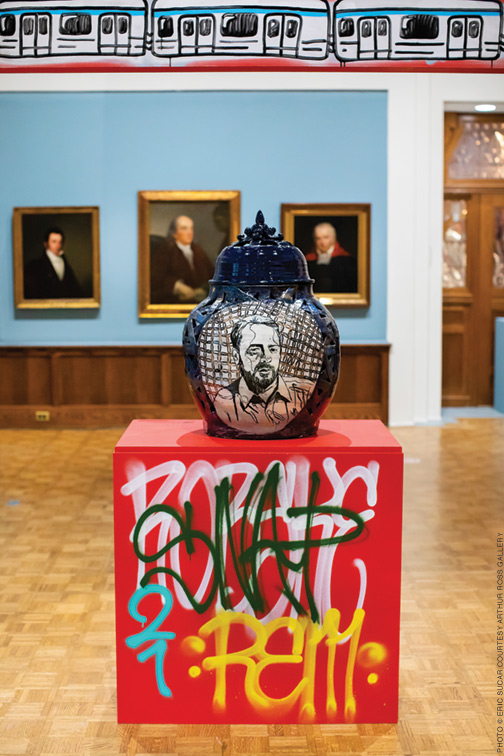 ---
Ceramicist Roberto Lugo turns the Arthur Ross Gallery into a vessel for more than one sort of Philadelphia icon.
Stepping into a room and discovering a crimson tide of graffiti slathered over the walls is certainly a novel experience for a visitor to the Arthur Ross Gallery. The scrawled words and images aren't especially confrontational—the rounded cursive tags and chubby cartoonish images of teapots and SEPTA trains are playful and accessible. But in a way, they're the most in-your-face aspect of "God Complex: Different Philadelphia" (through December 19), a guest-curated exhibition by locally based potter Roberto Lugo, who has juxtaposed traditional paintings and decorative arts pieces with his own boldly colored vessels depicting Black cultural figures. With no curatorial labels or wall texts, beyond an introductory statement, the artist allows the pieces to speak for themselves.
"As someone who didn't have access to art growing up, and discovering that passion later in life, I would find myself walking into museums where none of the art reflected people who look like me," that statement begins. "Those settings carried a message that the only cultures and histories worth preserving are those from one type of population." In the first gallery, Lugo sets up a subtle rebuke. Oils of Benjamin Franklin and George Washington—men whom Lugo says he grew up regarding as icons (hence the exhibition's title) not oppressors—hang from walls painted in a genteel blue based on the interiors of Independence Hall. Their only identifiers are what's been embedded in their gilded frames: a Thomas Sully here, a Rembrandt Peale there.
According to Lynn Marsden-Atlass, director of the gallery as well as curator for the 8,000-piece Penn Art Collection, she and Lynn Smith Dolby, the collection's manager, were looking for "an internationally recognized artist who was avant- garde and working from a social justice perspective who might offer a new approach to the collection. This was in 2019, before last summer's racial reckoning." As sketchily conveyed in a pull-out comic page drawn by Griff Jurchak that's part of the exhibition brochure, Lugo's "origin story" fit the bill. Born in the Philadelphia neighborhood of Kensington, he took to the streets as a teenaged graffiti artist and worked in the area's factories into his early 20s before he enrolled in college, began picking up degrees, and launched a career as a ceramicist. Now 40, he's garnered gallery representation and art world acclaim (including a Pew Fellowship and the prestigious Rome Prize) and is currently an assistant professor at Tyler School of the Arts.
By the time this exhibition secured funding from the Sachs Program for Arts Innovation, COVID-19 had arrived. So Lugo set to work perusing the collection via a loaned laptop. "He naturally gravitated to the historic portraits—we have about 1,500—because his work has often focused on individuals who have been marginalized," observes Marsden-Atlass. In the end, he selected 18 pieces, including a pair of photos by Larry Fink; engravings of Abraham Lincoln and William Penn; and two 19th-century vases, one a milky blue porcelain affair by French modeler Victor Etienne Simyan for the English ceramics maker Minton, the other a glazed terra-cotta creation from an unknown Turkish artist.
The vases serve as reference points for the Lugo pottery pieces on display in the red gallery. The first of these works to appear, Bridges, is placed on a graffiti-covered pedestal between the Old World gallery and Lugo's gallery. Its navy blue glazing, classical urn form, and portrait of Benjamin Franklin nod to the value and relevance of the past. Walk around to its rear side—and into the room that Lugo referred to as "my Philadelphia" in a recent virtual talk—and there's a different portrait, one of Lugo's father. "The Franklin portrait is part of the American visual lexicon," Smith Dolby says, "but the portrait of his father—whom he remembers biking over the Benjamin Franklin Bridge to go to work—gives equal weight to the artist's roots."
Lugo's three rougher-hewn "street pots" are also set on pedestals—salvaged from a demolished local Black church—and they too feature double portraits. The unexplained couplings present President Barack Obama with rapper Slick Rick; Harlem Renaissance writer Zora Neale Hurston with painter Alma Thomas; and rock guitarist Jimi Hendrix with activist Harriet Tubman. More textural and brilliantly hued, these pieces take their cues from the colors and patterns of African textiles and Japanese Imari pottery. The assemblage is rounded out by five stoneware teapots that depict Philadelphians: opera singer Marian Anderson Hon'58; attorney Sadie Tanner Mossell Alexander Ed1918 G1919 Gr1921 L'27 Hon'74, the first woman to receive a law degree from the University of Pennsylvania Law School and first African American woman to practice law in Pennsylvania; physician Rebecca Cole, the second African American woman to become a doctor in the United States; Crystal Bird Fauset, the first female Black state legislator elected in the United States; and Caroline LeCount, the first Black woman in the Philadelphia area to pass the city's teacher exam.
Cole is also the subject of one of the two Lugo paintings on view in the gallery's entryway. Completed with Molly Hutter, one of his students, the painting frames Cole's shoulders and head within a crescent-shaped remnant of a gilded oval set against a backdrop of graffiti and floral motifs, another melding of the old and new. The second painting, Angry Mob of Peaceful Protestors: Roberto Lugo, a self-portrait from 2019, has a glossy feel about it, almost as if it too were porcelain. With this acrylic and resin canvas, Lugo is putting himself squarely in the company of the other rebels—such as Rosa Parks, Angela Davis, and Colin Kaepernick—that he has depicted in this series. Its inclusion underscores the exhibition's wide-ranging view of the ways citizens can expand the boundaries of cultural belonging, as demonstrated by his chosen icons throughout the gallery. You can do it by taking a bullhorn, a seat, or a knee—but also by pursuing an education, running for office, thunderously riffing on the "Star-Spangled Banner," or by sitting quietly at the potter's wheel.
—JoAnn Greco