Blood, Turf, and Toil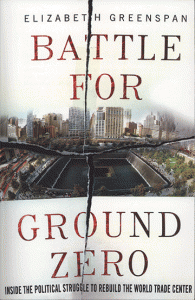 In September of 2001, Elizabeth Greenspan CGS'99 Gr'06 was entering her second year of Penn's graduate program in cultural anthropology and, inspired by a recent visit to Berlin, she was closing in on her dissertation topic.
"The history of the Nazis and the Wall was everywhere I went," says the 36-year-old Greenspan now. "I was struck by how the city was struggling with acknowledging that past, while moving forward with rebuilding its cityscape." Fresh from a summer spent digging into the literature about cities—like Berlin, Oklahoma City, and Hiroshima—that have recovered from violence and war and memorialized that devastation, Greenspan had created an independent study group with her mentor, Robert Preucel, the Sally and Alvin V. Shoemaker Professor of Anthropology, to better examine those tensions. "Everything was just starting to come together," she says.
Until it fell apart. Suddenly, two weeks into the school year, she says, "these questions were once again being played out on our front pages."
The day, of course, was September 11, 2001. Greenspan remembers how the University shut down, how the city emptied.
"The combination of the enormity of my emotions with my emerging intellectual interests was incredibly powerful," she says. "I just knew I had to go to New York."
She first visited Ground Zero in November 2001; then found herself returning again and again, making the easy commute back to Philadelphia for respite. "It was so important for me to leave," she says. "I would have gotten burned out otherwise."
The result, some 12 years later, is Greenspan's first book, Battle for Ground Zero: Inside the Political Struggle to Rebuild the World Trade Center (Macmillan), a reportorial look at the more esoteric themes she explored in her dissertation. Here, she shines a greater spotlight on the players—including developer Larry Silverstein, New York Governor George Pataki, and the site's owner, the Port Authority of New York and New Jersey—who rushed to redevelop the valuable land, as well as on the architects and designers who were caught between those powerful interests and the ordinary folks who sought to memorialize what had happened.
At the heart of that "battle" were those who lost friends and relatives, those who lived and worked in Lower Manhattan, and the thousands of others who wanted to remember, pay respects, offer design critique—and who, in raising these considerations, forced everyone to slow down.
It was these participants in the drama whom the author encountered in her early visits, as the 16-acre site morphed from a smoldering tangle of death and destruction to a tourist attraction, at once macabre and moving, to, finally, a monumental construction zone. In the first chapter, Greenspan lays the groundwork for the battles that would emerge from what she calls an "epic rhetoric" of competing visions on how and what to rebuild. The most powerful statement, she writes, "was the one people made simply by showing up and taking over more and more space." And by the stuff they brought with them: Greenspan describes a six-foot high mound of pastel-colored teddy bears, and talks with the bearer of 4,000 origami cranes crafted by elementary schoolchildren from Nagasaki. "I think the attack really disrupted our sense of what this country was about," she says. "All of that uncertainty and fear became channeled into these 16 acres. With each bouquet or banner, they were expressing sympathy, but they were also making claims on the land."
That "grass roots memorialization," as Greenspan calls it, would become the subject of her dissertation. After completing the work in 2006, though, she began to think about what to do next.
"There was no ending yet, so I kept following it," she says of the Ground Zero battle. "A few years later, I began to get a sense of an ending, with the opening of the 9/11 Memorial on the 10th anniversary of the attacks." And so the unveiling of architect Michael Arad's memorial, "Reflecting Absence," along with the killing of Osama Bin Laden a few months earlier, serve as a tidy conclusion to the book.
Along the way, Greenspan sifts through the pieces of a complex story that was partly "about owners and politicians sitting around tables in conference rooms," she writes in her preface, but also about "people in streets, public hearings, and living rooms voicing desires, demands, concerns and beliefs … It is a story about capitalism and democracy." All told, she would wind up interviewing more than 300 people at the site; another 150 or so downtown residents, victims' family members, and rescue workers; and nearly 50 key decision makers, including developers, designers, and government officials.
She wonders now if more forethought could have prevented much of the haggling. "These things do take time, but in the end the tremendous commercial pressure to build quickly wound up prolonging the project," she observes. "That, and the lack of transparency early on, was harmful. People need space and opportunity to voice their concerns."
The story isn't over—but it's getting there. Ground Zero's signature 1,776-foot building (originally designed by the site's master planner Daniel Libeskind and called Freedom Tower, now mostly the work of David Childs from Skidmore, Owings and Merrill and tagged, simply, One World Trade Center) has reached its full height. Another tower is expected to be completed by the end of the year. Joining the memorial will be the National 9/11 Museum, due to open this coming spring.
"I definitely want to see how they manage access to the plaza and the memorial as construction continues," Greenspan says. "It's very important to Libeskind and Arad that it be a public space. It may become especially critical once people start working in the towers and security is even more of a concern."
Like many, though, Greenspan feels a need to move on. "I'm excited to start thinking about other projects," she says.
—JoAnn Greco