Beginning of the End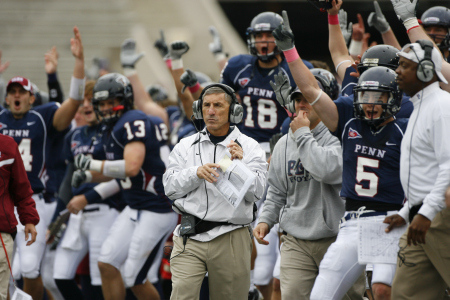 Al Bagnoli already had his last season opener. Soon, he will coach his last game against every Ivy League team. And this week, he will get one final chance to beat Villanova for the first time in his career.
But, as his habit, the Penn football coach is trying to avoid putting the spotlight on himself, joking this week that ending his personal 12-game losing streak against Villanova wouldn't even matter.
"Whether we go o-for or whether we go 1-for, it's still not impressive," he laughed.
That might be the only thing that's not impressive on Bagnoli's resume. And as his illustrious coaching career winds to a close, many coaches have been singing his praise.
The latest is longtime Villanova head coach Andy Talley, one of Bagnoli's best friends in the business.
"Well, I've known Al since he was a Division III coach at Union, and his teams always play great defense," Talley told me this week. "And so I think he feels his program at Penn has a defensive mentality and they're always the most physical team we play. I think of him as an outstanding defensive mind. And he's developed an incredible physicality with his football team. You know when you go against him, you're going to have to play extremely well because his players will give you their best game of the year."
In recent weeks, other coaches have expressed their admiration for Bagnoli as well – much, it seems, to the humble Penn coach's chagrin. With the Ivy League season beginning next weekend at Dartmouth, here's a sampling of what some of the conference's coaches have said about the Quakers' legendary football boss:
Brown head coach Phil Estes: "He's a guy I consider a close friend, a golfing buddy, and a guy I could call and throw things off of to get his opinion. So, you know, he's a guy I'm going to miss an awful lot, as he was my go-to-guy. Al was kind of like the dean of Ivy League coaches and we're losing one of the great ones.
Columbia coach Pete Mangurian: "The consistency that Penn has had over the years marks his greatness. What we are all looking for is that kind of consistency in our program, and it takes time to build that and the challenge is to keep going and Al has done a great job with that. I won't say I'm going to miss him, because in a way I'm going to be glad he's not there anymore; but I do respect him as a coach and always have."
Cornell coach David Archer: "Coach Bagnoli has been a consistent force in this league and that's what we are striving for in Ithaca."
Dartmouth coach Buddy Teevens: "What has been the most impressive thing to me is that he has dealt with tragedy down there and just the empathy, the companionship and the leadership he has shown his team in difficult times – I have tremendous admiration for what he has done for his squad."
Harvard coach Tim Murphy: "Al's done an amazing job – truly one of the great runs in Ivy League history. And I have nothing but admiration and respect for him. Being the ninth game of the year, the road to the Ivy League championship starts and a lot of time ends through Penn. And if you're playing them on the road especially, you know just how brutal they are – as tough as they come."
Princeton coach Bob Surace: "What an intense competitor and what a team of intense competitors."
Yale football coach Tony Reno: "He has really set the example for all of us to follow, especially for me who has just started in the league. He managed his program with class on and off the field and we want to thank him for all he has done for Ivy League football."
– Dave Zeitlin C'03