Jamming with Trane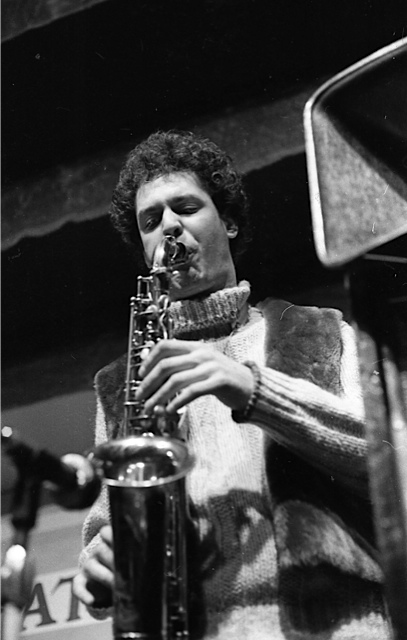 On Nov. 11, 1966, John Coltrane appeared at Temple University for a concert. So did Steven Knoblauch C'70. Coltrane brought his saxophone, ready to jam in front of a large audience. Knoblauch did, too. And, during a rendition of "My Favorite Things," John Coltrane breezed through an improv solo on stage—as did Steve Knoblauch.
How did a freshman from Penn end up sharing the stage with a jazz legend? "It was a story I put to rest many years ago," Knoblauch says. But he's resurrected it now that a two-disc recording of that night, Offering: Live At Temple University, has just been released.
Speaking by phone from his office in New York City, Knoblauch walked us through that incredible night:
I grew up in Jersey City and as a teenager, I developed a keen interest in and love for jazz. I quickly learned what the current styles were. Particularly in Greenwich Village and the East Village, there was a real focus on freedom and experimentation. I was a very impressionable teenager. I wanted to play just like that.
Coltrane was one of the leading voices for that style. A few months into my freshman year at Penn, I found out there was a Coltrane concert. I knew that he had been doing these concerts with large ensembles and often inviting young musicians up to play, so I brought my horn. I had no idea what was going to happen.
I went with my classmate, Dave, and we met Coltrane and his manager before the show. Trane told Dave and me to sit stage right, behind the curtain. There was a second piano there, and we sat on the piano bench while he was performing.
Over an hour later, in the middle of the concert, Coltrane came up to me and asked me if I wanted to take a solo. I knew what he was about and I felt this was my opportunity to show what I could do. I took out my horn and he stood on the side while his wife, Alice, finished her piano solo. As he went back on stage, he gestured for me to follow, played a little interlude signal, and then gestured for me to step forward and solo. That's how it happened. I played for about three or four minutes.
Afterwards, [Coltrane] was really pleased. He gave me a big bear hug and smiled and told me that I should come play any time with him and come visit him at his house in Long Island. I did visit with him a couple months later in New York City at the Village Vanguard, and he invited me to play again, but I did not have my horn that night.
The next thing I knew, he had died a few months later.
---
Four years ago, someone from the record company working on Offering got in touch with Knoblauch. She told him that a recording from that night had been discovered. Knoblauch was able to hear his solo for the first time in almost 50 years. "It was a little mind-boggling," he says of listening to the full concert recording. "That was very powerful music. It sounded chaotic to some, but to me, who had been around it, it sounded very comfortable and familiar."
Though he still plays jazz saxophone and studies Brazilian percussion traditions, Knoblauch is now a faculty member in NYU's postdoctoral program in psychotherapy and psychoanalysis. He works as a psychoanalyst treating patients, teaching, and delivering lectures around the world.
Looking back, Knoblauch says that his moment on stage with Coltrane "gave me a sense of the power of working with groups of people and being able to be very flexible and navigate through subtle changes. That's what improv-ing jazz is all about," he adds, "and it's a generic set of skills I use in everything I do, from my individual sessions with patients, to the committees I chair, to the online international colloquium I moderate. I learned a lot of things from that night, but also from that whole period of time."
Offering: Live at Temple University was released on Sept. 23, 2014, along with this short documentary (Knoblauch appears at 2:35):
One of two guest alto sax soloists that night, Knoblauch performed on "My Favorite Things." This isn't a recording from the Temple concert, but it is Coltrane's 1961 take on the classic showtune:
—Molly Petrilla C'06